All eyes on Florida: Voters head to the polls on Election Day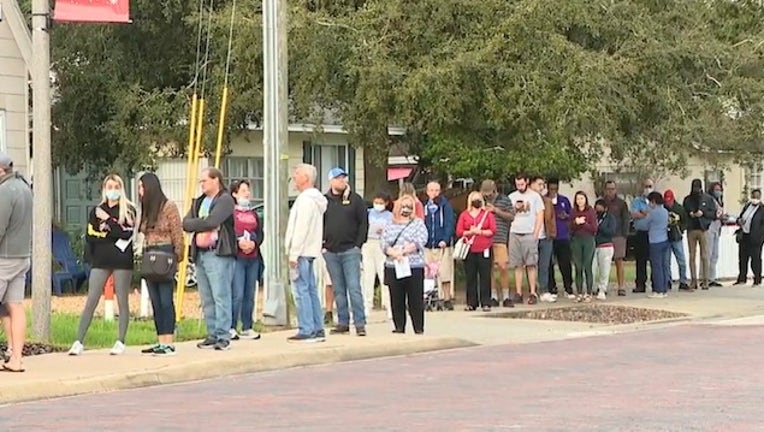 article
ORANGE COUNTY, Fla. - Election Day is here and all eyes are on Florida. The polls opened on Tuesday morning with voters lining up outside Central Florida polling locations to cast their ballots.
FOX 35 was at every corner of Central Florida throughout Tuesday.
ORANGE COUNTY
Orange County has seen record numbers of early voters this election season. By 5 p.m., the county has received 72 percent of voter turnout. More than 87,000 voters showed up on Election Day alone and more keep voting.
In Lake Nona specifically, 69-percent of registered voters have already cast ballots either through early voting or vote-by-mail ballots.
The good news is that voting has gone smoothly in Orange County. Officials credit this to how many voters turned out early and via mail. More than 260,000 voted early and over 277,000 voted by mail and their ballots have already been received. Those ballots are already being tabulated, as Florida law allows as they come in.
If you still have a mail-in ballot, you will need to drop it off at the supervisor of elections office before 7 p.m. The other option—bring it to your polling location and exchange it for voting in person.
VOLUSIA COUNTY
During the afternoon in Volusia County, long lines were spotted at McInnis Elementary School in DeLeon Springs. One person told FOX 35 that he waited an hour and 45 minutes to cast his vote.
However, FOX 35 visited other polling sites in the county and did not spot lines nearly as long as at the school. 
The Supervisor of Elections Office said that they have had a record-breaking turnout in both early voting and mail-in ballots this year. 
SEMINOLE COUNTY
There were long lines -- about 50 people deep at one location -- when the polls opened on Tuesday morning.
Seminole County is typically a red county but is considered a purple one this year. Experts say this is due to young voters registering votes.
Registered voters in the county are about even -- only separated by about 1,000 people.
Watch FOX 35 News Tuesday night for live results of the 2020 election.