California mass shooting leaves at least 10 dead, others injured at Lunar New Year festival; suspect at large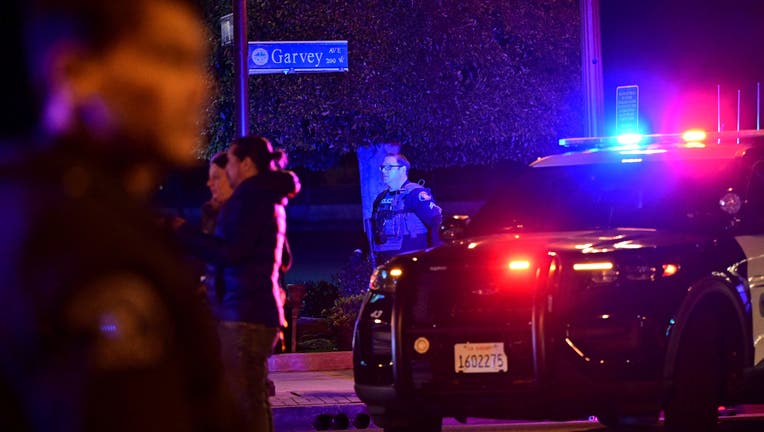 article
MONTEREY PARK, Calif. - A suspect remains at large after at least 10 people were killed and multiple others were injured in a mass shooting at a ballroom dance club in Monterey Park, California, late Saturday in an area where people were gathered to celebrate the Lunar New Year, authorities said.
Captain Drew Meyer from Los Angeles County Sheriff's Department Homicide Bureau confirmed early Sunday that 10 victims were pronounced dead at the scene, with 10 additional victims taken to local hospitals in various conditions ranging from stable to critical.
Meyer said the suspect, whom authorities earlier identified as a male, fled the scene after the shooting and remains on the loose. No description of the suspect was immediately available.
People were "pouring out of the location screaming" when officers arrived at the dance ballroom around 10:30 p.m., Meyer said, adding that officers entered the club as firefighters treated the wounded.
A heavy police presence responded to the 120 block of West Garvey Avenue in Monterey Park, a city in Los Angeles County, according to photos and videos on Citizen, an app designed to allow residents to report crimes in their local area. 
Police patrol the scene along Garvey Avenue in Monterey Park, California, on January 22, 2023, where police are responding to reports of multiple people shot. (Photo by Frederic J. BROWN / AFP) (Photo by FREDERIC J. BROWN/AFP via Getty Images)
Several police vehicles were seen blocking an open area between a GBC International Bank and the TS Emporium, a Chinese grocery store. Entertainment venues, shopping, and dining locations lined W Garvey Avenue Saturday night.
The Monterey Park Fire Department told Fox News Digital a mass shooting took place, but could not confirm how many people may have been struck by gunfire. Monterey police have yet to release any information on the shooting, but said a news conference is scheduled for 7 a.m. PST.
Sgt. Bob Boese of the sheriff's department had earlier confirmed to the Associated Press that the shooter is a male but did not reveal any other identifying information.
Officials said the Lunar festival scheduled to take place at Monterey Park later Sunday was canceled "out of an abundance of caution."
Many people gathered in the city Saturday night for a Lunar New Year celebration of the "Year of the Rabbit."
According to the Monterey Park city government website, the Lunar New Year festival features "vendors offering unique gifts and specialty items, food booths with various types of delectable items, amusement rides, and lots of live entertainment."
The festival kicked off Saturday morning and featured "various types of entertainment," the website added. And: "A carnival fun zone will be featured in parking lots at the corner of Garvey and Lincoln Avenues."
"Past Lunar New Year events in Monterey Park have drawn crowds estimated at over 100,000 visitors per day from all over the Southern California area," it also said. 
Fox News Digital has reached out to the Monterery Park Police Department for additional information.
This is a developing story. Updates will be added as more information becomes available.