Florida father desperate for leads after he says dirt bike rider ran son over before taking off
DAYTONA BEACH, Fla. - A Daytona Beach father is desperate for answers after he says a man on a dirt bike ran his son over back in January and still hasn't been caught. The incident happened at about 6:15 p.m. on Jan. 23 at the intersection of North Grandview Avenue and Nautilus Avenue. 
"He got about 50 feet in front of him. He laid into the throttle a little harder [and] ran over him. His leg almost came completely off," Jon Fornataro said Friday.
The man quickly left the scene, leaving his 25-year-old son Cardino on the ground, bleeding to death. 
"Seeing your kid laying there in the street like that and for somebody else to have no regard for human life and just to leave that person there is just ... is just hard for me to believe," Fornataro said. 
A quick-thinking neighbor, James McRae, applied a tourniquet to Cardino's leg, which medics say helped save his life.
"I keep one in my backpack. I ran to the backpack, grabbed that, ran up the road, strapped it on his leg and pretty much just tried to do what I could until somebody could actually get there," he said. "It didn't click in my head, like, 'Oh, yeah, this is gonna save his life.'"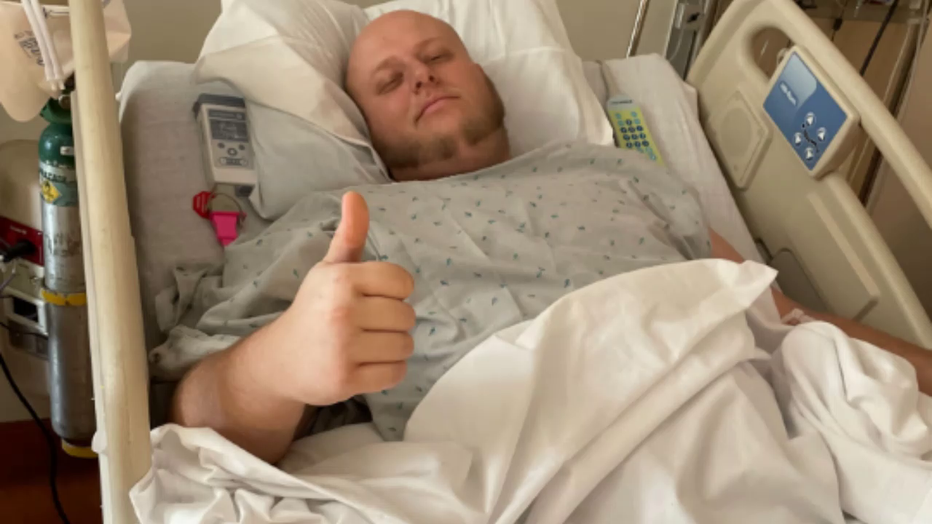 But it is thanks to him and the doctors at Halifax Health that Cardino is able to smile for photos from his hospital bed as he recovers from at least eight surgeries. Doctors suspect he'll need to remain in the hospital for a few more weeks.
"It just rips you apart seeing your kid in there like that, and nobody is fessing up to having done that," Fornataro said. 
Now, he's on a mission to get justice for his son and to make sure what happened to him happens to no one else.
"There's a lot of children in this neighborhood and the neighborhoods around here. It's also a very heavy tourist area," he said. "That guy needs to be locked up, and he needs to be held accountable for what he did."
Fornataro says he and Daytona Beach Police have a good idea who the man is but need more evidence to connect him to the crime.  He's hoping by sharing his story, someone in the neighborhood will turn over any possible video of the dirt bike rider or that the man turns himself in.
"If anybody has any type of video that catches that guy through this neighborhood and on that day, it would help us out tremendously," he said. "This guy needs to be held accountable."
Daytona Beach Police tells FOX 35 News they are still searching for the vehicle, and they will continue to patrol the area. 
A GoFundMe to help with Cardino's recovery has raised more than $5,000 since it was created on Jan. 25.