DeSantis proposes sales tax breaks for diapers, gas stoves, pet food in new Florida budget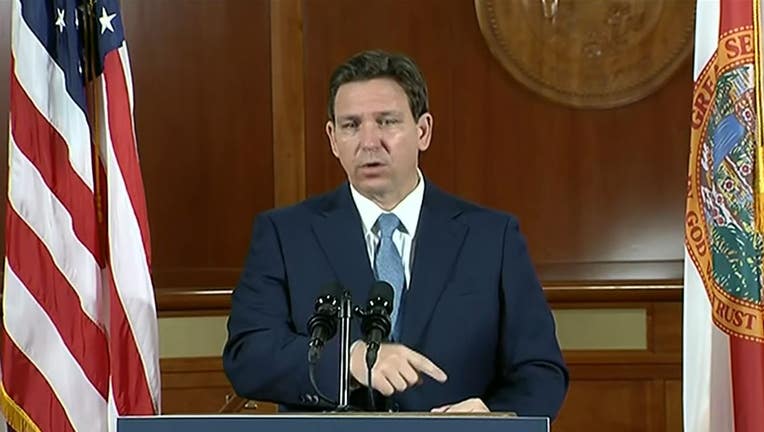 article
TALLAHASSEE - As part of a record $114.8 billion budget proposal released Wednesday, Gov. Ron DeSantis is seeking wide-ranging tax breaks that build on current toll-road rebates and tap into conservative outrage about gas stoves.
DeSantis requested that lawmakers approve $1.5 billion in tax cuts that include sales-tax breaks on such things as everyday household goods and items purchased for infants, children and pets. The proposal also would expand back-to-school and other tax "holidays."
During an event in the Capitol to release his proposed budget, DeSantis pointed to trying to address people's needs amid inflation.
"You want to make sure that you have strong (budget) reserves, but at the same time when you're in a situation where you have really persistent inflation, where you have a growing state, where there's infrastructure needs, you don't want to just have all this money just sitting there," DeSantis said. "That's telling me that you're not doing as good a job as you need to do in returning money back to the people."
Lawmakers will consider the budget and tax proposal during the legislative session that will start March 7. The state's 2023-2024 fiscal year will start July 1.
During last year's legislative session, lawmakers approved a tax package projected to reduce state and local revenues by $804.3 million during the current fiscal year, with the price-tag growing to $1.1 billion when future impacts are factored in. That package included a one-month suspension of the state gasoline tax in October.
DeSantis' new proposal calls, in part, for sales taxes to be permanently eliminated on such things as cribs, strollers, clothes, shoes and diapers for infants and toddlers.
Rep. Anna Eskamani, an Orlando Democrat who serves on the House Ways & Means Committee, expressed confidence that lawmakers will permanently eliminate the tax on diapers for children, an idea Democrats have proposed for years.
Eskamani and Senate Minority Leader Lauren Book, D-Davie, have sponsored legislation (HB 29 and SB 114) to exempt all diapers and incontinence products from sales taxes.
"We still want to see the tax eliminated for adult incontinence products and will continue to advocate for policies that are consumer-focused while we push to close corporate tax loopholes," Eskamani said in a prepared statement.
DeSantis also proposed permanently lifting sales taxes on gas stoves.
Last month, a member of the federal Consumer Product Safety Commission said a ban on gas stoves could be considered to address emissions that may increase health risks. Conservatives blasted the idea, and commission Chairman Alexander Hoehn-Saric later released a statement that said the panel wasn't seeking to ban gas kitchen appliances.
"They want your gas stove, and we're not going to let that happen," DeSantis said Wednesday.
The governor's office estimated the proposed tax breaks total about $2 billion, but that number includes $500 million that lawmakers approved during a December special session to provide a year of rebates to frequent toll-road users.
The program began Jan. 1 and provides 50 percent credits to motorists in each month they record 35 or more toll-road trips. The first credits are expected to appear on customer accounts this month.
DeSantis also wants to eliminate taxes on over-the-counter pet medications and provide a one-year exemption for pet food.
Among other things, the governor's proposal would provide a one-year sales-tax exemption on household items that sell for under $25, such as laundry detergent and trash bags. It also seeks one-year breaks on such things as dental and oral hygiene products, children's books, toys for children between ages 2 and 12 and children's athletic equipment.
The plan also seeks two back-to-school tax holidays on clothes, school supplies and electronics. The holidays would be offered before the fall and spring terms. In the past, such holidays have been offered before the school year begins in August.
DeSantis also wants to continue such things as a tax holiday on hurricane supplies and what was dubbed "Freedom" week. That holiday, around Independence Day, has offered tax breaks on a variety of recreational activities. Under DeSantis' proposal, it would become a 15-week "Freedom Summer" discount period.
"This is outdoor recreation," DeSantis said. "This is tickets for events and museums, and really things so people can enjoy the summertime."