FHP: Woman drove wrong way on I-4 for at least 8 miles within 15 minutes
ORLANDO, Fla. - As people were driving along Interstate 4 near downtown Orlando on Monday night, another motorist managed to drive at least 8 miles in the wrong direction before clipping a Florida trooper's patrol vehicle.
One of FOX 35's crews was on I-4 traveling eastbound when a white Toyota Corolla drove by, traveling westbound near the South Street express lane exit. You can watch that exclusive video in the player above.
According to 911 call logs and Florida Highway Patrol (FHP) reports, it appears the wrong-way driver – identified as a 48-year-old woman from Arizona – traveled at least 8 miles in the wrong direction within 15 minutes.
FHP said the first 911 call about a wrong-way driver was made at 10:23 p.m. That person reported someone driving in the wrong direction on I-4 near the East Colonial Drive exit. At 10:29 p.m. – six minutes later – dashcam video installed on one of FOX 35's vehicles captured a vehicle traveling in the wrong direction near the South Street exit.
Nearly 10 minutes after that, FHP said one of its troopers spotted the wrong-way driver approaching the South John Young Parkway entrance ramp and veered in front of the vehicle to try and stop it. The driver clipped the side of the trooper's vehicle before crashing into a palm tree.
"He has to make a split-second decision to stop this vehicle before it reaches that intersection, so he put his life and his vehicle in the direct path to prevent that driver from causing any injuries or tragedy from occurring within that intersection," explained FHP Lt. Tara Crescenzi.
FHP said the trooper was taken to the hospital with non-life-threatening injuries. The woman was also taken to the hospital, though the extent of her injuries was not immediately known. FHP has not released the woman's name. She has also not been arrested or charged as she is in the hospital.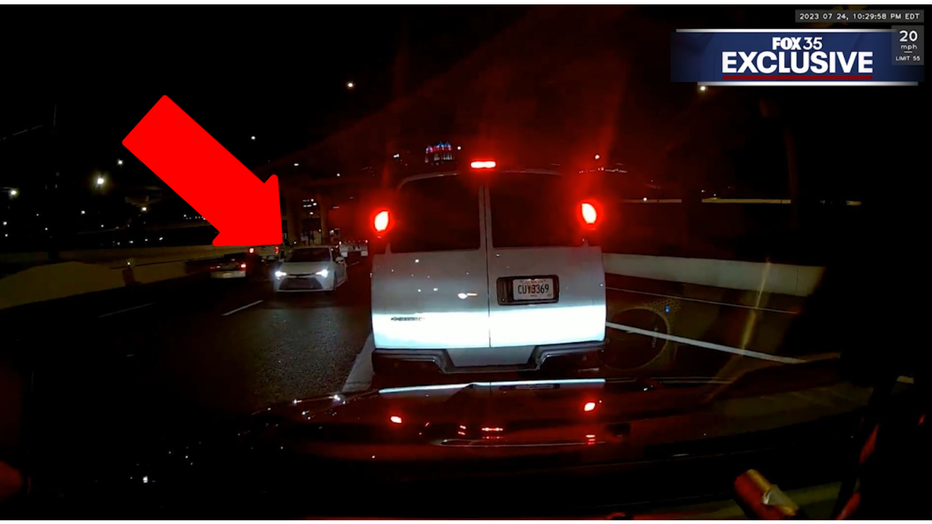 "FHP's response to the report of wrong-way driving and the actions of the trooper involved, without a doubt, saved lives," FHP Colonel Gary Howze II said in a statement. "Everyone on the road is responsible for their actions and their impact on others around them; whether intentional or not, a driver's situational awareness will likely make the difference if someone is injured or killed on our roadways."
FHP released dashcam video of wrong-way crash
Florida Highway Patrol released dashcam video of the crash on Tuesday, which shows the driver traveling westbound on the eastbound entrance ramp for South John Young Parkway on I-4. The video also shows the trooper intentionally crashing into the driver in an attempt to prevent any accidents. 
No other details were released. The cause of the crash remains under investigation.