Florida deputies find 14-foot Burmese python lurking in bushes near homes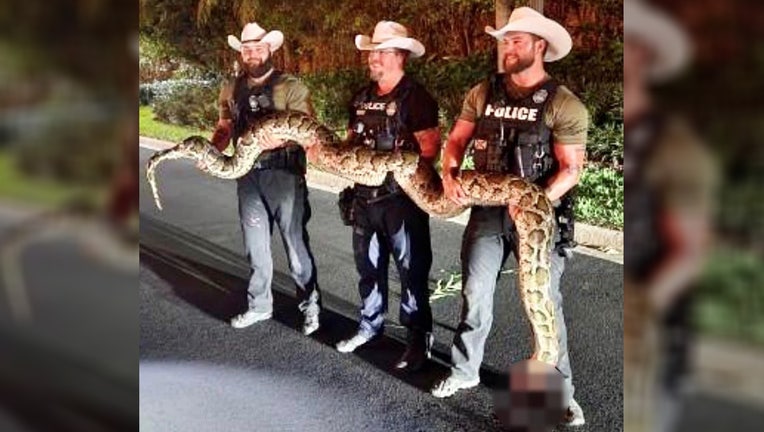 article
NAPLES, Fla. - Some Florida deputies helping with Hurricane Ian cleanup efforts found quite a surprise in a neighborhood this week: a 14-foot long Burmese python!
The Collier County Sheriff's Office posted a photo of the deputies holding the slithering beast after it was caught. They said on Wednesday night, deputies from the Jacksonville Sheriff's Office were assisting them with a call to an East Naples neighborhood after a resident reported seeing the snake in the bushes between two homes. 
Sure enough, when deputies arrived, the lurking reptile was found. 
One of the deputies humanely euthanized the snake. 
MORE NEWS: Over 200 python snakes captured in Florida during 2022 Florida Python Challenge
"They're going to have a story of hisssstoric proportions to share with their friends," the sheriff's office wrote on Facebook.
The Florida Fish and Wildlife Conservation Commission reportedly removed the carcass for disposal.
MORE NEWS: 10-foot 'very well fed' boa constrictor found loose in Florida neighborhood
Burmese pythons are not native to Florida and negatively impact native species. They are found primarily in and around the Everglades ecosystem in south Florida where they prey on birds, mammals and other reptiles. A female Burmese python may lay 50 to 100 eggs at a time. 
Since 2000, more than 17,000 wild Burmese pythons have been removed from the state of Florida.