Florida lawmakers back DeSantis on migrant flights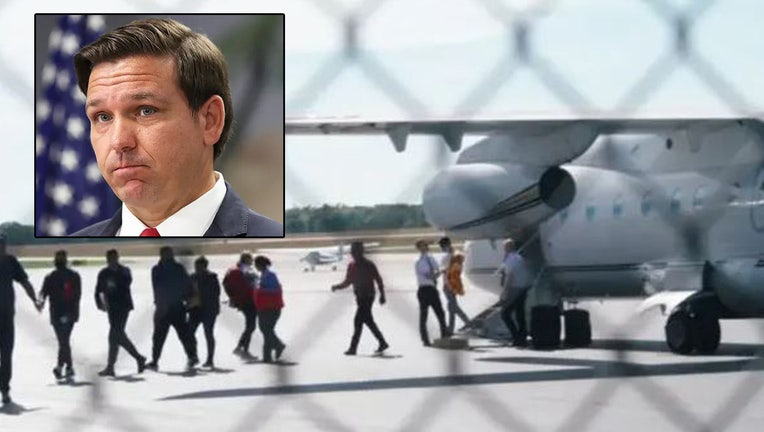 article
TALLAHASSEE - After a sometimes-emotional debate about immigrants and the nation's border policies, state lawmakers gave final approval Friday to a plan that likely will lead to Florida transporting more migrants to "sanctuary" areas of the country.
The Republican-controlled House voted 77-34 to approve the plan (SB 6-B), giving a victory to Gov. Ron DeSantis. The Senate passed the bill Wednesday.
House Democrats called the measure a "political ploy" to help DeSantis, who is considered a potential 2024 Republican presidential candidate and frequently criticizes the Biden administration on immigration issues.
"This bill is indefensible," Rep. Christopher Benjamin, D-Miami Gardens, said. "The bill plays games with human beings' lives."
But Republicans said it was about curbing undocumented immigrants from coming to Florida and the federal government's failure to prevent a flood of people crossing the nation's borders.
"It's a terrible, terrible situation all brought on by the lack of leadership at the federal level," House Speaker Paul Renner, R-Palm Coast, said during a news conference Friday.
When signed by DeSantis, the bill will create an "Unauthorized Alien Transport Program" and provide $10 million to transport migrants from Florida and other states to sanctuary areas.
The bill emerged after the DeSantis administration sparked a national controversy in September by flying about 50 migrants from Texas to Martha's Vineyard in Massachusetts. The bill also could help blunt a legal challenge to those flights.
Republican lawmakers said the new program would only transport migrants who volunteer to go to the other places. They described it as helping migrants.
"They're going to get more benefits in the sanctuary state or city than they would here, and we're simply providing them with a free ticket," Rep. Juan Alfonso Fernandez-Barquin, R-Miami-Dade County, said.
Democrats scoffed at arguments that the program would be voluntary and aimed at benefiting migrants.
"It's about the governor dictating to this Legislature questionable policies while misusing taxpayer funds," Rep. Daryl Campbell, D-Fort Lauderdale, said.
Lawmakers last year included $12 million in the budget for the Florida Department of Transportation to carry out a "program to facilitate the transport of unauthorized aliens from this state."
The DeSantis administration used $615,000 of that money to pay Vertol Systems Company, Inc. to fly two planeloads of migrants on Sept. 14 from San Antonio, Texas, to Martha's Vineyard, with a stop in the Northwest Florida community of Crestview.
While the state spent $615,000 on the September flights, four additional Vertol purchase orders of $950,000 each are listed on a state contracting website for "relocation services." Legislative staff analyses said $1.565 million had been spent as of Jan. 31, leaving a balance of $10.435 million from the original $12 million.
The bill, at least in part, addresses issues raised in a pending lawsuit filed by Sen. Jason Pizzo, D-Hollywood. The lawsuit contends that part of the budget used to pay for the flights violated the Florida Constitution because it improperly created a new program and changed laws about issues such as contracting.
Among other things, the bill will repeal the part of the budget that was used as a basis for the flights and will create the Unauthorized Alien Transport Program in law. Also, the remaining money provided in the budget will be funneled back to state coffers, and $10 million will be allocated to the newly created program — effectively swapping out money.
Friday's vote was along almost straight party lines, with Rep. Mike Beltran, R-Lithia, joining Democrats in opposing the bill.
Democrats argued that the money could be used for more-pressing needs in Florida and repeatedly pointed to migrants coming to the United States because of dangerous and desperate situations in their home countries.
Rep. Marie Woodson, a Hollywood Democrat who is an immigrant from Haiti, questioned where the "humanity" was in the bill.
"Immigrants and asylum seekers are human beings, and they need to be treated as such," Woodson said.
But Rep. Kiyan Michael, a Jacksonville Republican whose son was killed in a traffic crash involving an undocumented immigrant, said laws "have not stood to protect American citizens" and that "there are people who are taking advantage of weak leadership out of Washington, D.C."
"Our governor's responsibility is to protect the residents, the citizens, the lawful citizens of this state, and that is what he is doing," Michael said.