Florida man set his apartment on fire as revenge against HOA, then shot himself: affidavit
LONGWOOD, Fla. - A Central Florida man is accused of intentionally setting his own apartment on fire because he was upset with the Homeowners Association (HOA), leading to an explosion with injuries and damages, according to an affidavit for an arrest warrant. 
Marc Hermann, 53, was arrested and booked into the Seminole County jail Monday on four arson charges, online jail records show. He appeared in court via video on Tuesday, seen lying down on his side after being treated for injuries.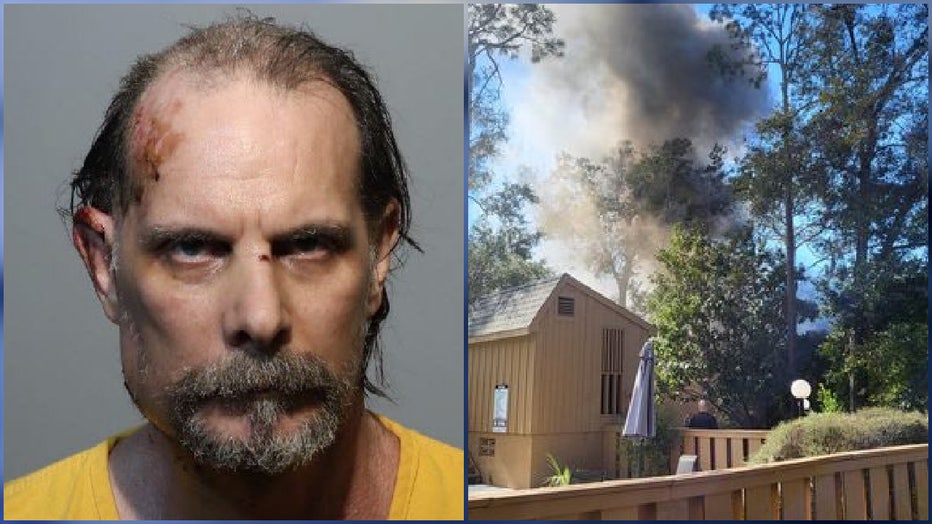 Mugshot of Marc Hermann via Seminole County Sheriff's Office
On Jan. 14, officials said a fire broke out at an apartment community located at 265 Crown Oaks Way in Longwood. FOX 35 News obtained images where you can see flames inside the condominium with smoke rising through the roof.
Law enforcement officers and fire and rescue personnel responded to the area and found Hermann sitting on the ground draped in towels with blood on his face and hand. 
The deputy asked about the injuries, and Hermann said the blood had been caused by a gun. The deputy said Hermann then continued to talk about a management company, saying they were responsible for what happened. 
MORE NEWS:
(Photo via FOX 35 News viewer)
According to the affidavit, Hermann told a paramedic who was treating him that he "started the fire in an act of revenge against the Homeowners Association in charge of his property." Hermann also told the paramedic that he "shot himself in the neck after starting the fire," the report stated.
Days before the fire, a judge denied Hermann's request to reverse a foreclosure on his home in which he has lived for 25 years. FOX 35 News went through Seminole County court records and discovered the dispute started in 2017. Hermann owed the HOA thousands of dollars in unpaid fees to The Springs. 
The HOA eventually filed a lien and decided to foreclose on Hermann's property in order to pay off the money owed. A judge allowed his home to be auctioned off for $82,000, even though Hermann claimed he did pay his HOA fees. In January, a judge denied Hermann's request not to auction off his home.
At least two residents told law enforcement that they were inside their apartment when they heard a loud and huge explosion. One resident, who lived below Hermann, escaped out her front door but had to dodge flaming debris. The other resident said the explosion threw him into his closet. He tried to leave his apartment through the front door, but because of the smoke, he had to exit through the second story balcony. 
Officials said at least three apartments were impacted by the fire.