Florida woman who shot, killed husband at Daytona Beach hospital charged with murder, denied bond: police
VOLUSIA COUNTY, Fla. - A Florida woman accused of shooting and killing her terminally ill husband inside the AdventHealth Hospital in Daytona Beach was denied bond during her first court appearance Sunday morning.
Ellen Gilland, 76, of New Smyrna Beach was booked into the Volusia County jail Saturday on charges of first-degree murder and aggravated assault with a deadly weapon, according to online jail records. 
FOX 35 News' Matt Trezza attended the court appearance in Daytona Beach. He said Gilland walked slowly into the courtroom and stood quietly as the judge read out the charges. 
"You have been charged with one count of premeditated first-degree murder and three counts of aggravated assault with a deadly weapon," said Judge Mary Jolley.
MORE NEWS: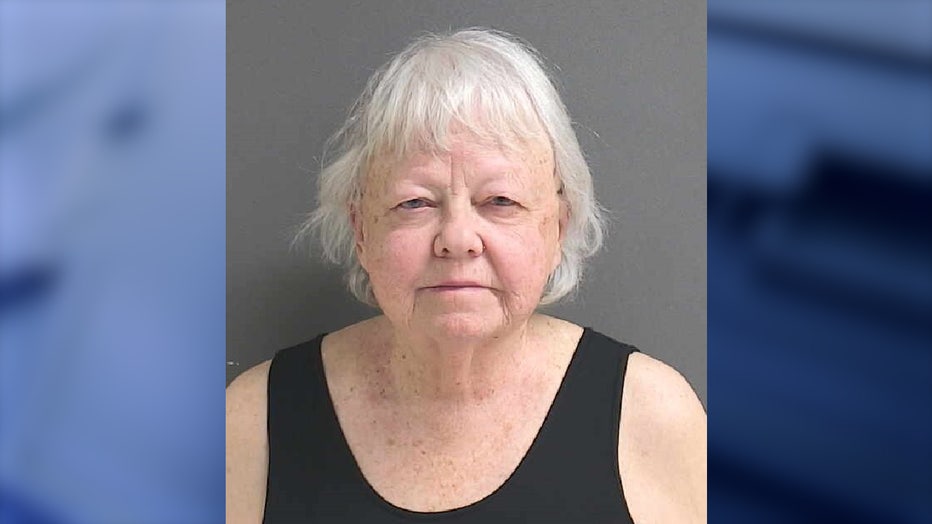 Pictured: Ellen Gilland (Photo credit: Volusia County Corrections)
Jolley said for now, the 76-year-old Gilland would stay behind bars, charged with the murder of her husband. "Based upon the nature of the charge, Ms. Gilland, I am going to hold you no bond on the murder charge and remaining charges," Jolley said.
Officers of the Daytona Beach Police Department said they were called to the hospital located at 301 Medical Memorial Parkway on Saturday around 11:35 a.m. and found the 76-year-old had fired a single shot, killing her 77-year-old husband, Jerry Gilland, and confined herself to his room on the eleventh floor. 
The shooting led to a lockdown at the hospital as hostage negotiators tried to get the woman to come out. 
After nearly four hours of negotiating, police used a flash bang and a taser to get Gilland to drop the gun. They say she was never a threat to anyone else and no staff or patients were injured. 
Police said the couple had planned the shooting three weeks ago.
"They had a conversation about it, and they actually planned this approximately three weeks ago that if he continued to take a turn for the worse,, that he wanted her to end this," Daytona Beach Police Chief Jakari Young said during a news conference. Police believe the initial plan was for a murder-suicide. 
Neighbors on Gilland's quiet street in New Smyrna Beach say they're stunned. "Yeah, completely shocked," neighbor George Kotsonis said. "I didn't know that he was that ill."
Neighbor Michael Stull said the couple seemed to live a peaceful life. "They seemed pretty nice, super nice. We told them they could come over and use our pool if they needed to."
Police said they're still investigating how Gilland got the gun into the hospital. 
Orlando attorney Trey Flynn, a Najame Law partner, said much of the trial may hinge on Gilland's state of mind when the shooting happened. 
"It will be up to any defense attorney to present the mitigation involving the compassion of watching a loved one you've been married to suffer so greatly, and also look at the mental health of the client," he said, "whether they are able to appreciate the nature and circumstances of the offense and consequences that could come from something like this."