Harriet the eagle missing from nest since Thursday; intruder chased away by M-15
FORT MYERS, Fla. - Southwest Florida's dedicated eagle matriarch, Harriet, has not been seen in the area of her nest since Thursday afternoon and an "intruder" was reported near the nest early Friday evening. 
According to a tweet from @SWFLEagleCAM, "Harriet, our dedicated & loyal matriarch, has not been seen in the nest area since yesterday late afternoon. While M defends & protects the nest solo, all we can do is watch/wait for a hopeful return of Harriet soon."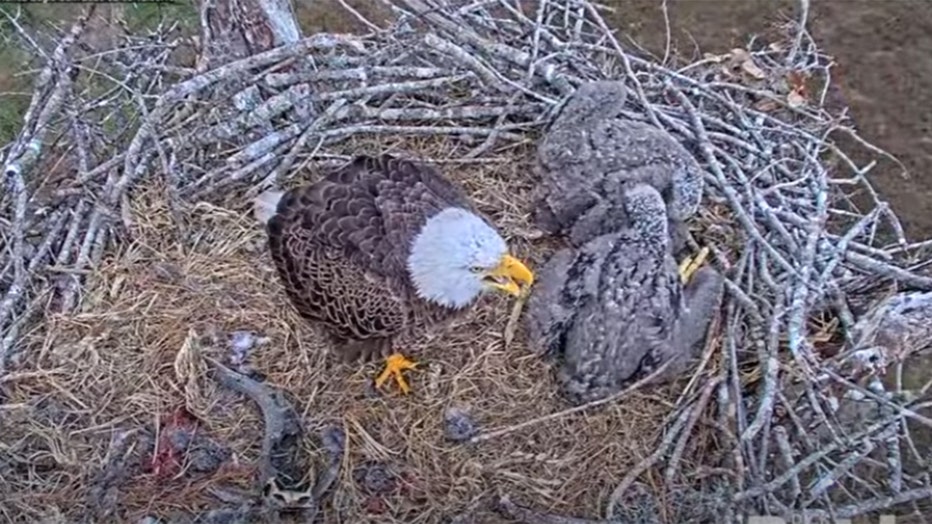 M-15 in the Southwest Florida nest February 3
PREVIOUS: 2nd bald eagle egg hatches in Southwest Florida nest
"M" is the patriarch named M-15. According to the administrators of Dick Pritchett Real Estate's Southwest Florida Eagle Cam, M-15 was "vocal on and off in the nest," and standing guard over his two eaglets just after 3 p.m. Friday.
A live view of the nest showed the same an hour later.
Soon after, the intruder returned and M-15 challenged the bird. It flew away.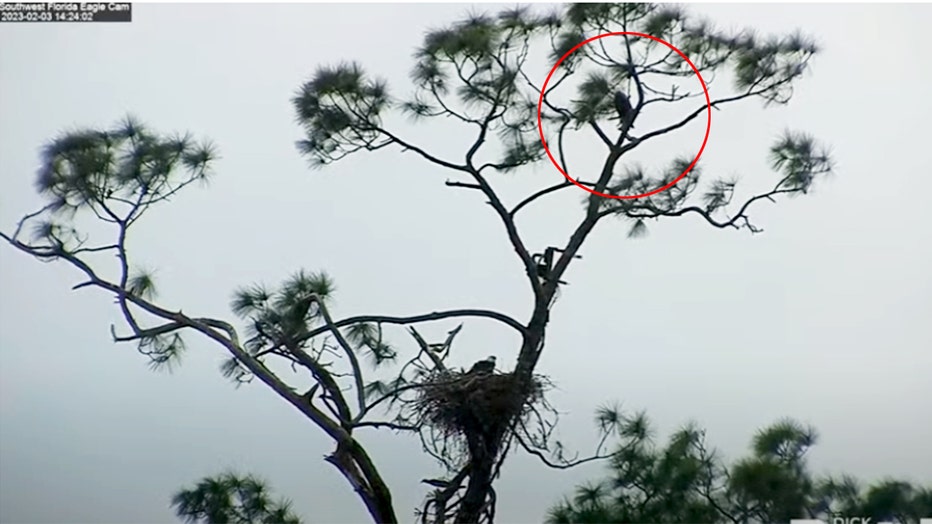 Intruder spotted in Harriet and M-15's nest February 3
The bird appeared to be a similar size and coloring of a bald eagle.
The intruder returned at least two more times over the next two hours. 
Each time, M-15 vocalized and then chased the large bird away.
Harriet and M-15's two eaglets hatched in the first days of January 2023. 
The original eagle pair was first spotted at the current nest's location in 2006. Named Ozzie and Harriet, fans began watching the live stream of their mating season in 2012-2013. 
However, Ozzie met an untimely end in 2015 and Harriet welcomed a new mate later that year. 
Millions have watched the live streams to see Harriet, M15, and their new eaglets ever since. 
Hurricane Ian destroyed the eagles' nests, but two days after the storm passed, they began to rebuild. Three months later, they were ready to welcome two new eaglets – called E21 and E22 – to the world.
Live-streaming video of the eagles' nest is broadcast from several camera angles, none of which disturb the eagles or make any sound.
The nest is monitored by the Florida State Monitoring Program for 16 years. The cameras have been provided by Dick Pritchett Real Estate.