Heads up! Walmart to host Baby Savings Day this weekend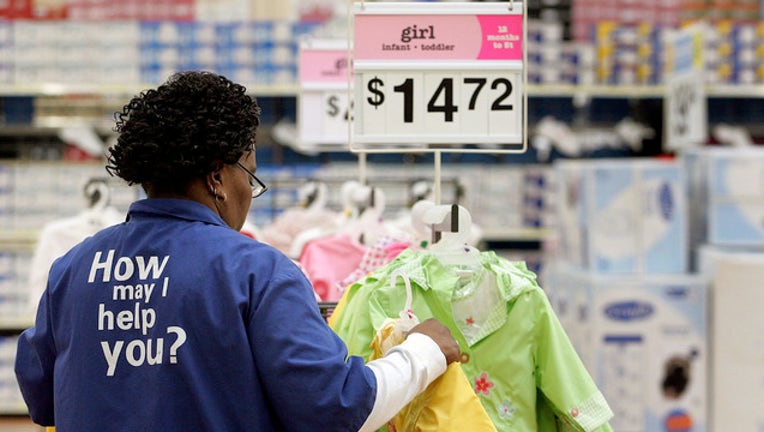 article
ORLANDO, Fla. (FOX 35 WOFL) - Cribs, car seats, clothes, sippy cups, diaper bags, pacifiers - there's a lot that goes into having a baby and now Walmart announced they're having a day to help out new parents!
The retail corporation is hosting Baby Savings Day this Saturday, Feb. 23 from 10:30 a.m. to 4:30 p.m.
Walmart stores from across the country will be hosting the largest in-store baby event of the year with rollbacks both in store and online! Specialists will be on deck to provide soon-to-be parents demonstrations of baby gear and advice on choosing the right products. 
Samples and coupons will also be offered. Participating stores in Central Florida area include: 
Altamonte Springs, 200 S State Road 434
Apopka, 820 Balmy Beach Dr
Apopka, 1700 S Orange Blossom Trl
Auburndale, 2120 Us Highway 92 W
Bartow, 1050 E Van Fleet Dr
Bushnell, 2163 W C 48
Casselberry, 1239 State Road 436 Ste 101
Chiefland, 2201 N Young Blvd
Clermont, 1450 Johns Lake Rd
Clermont, 550 Us Highway 27
Cocoa, 2700 Clearlake Rd
Daytona Beach, 1905 N Nova Rd
Daytona Beach, 1101 Beville Rd
Debary, 185 N Charles Richard Beall Blvd
DeLand, 955 S Woodland Blvd
DeLand, 1699 N Woodland Blvd
Deltona, 1569 Saxon Blvd
Deltona, 101 Howland Blvd
Dunnellon, 11012 N Williams St
Gainesville, 5700 NW 23rd St
Gainesville, 2900 SW 42nd St
Gainesville, 1800 NE 12th Ave
Haines City, 36205 Hwy 27
Kissimmee, 2850 E Osceola Pkwy
Kissimmee, 3183 W Vine St
Kissimmee, 4444 W Vine St
Kissimmee, 1471 E Osceola Pkwy
Kissimmee, 2855 N Old Lake Wilson Rd
Kissimmee, 904 Cypress Pkwy
Kissimmee, 3250 Vineland Rd
Lake City, 2767 W US Highway 90
Lake Mary, 825 Casa Verde Blvd
Lake Wales, 2000 State Road 60 E
Lake Worth, 4545 Hypoluxo Rd
Lake Worth, 2765 10th Ave N
Lakeland, 3501 S Florida Ave
Lakeland, 5800 US Highway 98 N
Leesburg, 2501 Citrus Blvd
Melbourne, 845 Palm Bay Rd NE
Melbourne, 1000 N Wickham Rd
Melbourne, 8500 N Wickham Rd
Merritt Island, 1500 E Merritt Island Cswy
Mount Dora, 17030 US Highway 441
New Smyrna Beach, 3155 State Road 44
Ocala, 7855 SW Highway 200
Ocala, 2600 SW 19th Avenue Rd
Ocala, 4980 E Silver Springs Blvd
Ocala, 34 Bahia Ave
Ocala, 9570 SW Highway 200
Ocoee, 10500 W Colonial Dr
Orange City, 2400 Veterans Memorial Pkwy
Orlando, 8801 Conroy Windermere Rd
Orlando, 2715 S Orange Ave
Orlando, 600 S Alafaya Trl
Orlando, 433 Avalon Park South Blvd
Orlando, 4520 S Semoran Blvd
Orlando, 1101 S Goldwyn Ave
Orlando, 902 Lee Rd
Orlando, 5559 Clarcona Ocoee Rd
Orlando, 7818 W Colonial Dr
Orlando, 201 S Chickasaw Trl
Orlando, 9047 Curry Ford Rd
Orlando, 12550 S Orange Blossom Trl
Orlando, 2271 N Semoran Blvd
Orlando, 13801 Landstar Blvd
Orlando, 3838 S Semoran Blvd
Orlando, 11250 E Colonial Dr
Orlando, 8101 S John Young Pkwy
Orlando, 2500 S Kirkman Rd
Orlando, 5991 New Goldenrod Rd
Orlando, 8990 Turkey Lake Rd
Orlando, 11930 Narcoossee Rd
Orlando, 3101 W Princeton St
Orlando, 5734 S Orange Blossom Trl
Ormond Beach, 1521 W Granada Blvd
Oviedo, 4255 Alafaya Trl
Oviedo, 5511 Deep Lake Rd
Palm Bay, 1040 Malabar Rd SE
Palm Coast, 174 Cypress Point Pkwy
Plant City, 2602 James L Redman Pkwy
Port Orange, 3811 Clyde Morris Blvd
Port Orange, 1590 Dunlawton Ave
Saint Cloud, 2125 Nolte Rd
Saint Cloud, 4400 13th St
Sanford, 3653 S Orlando Dr
Sanford, 1601 Rinehart Rd
The Villages, 270 Heald Way
The Villages, 4085 Wedgewood Ln
Titusville, 3175 Cheney Hwy
Winter Garden, 16313 New Independence Pkwy
Winter Haven, 355 Cypress Gardens Blvd
Winter Haven, 7450 Cypress Gardens Blvd
Winter Springs, 5216 Red Bug Lake Rd
Dozens more are participating in Florida: click here to see the full list.  Wal-Mart is also offering online discounts until February 28th.