'It was a fight': Wild video shows trio capturing longest Burmese python ever recorded in Florida
A group of python hunters just broke the record for catching the longest Burmese python ever captured in Florida. 
The Conservancy of Southwest Florida measured the lengthy creature which came out to 19 feet and 125 pounds — the longest ever documented in Florida. The longest previous recorded Burmese python in Florida was 18 feet and 9 inches.
"Its the only snake I've ever seen that's scared me enough where I just didn't know what to do," said Jake Waleri who found the snake in Big Cypress National Preserve. 
Waleri along with Ian Easterling, and Stephen Gauta — a group who calls themselves the "Glade Boys" caught the female Burmese python on July 10, were interested in learning about the full scope of the size of the catch and bought the snake to the Conservancy to be measured.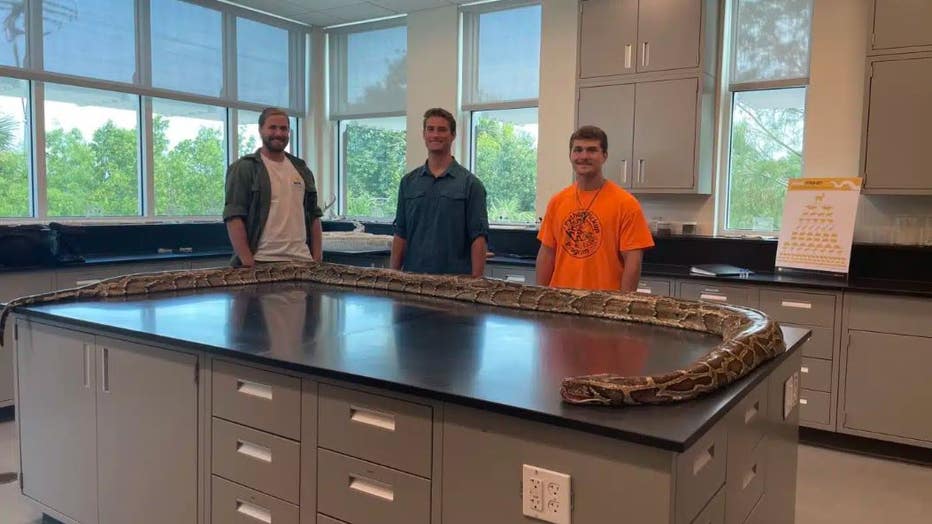 From left to right: Ian Easterling, Jake Waleri, and Stephen Gauta Credit: Conservancy of Southwest Florida
Waleri said the night started out slow but around 1 a.m. they spotted a giant snake that he initially thought was a 10-foot snake. When they got closer to the snake he said they realized "it was an absolute monster."
"We had a feeling that these snakes get this big and now we have clear evidence, Easterling told the Conservancy. "Her genetic material may prove valuable for an eventual understanding of the founding population of South Florida. We will be collecting measurements and samples that will be distributed to our research collaborators." 
The trio said they wrangled the snake for almost three minutes before getting ahold of the head.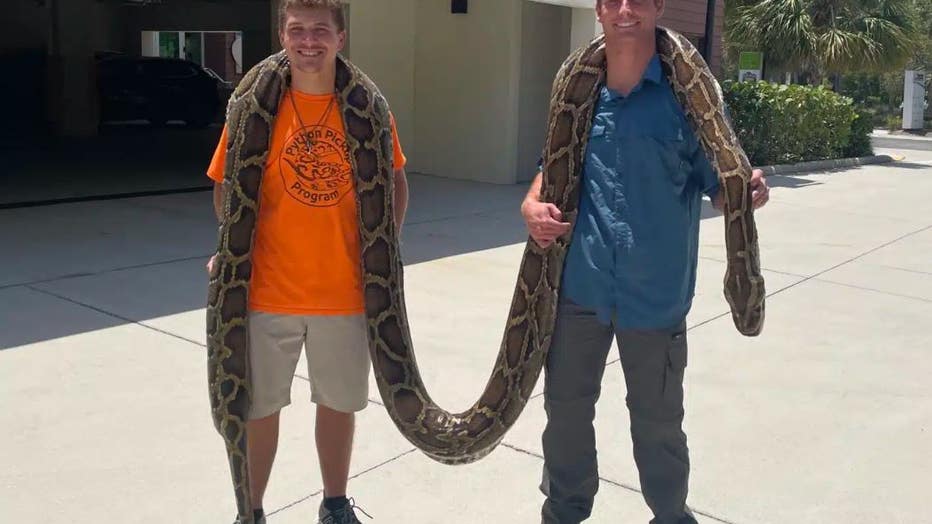 From left to right: Stephen Gauta, Jake WaleriCredit: Conservancy of Southwest Florida
What is a Burmese python?
A Burmese python is a nonnative constrictor that are much longer and heavier than any of Florida's native snakes. They typically grow to more than seven feet long. Their scales look smooth compared to the rough, textured scales of native water snakes. They can grow up to 20 feet long. 
Where can you find Burmese pythons in Florida?
Burmese pythons have large breeding populations in Miami-Dade, Monroe, and Collier counties, within and around the Florida Everglades. Their typically found near wetlands or open bodies of water. 
Why are Burmese pythons a problem in Florida?
Since Burmese pythons are non-native to Florida, they do not have a natural predator in the state. The snakes inhabit the mainland around the Everglades feasting on rare and endangered species. They don't attack people but disrupt the natural Florida ecosystem.