Maserati gets stuck on Florida beach after accused DUI driver flees officer at speeds near 90 mph: police
COCOA BEACH, Fla. - A Florida man was arrested after police say he was driving drunk behind the wheel of a Maserati that ended up getting stuck on the beach after the driver attempted to elude an officer. 
Jeremy Goldman, 37, of Geneva, was charged with reckless driving, DUI, resisting officer without violence, fleeing with disregard for the safety of others, and driving with a suspended license. 
According to the Cocoa Beach Police Department, an officer clocked Goldman traveling approximately 90 mph in a 35 mph zone. The officer turned on the patrol car lights and began a pursuit. Police said the driver pulled down the popular walkway near Coconuts on the Beach. Photographs show how deep the driver managed to sink into the soft sand.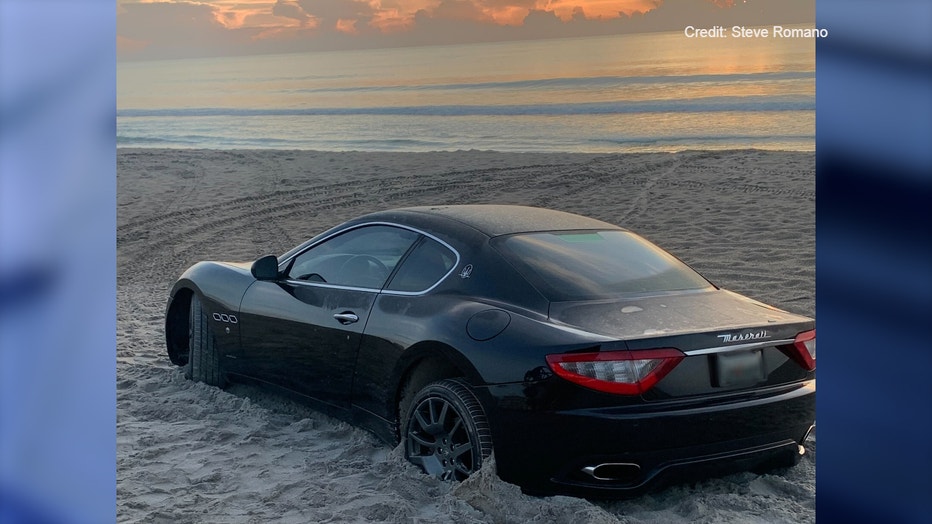 FOX 35 viewer Steve Romano snapped a photograph of the stranded Maserati and shared with us what he saw.
"A Maserati about halfway buried in the ocean," explained Romano, who walks the beach every morning. "It looks like they must have gone right down the ramp and got out there and decided to come around the lifeguard stand and didn't make it around." He added, "There's better places for a Maserati!"
People sitting in the same spot hours later were shocked to hear about the alleged drunken dash to the sea.
"For me, this is a family vacation spot," said Ryan Hendrix. "That is a little scary that someone could do that you know, especially right here in a small community."
"I'm glad he's safe," said Ashritha Aroun. "In jail is better than dead any day."
Goldman was booked into the Brevard County Jail with more than a $20,000 bond. He was expected to have his initial appearance before a judge on Thursday.