Massive alligator spotted at Florida golf course goes viral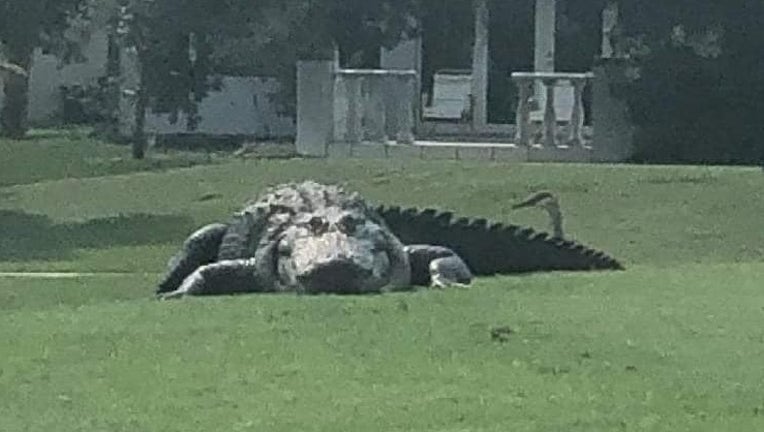 article
SEBRING, Fla. - A Florida golf course became Jurassic Park when a massive momma alligator was seen hanging out greeting golfers on the green.
Rich Louty told FOX 35 he was visiting his mom at the Spring Lake Club Golf Resort in Sebring when he spotted the dinosaur-sized beast. He said he couldn't tell exactly how big the gator was, but guessed it was no less than 10-feet long. 
Locals said it's a momma alligator who frequents the area. 
"The guys in the cart shop will steer her toward the water if they have to, but they rarely do that. Everybody does their best to leave her be," Louty said.
TRENDING: Florida mom defends naming baby after Disney's Splash Mountain ride in viral TikTok
The photo was shared across social media and quickly went viral, sparking tons of comments from viewers stunned by the gator's size:
"That's a big monster."
"The gator just wants to play golf too."
"Think I'll take up pickleball?"
"That big old gator would def evaporate any motivation to take to the greens!"
"Seriously? They appear on golf courses in the USA…Glad I don't live there."
Seeing alligators on Florida golf courses is pretty common, especially if there is water nearby for them to swim in.
As one commenter put it, you "pretty much have to assume any body of water in Florida or the Deep South could have a gator."