More than 200 arrested in Polk County human trafficking bust
WINTER HAVEN, Fla. - More than 20 women believed to have been trafficked into the U.S. and forced into sex work were rescued during a week-long operation in Polk County. More than 200 people were arrested during operation, as well.
Polk County Sheriff Grady Judd said most of the women who were identified as sex trafficking victims are Cuban and were brought through the Mexican border. 
Judd said they likely began as refugees traveling through Central America, but came in contact with a human smuggler, or "coyote," and were told they'd be helped with travel. Then were told they would have to engage in prostitution in order to pay off the debt. The women were also threatened with harm to their families back home if they did not comply with the traffickers.
A few of the women had arrived in the U.S. within the last 2 weeks, Judd said. 
"The human trafficking victim is a very difficult victim to work with, because they are scared," said Sheriff Judd. "[They say] 'hey you can come to the United States, and they are going to open the border. Well I don't have the money to get there. I have a solution for you.'" 
The women were being provided with assistance and counseling. 
In addition to those identified as victims of trafficking, four people with a criminal history of prostitution were arrested during this operation. One of the customers also had a past arrest for soliciting prostitution.
Among the arrests was an elected official who is on a school board in San Diego, California. Judd said Dr. Scott Wooden was in town helping his elderly parents when he tried to solicit a sex worker for $200. He is a member of the Del Mar Union School District, a molecular biologist and used to own a massage parlor, Judd said.
The Del Mar Union School District released the following statement: 
"We want to inform you that the Del Mar Union School District received notification that Scott Wooden has resigned from the District's Governing Board of Trustees effective immediately.
The Board is currently exploring options to fill the vacancy. We will keep the community informed as the District moves through this process."
Another man caught up in the arrest is a sex offender who lives in Lakeland, but according to Judd, has decades of arrests related to prostitution and inappropriate sexual behavior. Christopher Pitasi was charged with soliciting prostitution.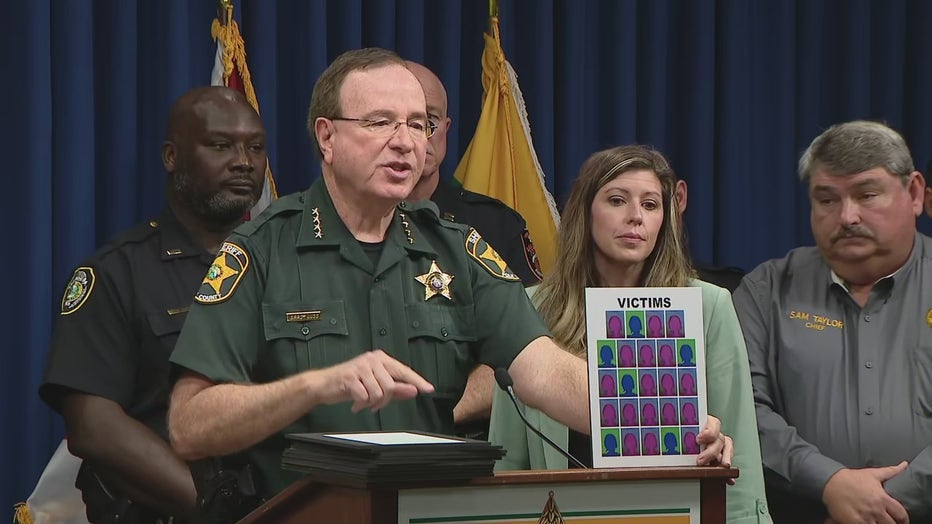 The sheriff said victims are offered an opportunity to get linked with social service agencies to receive help, including One More Child, a non-profit in the southeastern United States. That agency said it is critical to get beyond myths of human trafficking that highlight kidnappings as the main threat. 
"It most often looks like generations of cyclical poverty and individuals who are desperate to have their needs met for survival," said Jodi Domangue, the head of the anti-trafficking unit of One More Child. 
Sheriff Judd said they are continuing to investigate where, how and who first offered the victims' trips across the Southern Border. 
"We have caught the buyer and the seller," said Sheriff Judd. "That's what we've done today. But we know the buyer and the seller is only the beginning of the chain. It's not the end of the chain."
For information on how you can spot human trafficking in the Tampa Bay area, visit onemorechild.org/our-care/anti-trafficking.