Ocala mom arrested after heated confrontation with middle school receptionist over visitor pass, deputies say
Stream FOX 35 News:
MARION COUNTY, Fla. - An Ocala woman was arrested after she allegedly shoved her guest badge in a middle school receptionist's face and threw a crumpled up piece of paper at her during an argument, according to the Marion County Sheriff's Office. 
Dawn Shepherd, 46, was arrested and charged with battery on a public education employee after the incident that unfolded at Liberty Middle School in Ocala on Wednesday. 
A deputy working as a school resource officer was notified that someone, later identified as Shepherd, battered the front receptionist, according to an arrest affidavit. Shepherd was at the school because two of her sons go there and she was having a meeting with administration about their education plans. 
When they were leaving the school, however, is when things reportedly got hairy. 
The school's security camera captured Shepherd and her husband leaving the front office to turn their visitor passes in and check out, the affidavit said. The receptionist placed the sign-in and -out log on the desk for the parents to sign, but that's when Shepherd apparently walked over to her desk and threw her guest badge at the receptionist.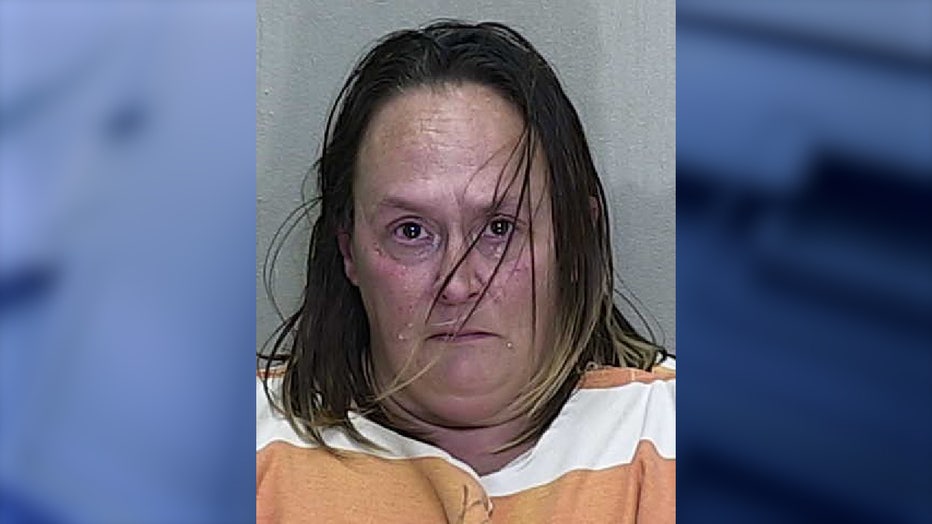 Photo: Marion County Sheriffs Office
"That is not how you hand someone a badge," the receptionist told Shepherd, according to the affidavit, before handing it back to her. 
About a minute later, Shepherd walked around the desk and approached the receptionist with the guest badge in her hand. She allegedly shoved the badge into the receptionist's face, her right hand "clearly" making contact with the woman's face, the affidavit said. 
Shepherd's husband was seen laughing as the incident continued to unfold, according to the report. 
Shepherd was then seen crumpling up a piece of paper and throwing it at the receptionist. The two reportedly exchange words before Shepherd walked back around the desk in an attempt to get the woman to stand up and approach her, the affidavit said. The receptionist didn't bite. 
Shepherd and her husband stayed in the front lobby for another 14 minutes, the surveillance video showed. 
MORE CRIME HEADLINES:
She was arrested later that day and transported to the Marion County Jail on $2,000 bond. She has since been released. 
FOX 35 News has requested a copy of the surveillance footage, as well as comment from Marion County Public Schools regarding the incident.