Orlando weather: Patchy fog early Wednesday will give way to sunny afternoon
Tonight's low: 59 degrees | Tomorrow's high: 82 degrees 
Main weather concerns: We're enjoying a gorgeous week to really take advantage of fall here in Florida with outdoor activities. Whether you're outside waiting for the school bus, planning a jog, or taking some days off to soak in the sun, you've got the golden ticket this week. By daybreak on Wednesday, more fog could form, especially near the St. Johns River in Lake and Volusia counties. However, it will completely burn off by mid-morning if it does form.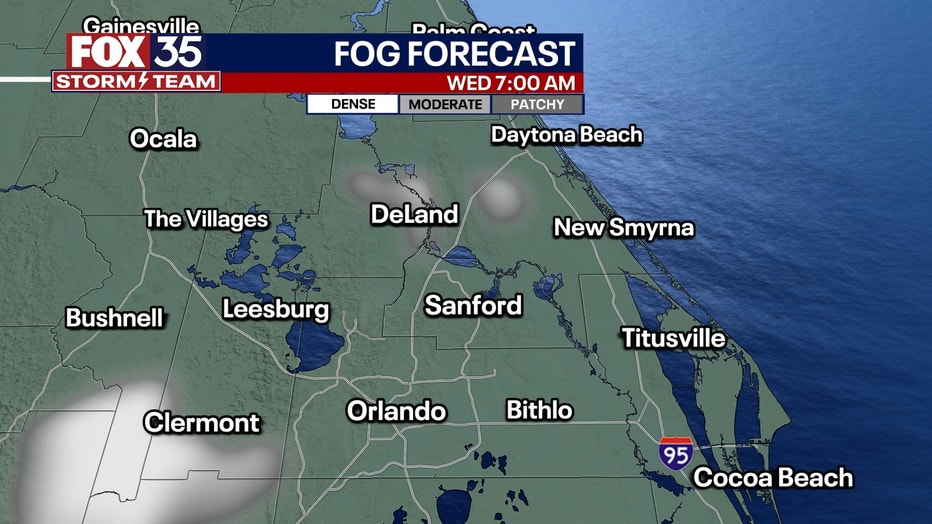 BEACHES:
Wednesday will be another great day to head to one of our beautiful Central Florida beaches. Sunshine prevails making for a gorgeous weather day ahead. Highs seaside reach the upper 70s if not near 80 degrees. Rip current risk stages at moderate. Surf height will be in the 3' range today. There is a high UV Index today, so use good quality sunscreen for your outdoor plans.
THEME PARKS:
Enjoy the great weather at the theme parks on Wednesday. Sunny, low humidity, and quite pleasant. Highs hit in the lower 80s with dry skies!
OUTLOOK:
The extended forecast brings a warming trend into Central Florida through midweek. Highs will rise into the mid-upper 80s Wednesday into Friday. By the weekend, a cold front will bring a few showers to the region along with a busy northeast breeze. It will also result in beaches becoming full of rip currents and higher surf next week. 
Overall, our quiet weather pattern looks to become quite busy for the second half of November with periodic weather systems swinging through our region bringing rain and a few storms
TROPICS:
The tropics remain nice and quiet. Tropical storm formation is not expected for the next 7 days. Hurricane season ends on Nov. 30.