Orlando weather: Staying warm before cold front, possibly severe storms arrive in Central Florida
ORLANDO, Fla. - Tonight's low: 65 degrees | Tomorrow's high: 84 degrees
Main weather concerns: Another warm day for the area with highs heading into the 80s inland, and upper 70s along most of the coastal locations. Showers begin to develop in the evening over the FOX 51 viewing area before moving south over Orlando on Saturday.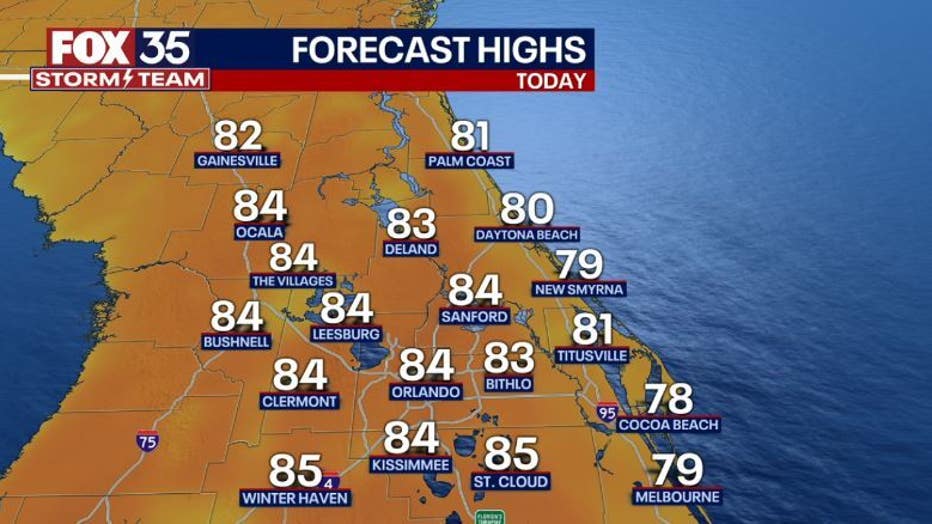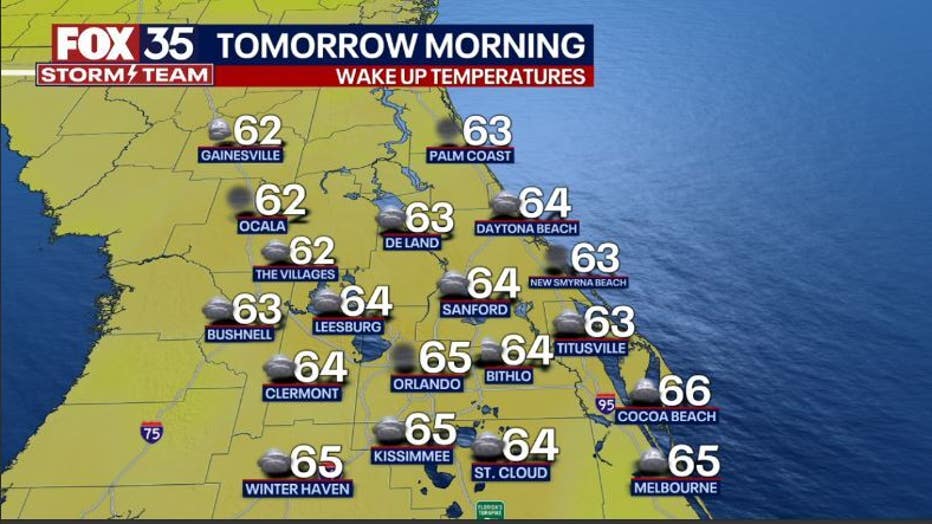 BEACHES: Temperatures will reach the mid to upper-70s. Surf is in the 3-4' range in a nice pulse of ENE swell. High risk for rip currents. Local winds will be variable early, shifting out of the southeast around 5-10mph this afternoon. 
THEME PARKS: A nice day at the theme parks! Highs warm to near 85 degrees with mostly sunny skies. A hat and sunglasses will be needed this afternoon and don't forget to stay hydrated.
OUTLOOK: Warm weather will continue through Friday as highs repeatedly visit the low-mid 80s, with mostly sunny skies. Weather changes arrive by Friday afternoon-evening as a front moves into the area. Rain chances rise Friday afternoon and will continue into Friday night. A few thunderstorms will be mixed in, especially in North Central areas-gusty winds, lightning, and heavy rain will accompany a few of the storms.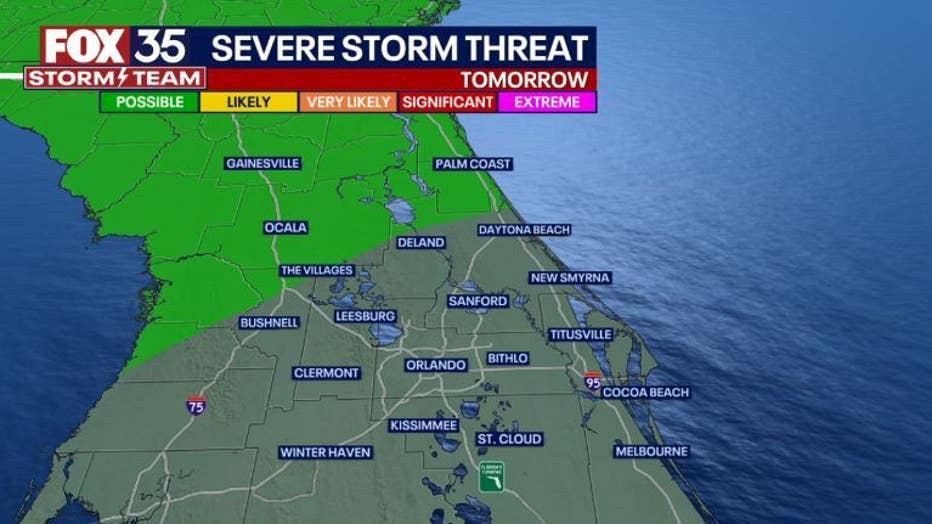 Current forecast modeling and SPC forecasts point to a soggy Saturday with possible strong to isolated severe storms. That is why we have declared it a FOX 35 Weather Impact Day.
Risk area on Saturday includes the entire viewing area-inland & beaches. A "LEVEL 1-POSSIBLE" risk for now. Forecast details could change as a complex weather pattern takes shape during this time. As of right now, heavy rain, lightning and damaging wind gusts appear to be the main threats.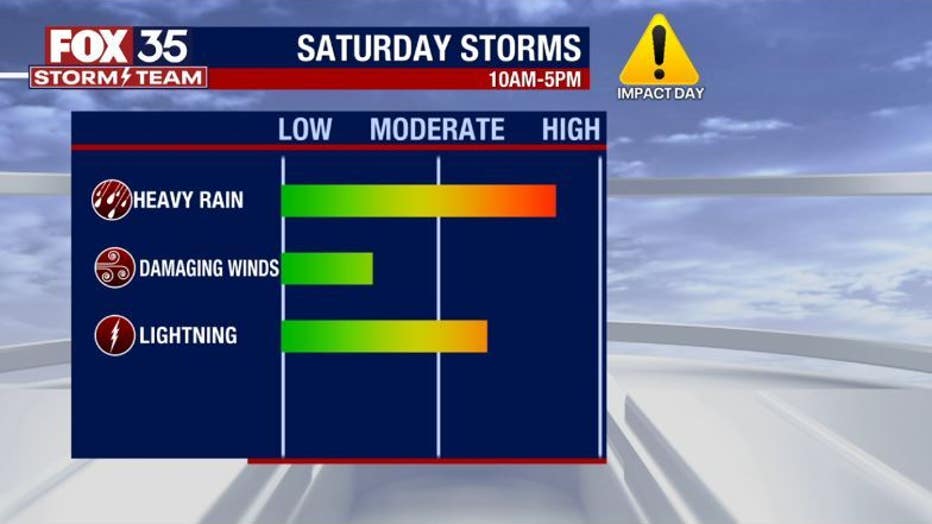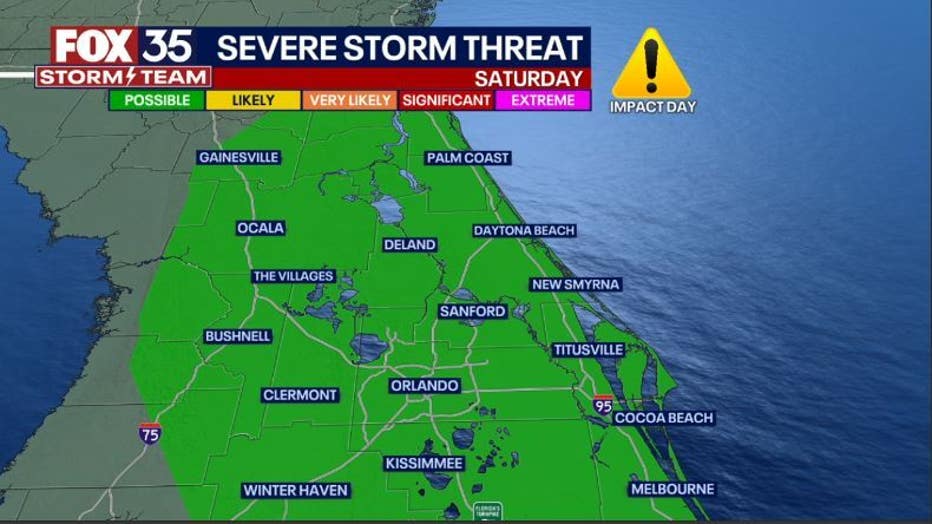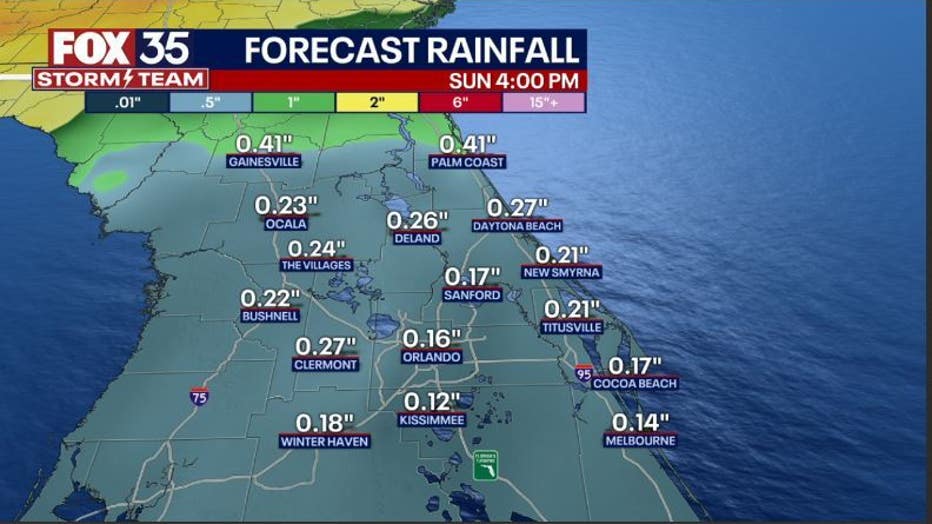 Colder air will funnel in right behind. Sunday looks dry, mostly sunny and much cooler. Wake up temps Sunday will be around 50 degrees with a PM rebound high of 65 or so.