Orlando weather forecast: Downpours continue in Central Florida this weekend
ORLANDO, Fla. - Tonight's low: 73 degrees
Tomorrow's high: 88 degrees
Rain: 80%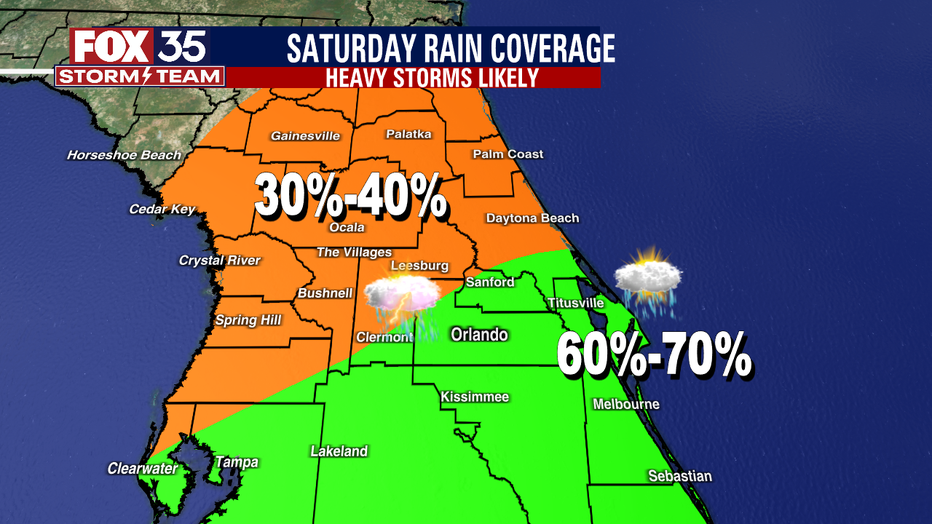 Main weather concerns:
Widespread showers are moving to the east this afternoon for Orange, Osceola, and Brevard Counties. Main threats are heavy rain and lightning. Stronger storms can have wind gusts over 40 mph. These storms are going to move over places that have already seen heavy rainfall this week, so this can quickly lead to ponding and localized flooding. Coverage hangs in the 80% range.
 Stay weather aware and download the FOX 35 Storm Team weather app.
BEACHES:
Showers and thunderstorms will be the story after 2pm for the beaches on Sunday. There will be a 60% chance of rain. High temperatures peak at 85 degrees tomorrow. Surf will be between 2-3 ft with the rip current risk being moderate. Make sure to swim next to a lifeguard stand.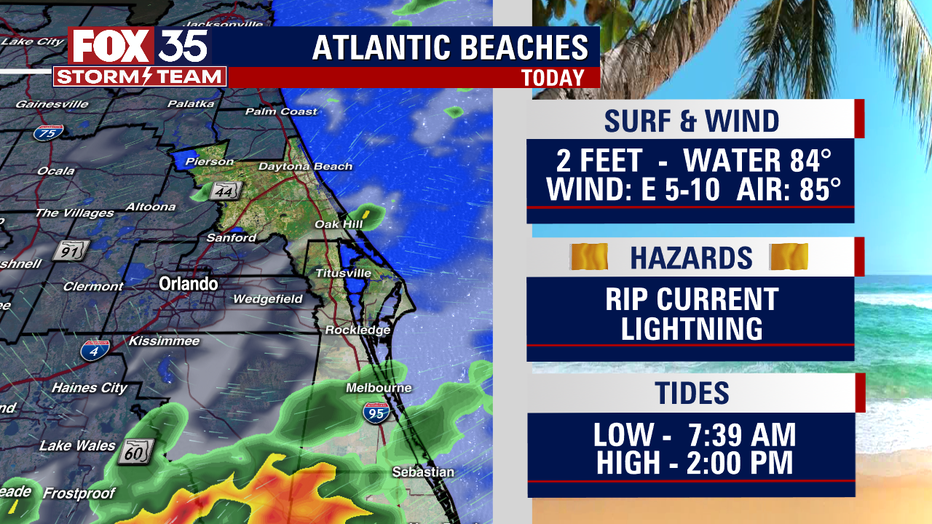 THEME PARKS:
Another rainy afternoon for the parks. Rain chances are highest between 2 pm- 7pm. Afternoon highs will reach the upper 80s. Heavy rain and lightning will accompany the stronger storms. Make sure to stay weather aware.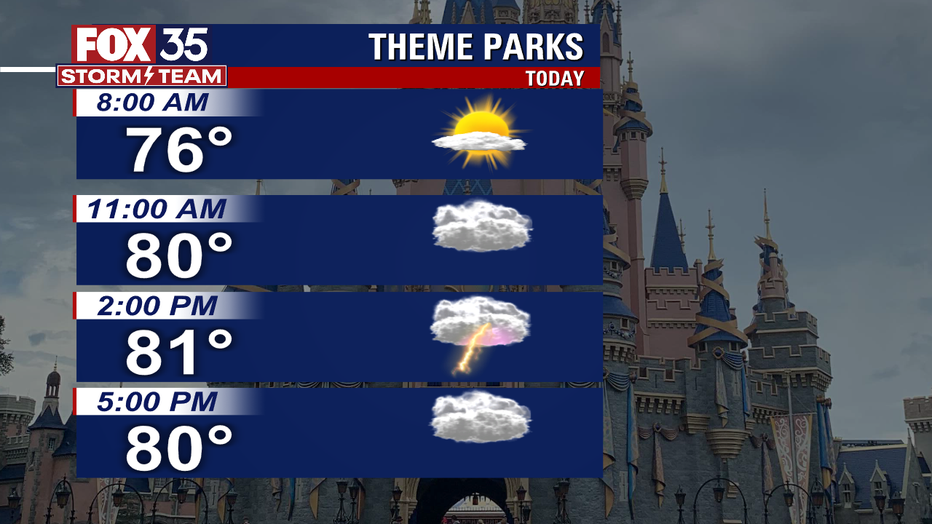 EXTENDED OUTLOOK:
Rain chances stay high for the rest of the weekend and the start of the workweek. Conditions ease up as a northerly wind brings drier conditions to our area just in time for the first day of fall on Thursday. Keep the umbrella handy for Sunday and download the FOX 35 STORM TEAM app to stay up to date with the current radar!
TROPICS:
Tropical storm Fiona is located 90 miles away from St. Croix. Fiona is slowing down as it tracks West at 8 mph towards the Virgin Islands and Puerto Rico. Fiona is bringing torrential rain 19.46" of rain was recorded in the past 24 hours in the mountains in Guadeloupe. A hurricane warning is now in effect for Puerto Rico, and hurricane watches are in effect for the Virgin Islands. The latest track has its strengthening into a weak hurricane as it passes through the Mona Passage (the body of water between Puerto Rico and the Dominican Republic). Our exclusive FOX MODEL shows wind speeds over 75 mph passing through these islands. As of right now, there is no direct threat to Florida. You can always depend on the FOX 35 Storm Team for the latest updates.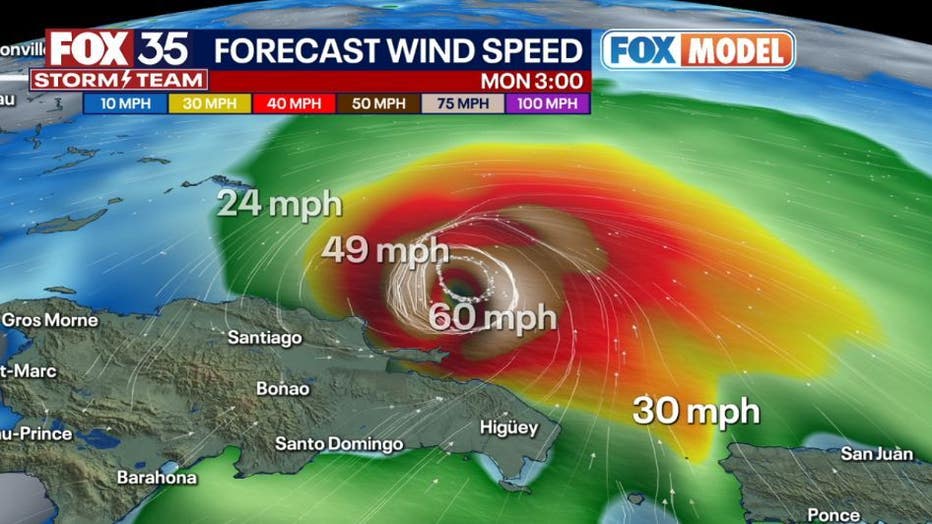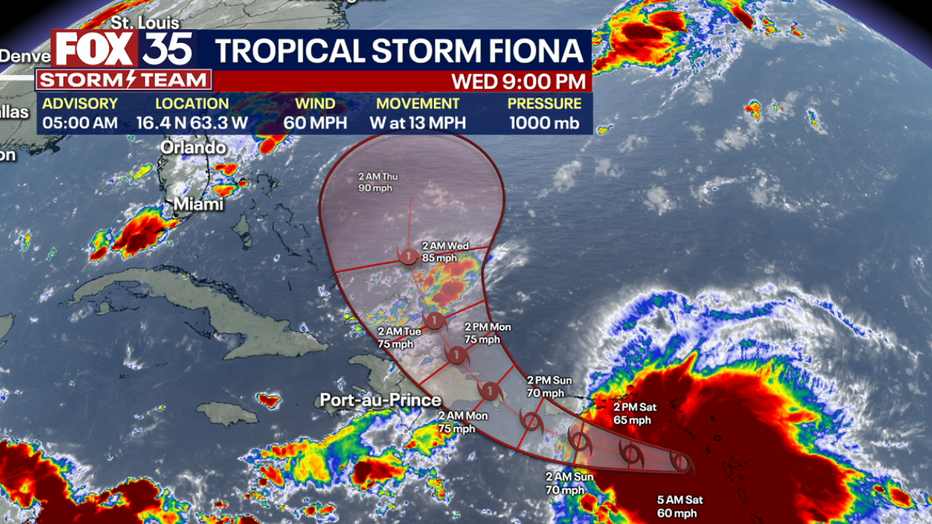 You can depend on the FOX 35 STORM TEAM when it comes to tracking the tropics. 
Our FOX MODEL updates through the day and as those updates come in, we will share the latest with you!