Orlando weather: Rain chances increase this week with isolated showers across Central Florida
ORLANDO, Fla. - Tonight's low: 69 degrees | Tomorrow's high: 79 degrees 
Marin weather concerns: Tuesday and Wednesday will be carbon copies of Monday – cloudy, gloomy, misty, and gusty winds. At times, passing showers of varying intensity will be moving across the state. Gusts on Tuesday and Wednesday could reach 15 to 25 mph inland, and possibly 30 mph or so along the beaches. 
Thursday is a day when a complicated meteorological setup enters the picture. A large area of low pressure will generate more numerous showers, storms, and some downpours. Meanwhile, a secondary low-pressure system may form off the coast of West Palm Beach on Thursday. It is that secondary low pressure that holds the greatest impact/uncertainty/trickiness on the forecast. 
If the low forms right along the coast, winds could really ramp up in the second half of Thursday, potentially 40 to 50 mph right along the immediate coast – with isolated higher gusts. That is not from storms but from wind gusts. The exact track and timing of this low pressure will greatly swing the location of the strongest wind gusts and rain totals for Thursday. And we won't know the specific details of that until maybe Wednesday morning.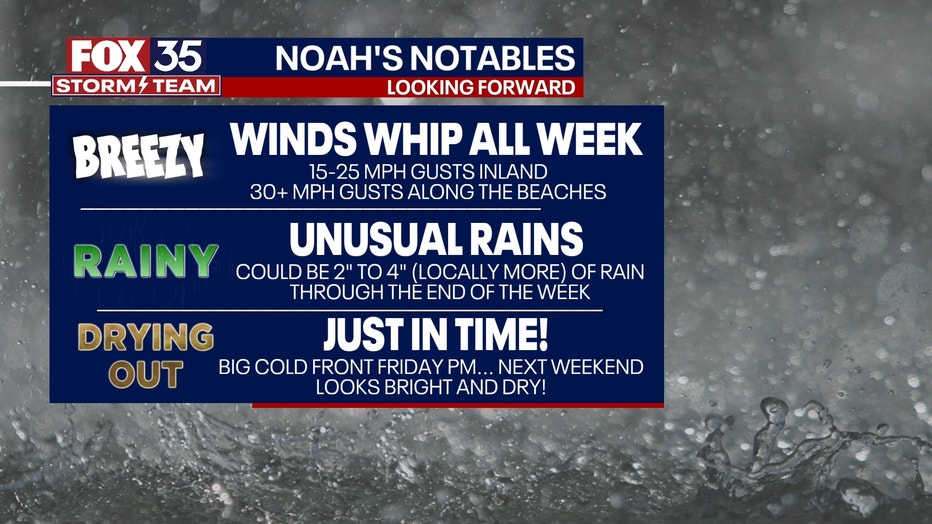 BEACHES:
Showers are likely along our coast on Tuesday. Cloudy skies and breezes continue with gusts up to 25 mph. This will result in rough seas with a moderate rip current risk and surf of 2–4 feet.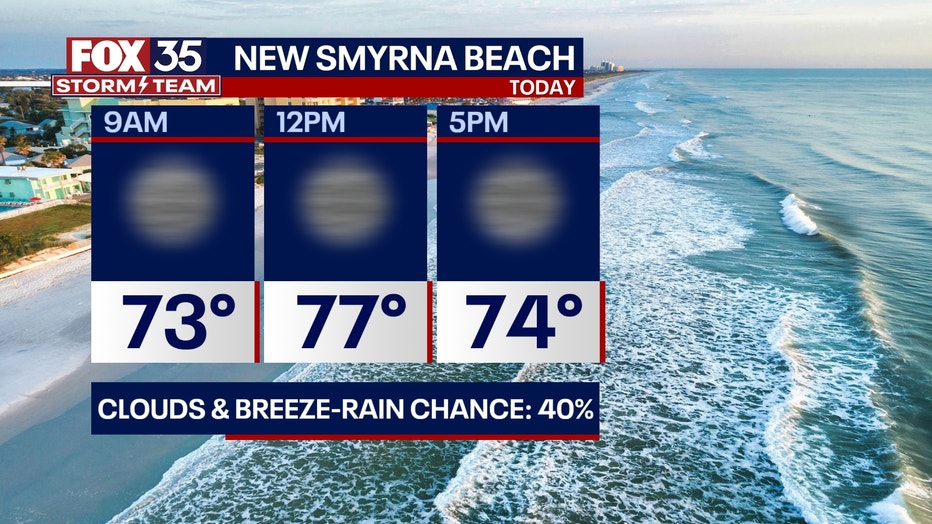 THEME PARKS:
It will be a comfortable day at the parks with breezes and mostly cloudy skies on Tuesday. We can't rule out an isolated shower, but it would pass quickly. 
OUTLOOK:
Rain chances are on the rise by midweek as a low-pressure system is expected to move east from the western Gulf towards Florida. Our wettest period will be Wednesday evening and Thursday with rounds of showers and storms. Heavy rain looks likely with stronger storms possible. Models are a bit in disagreement on rain totals, but an inch or two is possible overall. Keep with us for updated totals as we get closer to the event.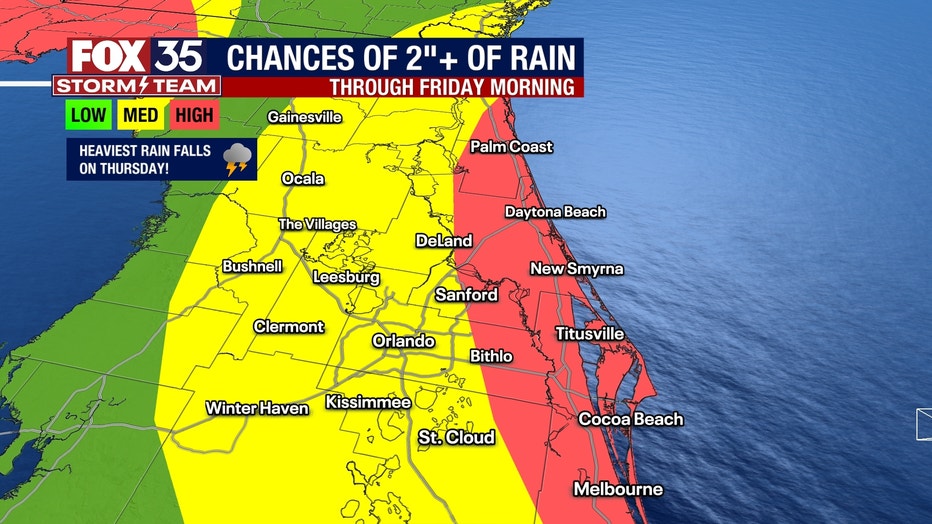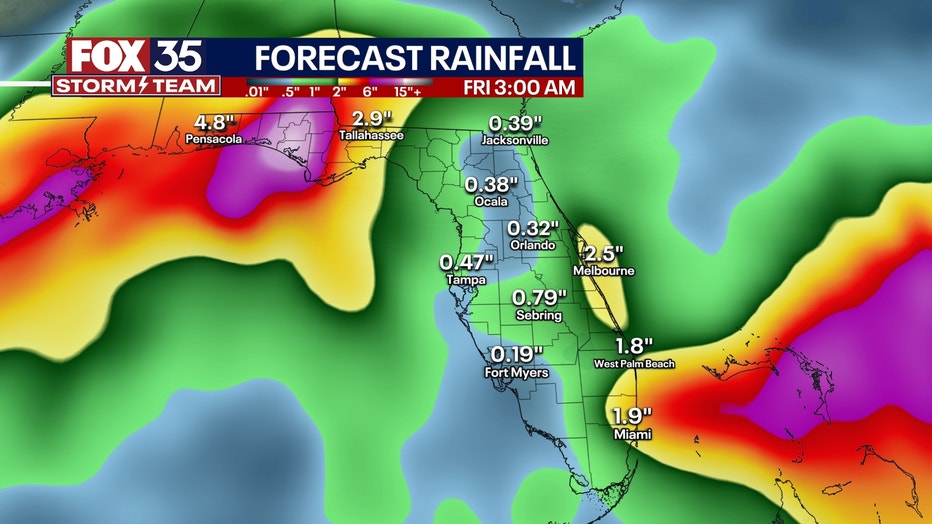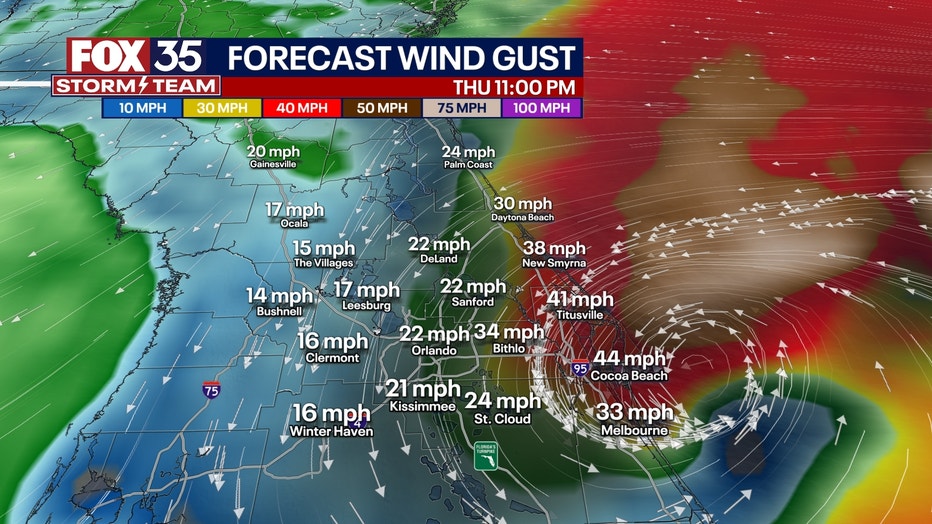 TROPICS:
The FOX 35 Storm Team is monitoring the latest tropical models as they continue to suggest a low-pressure system will develop in the Caribbean this week and could become a tropical depression during that time.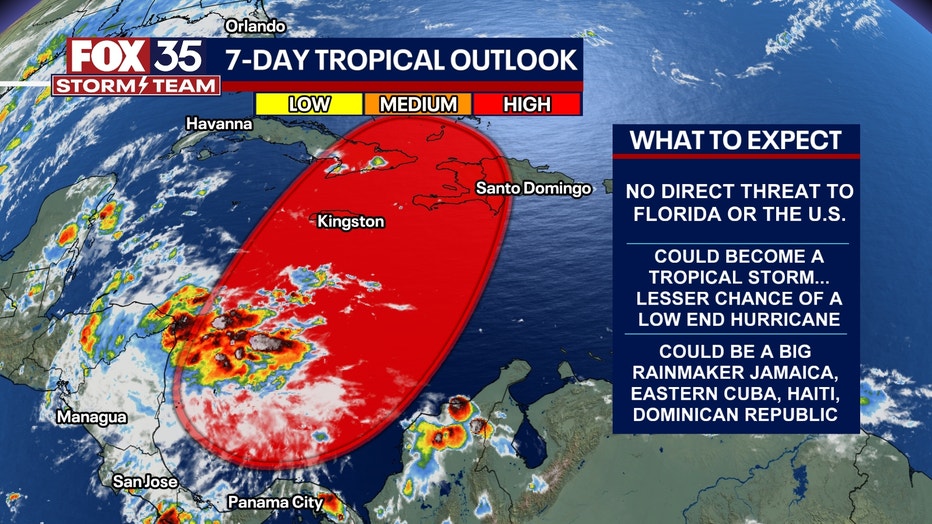 Overall trends have this system developing and moving northeastward over Jamaica, Cuba, and Hispaniola before heading out into the Atlantic by this weekend. At this time, there is no threat to Florida.