Orlando weather: Severe storms possible in Central Florida before cooler air moves in
ORLANDO, Fla. - Heads up: Strong to severe weather is possible this Super Bowl weekend across Central Florida with downpours forecast to start Saturday afternoon and into the evening. That is why we have declared Saturday a FOX 35 Storm Alert Day.
Colder air will then move in on Super Bowl Sunday, so be sure to keep an umbrella AND a jacket ready!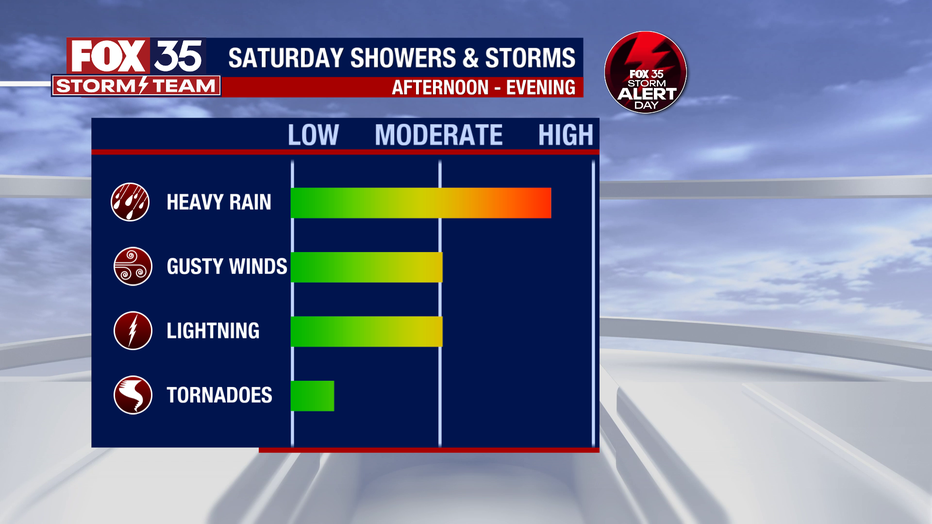 ---
Today's high: 81 degrees
Tonight's low: 58 degrees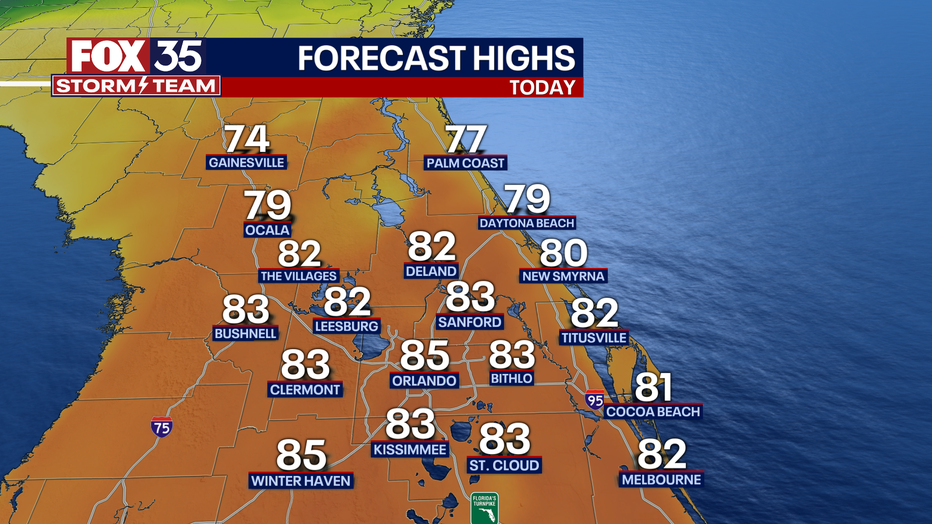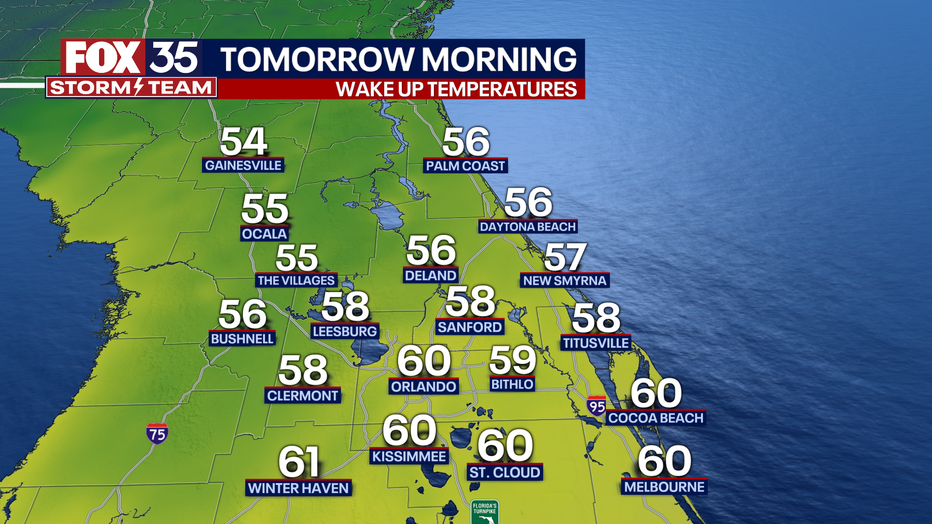 Main weather concerns:
Today is a FOX 35 Storm Alert Day.  Shower and thunderstorm activity will increase in coverage this afternoon all thanks to an area of low pressure and trailing cold front that will move across the state. Storms could be strong to severe at times mainly between 2 p.m. and 7 p.m.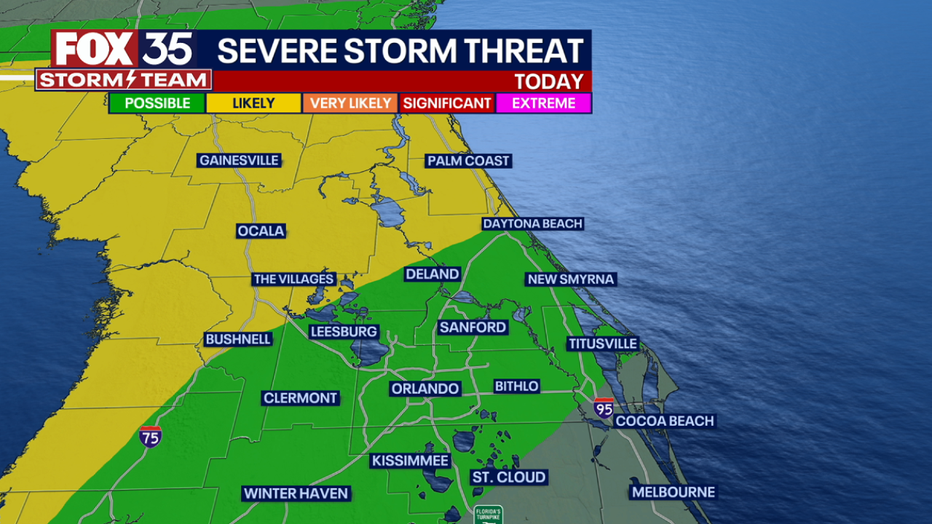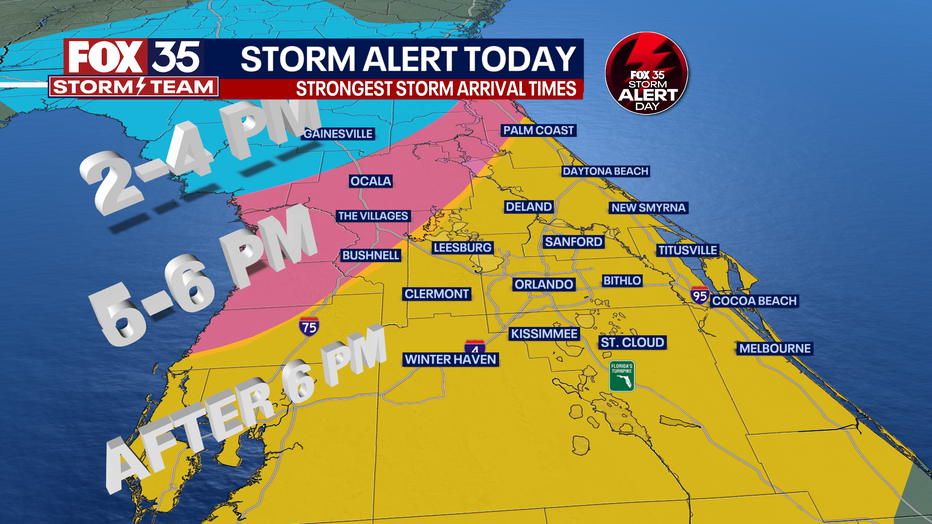 The storm prediction center has marked the Orlando metro, Leesburg, Daytona Beach, Kissimmee and Titusville in a "LEVEL-1 POSSIBLE" risk for a few strong or severe storms during this time. The northern viewing area, including Ocala, Gainesville, Palm Coast and Cedar Key are marked in a "LEVEL-2 LIKELY" risk for severe storms. 
| DOWNLOAD THE FOX 35 STORM TEAM WEATHER AND NEWS APPS |
The main weather threats are locally heavy rain, frequent lightning, gusty winds and the chance for an isolated tornado or two. Stay weather aware and depend on the FOX 35 Storm Team.
BEACHES:
It is not the best day to head to the beach. Temperatures will reach the mid to upper-70s. There is a high risk for rip currents, so it is not recommended to enter the surf. Winds will be gusty at times out of the southeast at 10-20 mph. By this afternoon/ early evening, storm chances will be on the rise.
THEME PARKS:
It will be a breezy day at the theme parks. Temperatures will warm to the low-80s with partly cloudy skies. Once the front moves across the Florida peninsula, storm chances will be on the rise around dinnertime. Remember, when thunder roars, go indoors.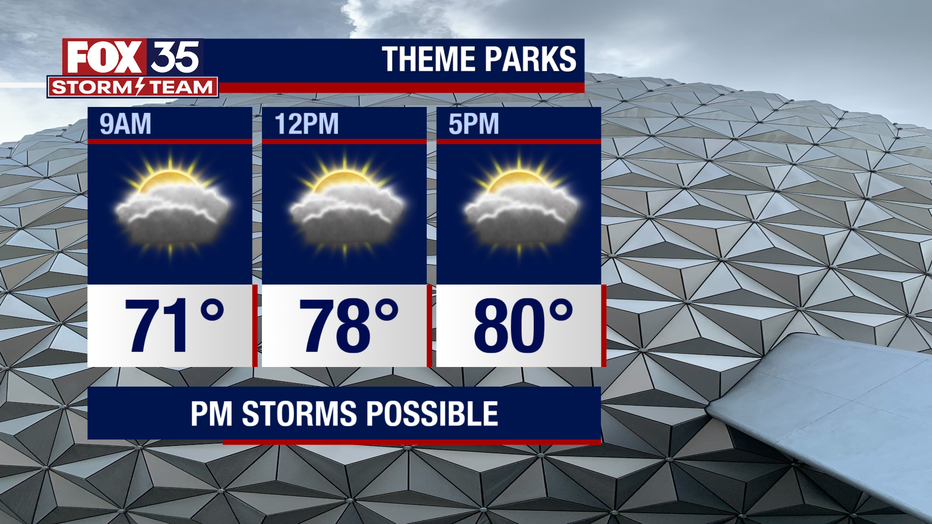 OUTLOOK:
The front the FOX 35 Storm Team is tracking will finally push South of Central Florida late tonight into Sunday. 
Colder air will funnel in right behind. Sunday looks dry, mostly sunny and much cooler. Wake up temps Sunday will be in the 50s with afternoon highs in the 60s. We remain dry to start next week.