Orlando weather forecast: Strong, severe storms bring gusty winds, heavy rain to Central Florida
ORLANDO, Fla. - Today's high: 89 degrees | Tonight's low: 74 degrees
It's a FOX 35 Storm Alert Day as widespread showers and storms – some potentially strong or severe – are expected across Central Florida throughout the day.
Several storms moved through early Saturday morning and afternoon bringing with them heavy rain and strong winds, prompting several severe thunderstorm warnings to be issued for parts of Brevard, Osceola, Orange, and Sumter counties, including a brief tornado warning in Brevard County.
Download the FOX 35 News and FOX 35 Storm Team Weather apps for the latest news and weather alerts
Weather Livecams: Take in live views of Daytona Beach, Port Canaveral, downtown Orlando, and Orlando Sanford International Airport
Flight delays at Orlando International Airport
Orlando International Airport said because of the weather, people traveling to or from Orlando could experience flight delays or delays receiving their bags at baggage claim.
Flights were delayed an average of 90 minutes following Saturday's morning storms, which prompted a brief ground stop at OIA, according to the FAA's website.
People headed to the airport should check the status of their flight with their airline, the airport said. 
Time-lapse: Storm clouds in downtown Orlando
Florida beach weather forecast
Storm chances will rise by late in the morning across our beaches. Numerous storms are expected into the early afternoon. We could see a lull in activity later in the day, but for the most part it won't be the best beach day. Highs will warm to near 90 before rain rolls in.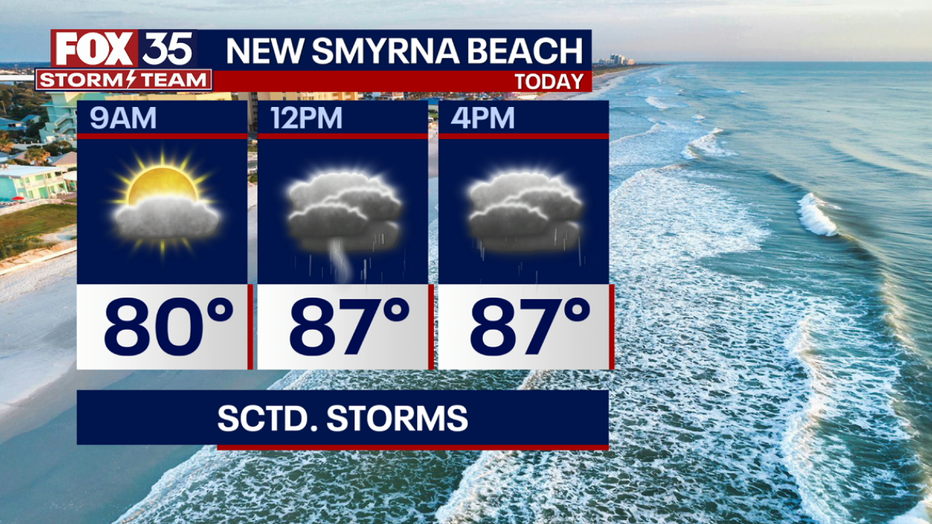 Florida theme parks weather forecast
Periods of rain are expected today with heavy rain at times. If you plan on heading to the parks, it may be a difficult day to stay dry. Watch out for severe warnings into this afternoon. We'll see a high near 90.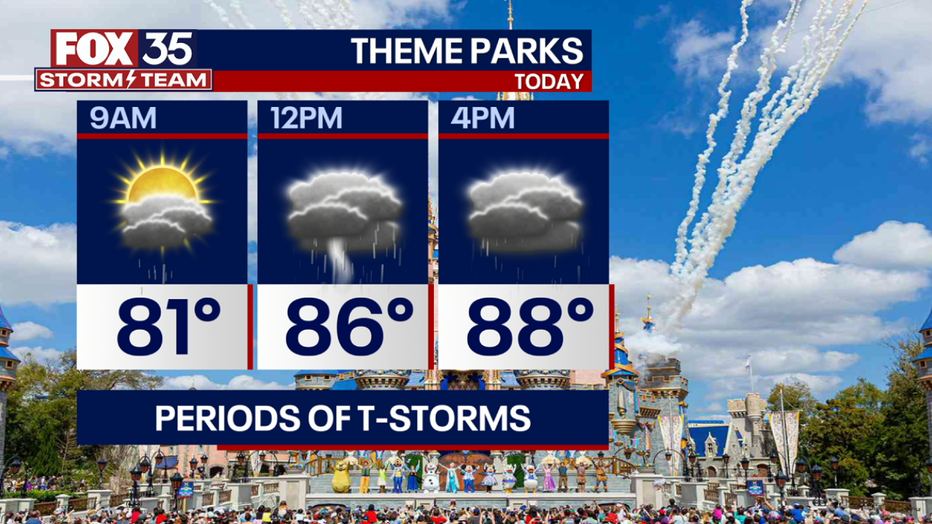 Central Florida Father's Day Forecast
More rain is likely on Father's Day with scattered showers and storms again in the morning and into the afternoon. Some storms could be severe.
Some areas could receive a total of four inches of rain by the end of the weekend. Rain chances are expected to continue into next week with more showers and storms each day.
Tropical weather outlook
The National Hurricane Center and the FOX 35 Storm Team are monitoring a tropical wave – now named Invest 92-L – near the west coast of Africa. The NHC said this system is producing disorganized showers and storms.
It has a 70% chance to become a tropical depression over the next seven days, which could happen next week.