Police: Husband loaded gun, wife planned to kill self after shooting at Central Florida hospital
DAYTONA BEACH, Fla. - Police say the Florida woman accused of shooting her dying husband at AdventHealth Daytona Beach had made a suicide pact with him. 
Ellen Gilland, 76, faces charges of premeditated first-degree murder in the death of her 77-year-old husband, Jerry Gilland, and two counts of aggressive assault with a deadly weapon with intent to kill, stemming from when she pointed her gun at staff members who had entered the hospital room after hearing a gunshot, according to a police report. She appeared before a judge in her first court appearance over the weekend where her bond was denied.
According to a charging affidavit, Jerry had been in the hospital since New Year's Day for unknown medical issues. On Saturday, Jan. 21, Ellen reportedly arrived at the hospital to see her husband. 
Police say Ellen told them she and her husband planned on committing suicide together once he was discharged from the hospital, but the "plan changed for an unknown reason."
During a news conference, Daytona Beach Police Chief Jakari Young said the couple decided that if Jerry's unnamed illness took a turn for the worse, "he wanted her to end this."
"Apparently the goal was for him to do it, but he didn't have the strength so she had to carry it out," Young said.
Ellen reportedly brought a handgun and a box of ammo to the hospital and her husband loaded it. The report states that her husband held her wrist as she shot him once. 
"The defendant stated she planned on taking her own life, however could not bring herself to do it," according to the charging affidavit. "She stated that she was going to have law enforcement take her life in an attempt to commit 'suicide by cop.'" 
RELATED: Body camera video: Florida woman accused of killing dying husband asked by police to 'drop the gun'
Body camera video shows the intense moments as Daytona Beach police officers – with guns drawn – stood outside the hospital room and could be heard repeatedly yelling for the woman to "drop the gun."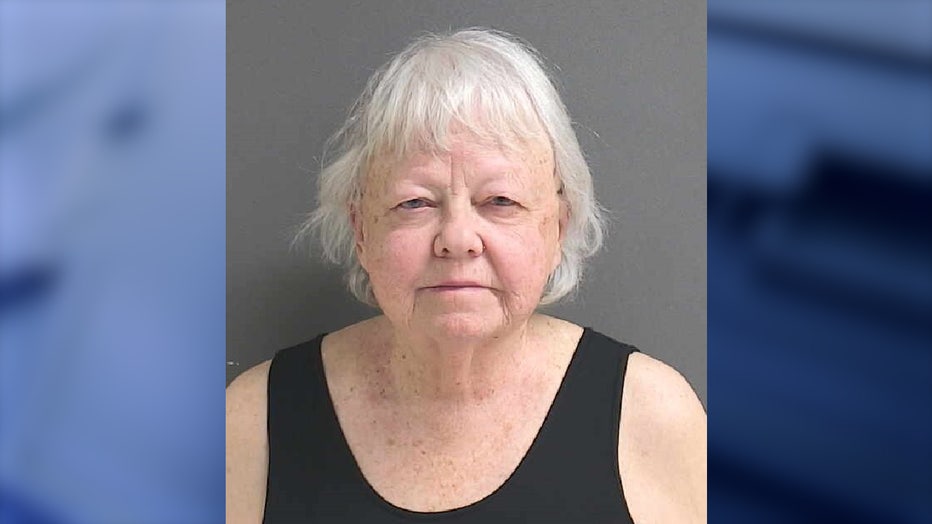 Pictured: Ellen Gilland (Photo credit: Volusia County Corrections)
"We don't want to hurt you. Tell me what's going on. Talk to me," an officer said.  
She was eventually taken into custody after the standoff. The edited footage then showed the woman being rolled out of the hospital in a wheelchair. 
"I would sincerely hope that her counsel would begin to put together everything and anything about the history of this woman to be able to show the state attorney's office and present evidence to the state attorney's office that compassion, in this case, cannot be ignored," attorney Bert Barclay with the O'Mara Law Group said.
Ellen Gilland is being held in the Volusia County Jail.