Poll gives Scott edge over Nelson in Senate race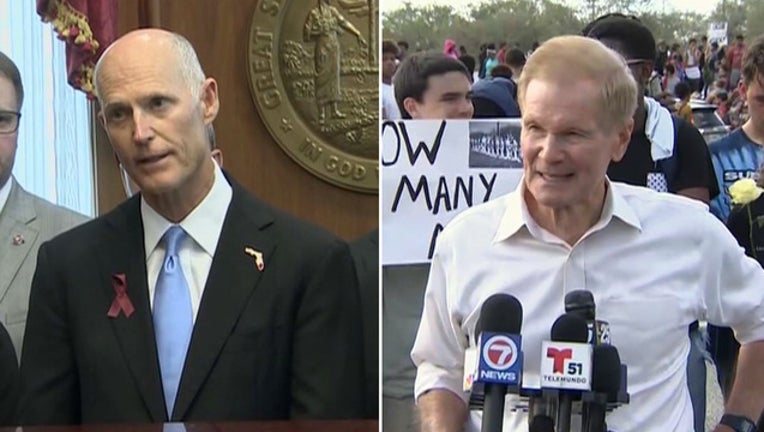 article
TALLAHASSEE, Fla. (NSF) - Gov. Rick Scott has an edge over Democratic incumbent Bill Nelson in this year's U.S. Senate race, while large numbers of voters in both parties remain undecided on Florida's next governor, according to a new poll.
The survey from the Florida Atlantic University Business and Economics Polling Initiative showed Scott, a Republican, with a 44.3 percent to 39.5 percent edge over Nelson in a survey of registered voters. Sixteen percent of the voters were undecided. Narrowing the poll to "likely" voters showed the two U.S. Senate candidates in a tie at 45 percent each.
Meanwhile, the race to replace Scott in the governor's office is largely wide open, with 43 percent of the registered Republicans undecided about the candidates heading to the Aug. 28 primary. Forty-two percent of the registered Democrats were undecided in their primary selection, the poll showed.
In the Republican field, U.S. Rep. Ron DeSantis of Palm Coast had support from 16 percent of registered voters to state Agriculture Commissioner Adam Putnam's 15 percent. Narrowed to "likely" GOP voters, DeSantis had 19.6 percent to Putnam's 16.9 percent.
In the Democratic field, former Miami Beach Mayor Philip Levine had 16 percent of the registered voters, while former U.S. Rep. Gwen Graham of Tallahassee had 15 percent, businessman Chris King of Winter Park had 10 percent and Tallahassee Mayor Andrew Gillum had 6 percent, the poll showed. Narrowed to likely primary voters, Levine had 17.6 percent, Graham 15.3 percent, King 10.5 percent and Gillum 6 percent, according to the poll.
"The Senate race in Florida continues to be very close and is going to be one of the most expensive and competitive contests in the nation," said Kevin Wagner, an FAU political scientist who works with the polling initiative.
Wagner said approval ratings for President Donald Trump could be a factor for some Republicans, including Scott.
The new survey showed Trump's approval rating among Florida voters at a high of 43 percent, compared to prior FAU polls that included a low of 35 percent last June. Some 45 percent of Florida voters disapproved of Trump in the new poll, down from a peak disapproval rating of 47 percent in November.
"President Trump's approval ratings in Florida are edging up, and if that continues, it could help Rick Scott and other Republicans on the midterm ballot," Wagner said.
Monica Escaleras, director of the Business and Economics Polling Initiative, said it was not unusual to have so many voters undecided in the primary campaigns for governor, "as even the leading candidates are still introducing themselves to much of Florida."
The issues most important to voters included immigration (23 percent), health care (20 percent), the economy (13 percent) and gun control (12 percent), the poll showed.
The survey of 1,000 registered voters was conducted online and by telephone from Friday through Monday and had a margin of error of 3 percentage points. The samples for the gubernatorial primaries were smaller with larger margins of error.
Information provided by The News Service of Florida.