Putnam, DeSantis show contrast in strategy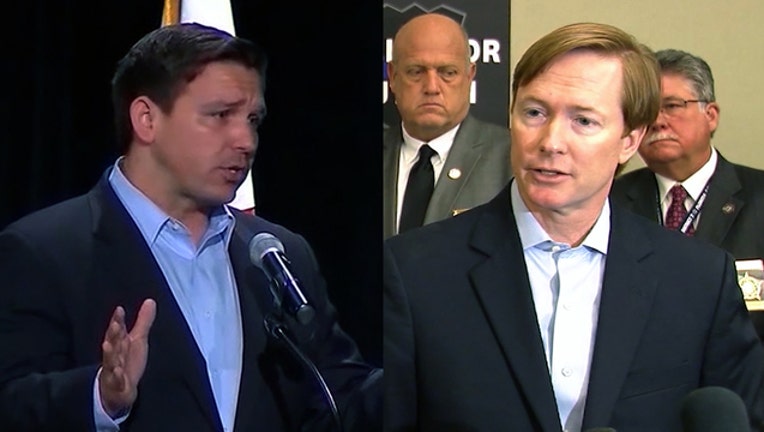 article
KISSIMMEE, Fla. (NSF) - Although Adam Putnam and Ron DeSantis closely adhere to a conservative agenda, their campaign tactics radically diverge in the quest to become the Republican nominee for governor.
Those differences were on display at the two-day Republican Party of Florida "Sunshine Summit" that ended Friday.
Putnam, a two-term state agriculture commissioner hoping to succeed outgoing Gov. Rick Scott, used the forum to emphasize his "Florida First agenda" to the more than 1,000 Republican activists and leaders from the across the state who attended. His appearance dovetailed with a primary campaign that has taken him all over the state, including hosting numerous "Up & Adam" breakfasts and evening barbecues.
He has also drawn the support of 45 sheriffs, another sign of the strength of his grassroots-style campaign.
"I will never turn my back on the grassroots," Putnam said in a Friday speech, saying his efforts to connect with voters across the state will "make our election day's success possible."
He said his deep familiarity with the issues facing the state and his "Florida First" focus are "the right agenda for the future of Florida."
"And I really do pay more attention to what's going on in Ruskin than what's going on in Russia, because those are Florida jobs and Florida families and Florida communities," Putnam said, in a not-so-subtle dig at DeSantis' absences from the state and focus on national issues.
But the GOP summit also allowed DeSantis, a three-term congressman from Palm Coast, to demonstrate his campaign's strengths. A Thursday night debate between the two candidates was hosted by Fox News, where DeSantis has been a frequent guest. His campaign strategists believe the national network has provided a platform to allow the congressman to connect with GOP voters.
DeSantis will amplify that strategy on Monday when Fox News host Sean Hannity will campaign with him and U.S. Rep. Matt Gaetz, R-Fla., in Fort Myers, Tampa and Pensacola.
In the debate and again on Friday, DeSantis brushed off Putnam's criticism about his absences from Florida, noting he has been carrying out his duties as a congressman, including attending a House Judiciary Committee meeting on Thursday morning where he "grilled" Deputy Attorney General Rod Rosenstein about the "anti-Trump bias" in the investigation of the president.
"That's what I'm paid to do. So I'm going to do my job and continue to run the race," said DeSantis, also noting he was absent from the state for the Christmas holidays in 2006 and 2007 while serving overseas in the military, including a stint in Iraq.
"I would have liked to have been in Florida with my family, but sometimes duty calls and sometimes you've got to step up and do what's right," he said.
While Putnam, who served in the state Legislature and Congress, has the majority of support from Florida Republican leaders, DeSantis scored an endorsement coup when incoming House Speaker Jose Oliva, R-Miami Lakes, announced his support as the Republican summit began.
"He has a very clear and distinguished record of conservatism," Oliva said in an interview with The News Service of Florida. "And I am a conservative, and I felt if he was going to jump into the race, and he has a record like that, that I should be supportive of that."
Oliva called Putnam "a wonderful person" and said he would enthusiastically support him if he wins the Aug. 28 primary but that DeSantis' conservative principles were more closely "aligned" with his legislative agenda.
Following the debate that was largely devoid of state issues facing the next governor, House Speaker Richard Corcoran, a Land O' Lakes Republican who supports Putnam, said it was fortunate that DeSantis did not have to face any questions on the "foremost" challenge for a governor: education.
"It's a good thing for Ron that he didn't, because guess who doesn't have an education platform? Guess who doesn't have a vision for education? Do-nothing DeSantis," Corcoran said.
Thus far, independent polls show Putnam's strategy has been working, with a mid-June poll from Fox News giving Putnam a 39-17 percent edge over DeSantis among Florida GOP voters, with 39 percent undecided.
But Gaetz, a DeSantis supporter, said he expects those polls to change in the coming weeks.
"Remember, the Republican primary voters in Florida are very conservative," he said. "We are a purple state, but our primary is a conservative electorate. They chose Donald Trump over our favorite son (U.S. Sen.) Marco Rubio (in the 2016 presidential primary). They chose Rick Scott over the longtime public servant Bill McCollum (in the 2010 GOP gubernatorial primary) and they are going to choose Ron DeSantis over Adam Putnam."
The same Fox poll that gave Putnam a solid lead also showed 86 percent of Republican voters support Trump, who has endorsed DeSantis. And DeSantis has not been shy about touting that endorsement.
He also said Friday that Donald Trump Jr. will campaign for him and said there may be "another special guest coming very soon as well," in an apparent reference to the president.
"It's a great campaign. It's going to heat up big time," DeSantis said.
And perhaps sensing that a tough eight-week primary battle lies ahead, Putnam reminded party activists that they need a "team effort" to win not only the governor's race but also contests for the U.S. Senate, Cabinet and Legislature.
"The day after the primary we will come together and heal and be focused on the real enemy who wants to undermine our liberty, our rights and our business climate and that's the Democrats," Putnam said.
--- News Service staff writer Jim Turner contributed to this report.