Illegal immigrant arrested after hitting, killing Pinellas County deputy and fleeing scene
LARGO, Fla. - For the second time in less than two years, the Pinellas County Sheriff's Office is mourning the loss of a deputy.
Late Thursday night, Deputy Mike Hartwick was providing security at a construction site along I-275 when hit and killed by a man driving a front loader, who then fled the scene, according to the Pinellas County Sheriff's Office.
Hartwick's dashcam video shows him getting out of his cruiser and walking over to the shoulder of the road. About a minute later, the video shows a construction truck passing southbound and then a front loader passes by at about 20 miles an hour. 
The video shows it passing by the front of Deputy Hartwick's car and a white pickup truck was behind it escorting it. Then the white pickup truck abruptly stops because the front loader had hit and killed Deputy Hartwick. 
The operator of the front loader kept going, according to PCSO.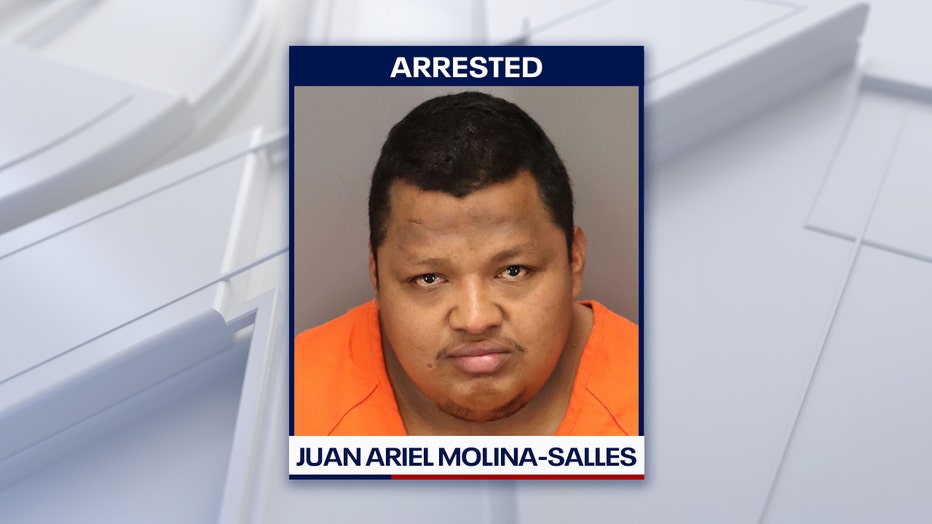 Juan Ariel Molina-Salles, aka Victor Vasquez-Real, is accused of hitting and killing a Pinellas County deputy in a construction site. Mugshot via Pinellas Sheriff's Office
Deputies say the driver of the front loader eventually pulled it over and told another construction worker that he had just killed a deputy. 
He then took off his construction hat and his traffic vest. He handed the items to another construction worker, later identified as Elieser Aurelio Gomez-Zelaya, and told him to hide them and get rid of them. 
The suspect then fled northbound on foot.
A nine-hour manhunt across Pinellas County and Tampa ensued. The search involved all the Pinellas County Sheriff's Office K9s, three helicopters, Pasco County bloodhounds and hundreds of law enforcement officers.
One of the K9s found the vest and the helmet, which the other construction worker dumped in the woods. A bloodhound that was given the scent on the items was able to track down the suspect. 
Originally, the suspect told law enforcement officers his name was Victor Vasquez-Real. He said that he was 35 years old and from Puerto Rico. However, Gualtieri says that was a bunch of nonsense.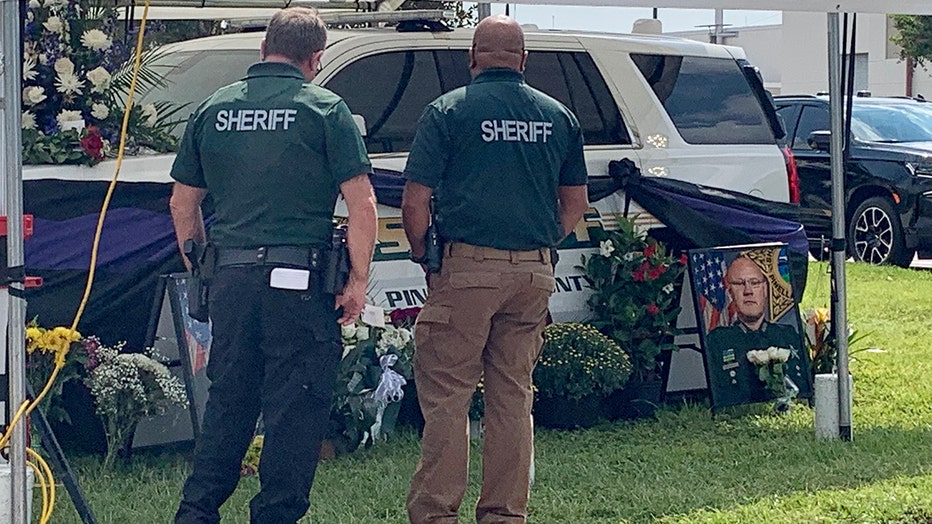 Deputies with the Pinellas County Sheriff's Office mourn the loss of fellow deputy Michael Hartwick, (Courtesy Aaron Mesmer)
His real name, according to Gualtieri, is Juan Ariel Molina-Salles. He is 32 years old and Gualtieri says he entered the country illegally on October 25, 2021, in Eagle Pass Texas. He was turned around by border patrol and sent back to Mexico. Gualtieri says there is no record of him entering the United States legally.
Gualtieri says there were a lot of construction workers on-site and the majority of them lied to deputies and hindered the investigation by providing false names and information.
According to the PCSO, all the construction workers were employed by Archer Western, a contractor doing work for the Florida Department of Transportation out of Tampa.
"This company is employing a bunch of illegals and they are all out there lying and giving us fake names, fake IDs, a lot of fake IDs out of North Carolina that really frustrated this investigation. This guy that we have in custody is here illegally and he fled, as he said, because he became afraid after he killed the deputy. He clearly knew he killed the deputy because when he was hunkered down out there last night he had a cell phone on. We had some ways of tracking what he was doing with his cell phone and he actually called his roommate in Tampa who is another guy who is here illegally. He came over and tried to pick him up. He saw all of the law enforcement activity and called him back and said, 'I'm not getting involved in this', and turned around and went back to Tampa."
He added, "You got a bunch of illegals working for this state contractor out there. They shouldn't be here and they shouldn't be working and they shouldn't be out here doing this. This guy was going, I think too fast, for this thing. Again, he knew he hit a deputy and as opposed to stopping, rendering aid, and accepting responsibility for what he did, we had to chase him around and sift through all this nonsense with all these people lying and providing fake IDs and we spent nine hours out there chasing this thing down."
According to Gualtieri, Molina-Salles told the construction company he did construction in Honduras so they brought him on board. Gualtieri added that Molina-Salles gave the company a fake ID card. 
"He didn't have a driver's license. He's got nothing. He shouldn't have been here to begin with and he shouldn't have been driving. He shouldn't have been working…He has no qualifications to drive a front loader," he explained.
"This is not victimless," Gualrieri said.  "We've got a dead deputy. We got a guy who shouldn't be here. He shouldn't have been driving that thing. He shouldn't have fled. He shouldn't have done any of this and companies are out there doing that. Why are they doing it? Of course, that is a rhetorical question and I'll answer it. They're doing it because they are making money off of it. So, are they making money now off of a dead deputy? Is it worth it? Really?"  
According to Gualtieri, local law enforcement has no jurisdiction to enforce immigration.
"I can't put them in jail," he stated. "I can't do anything with them at all. The most I can do is what you can do –pick up the phone and call ICE and say you've got a guy who's here illegally."
Gualtieri says he has received a detainer on Molina-Salles, which means if he is released at some point in time, PCSO would not release him because of it. Then ICE would pick him up. 
Molina-Salles is facing charges of leaving the scene of an accident involving death. It's a first-degree felony with a four-year minimum mandatory in state prison.
Gomez-Zelaya, who also lied about his identity, has been charged with accessory after the fact.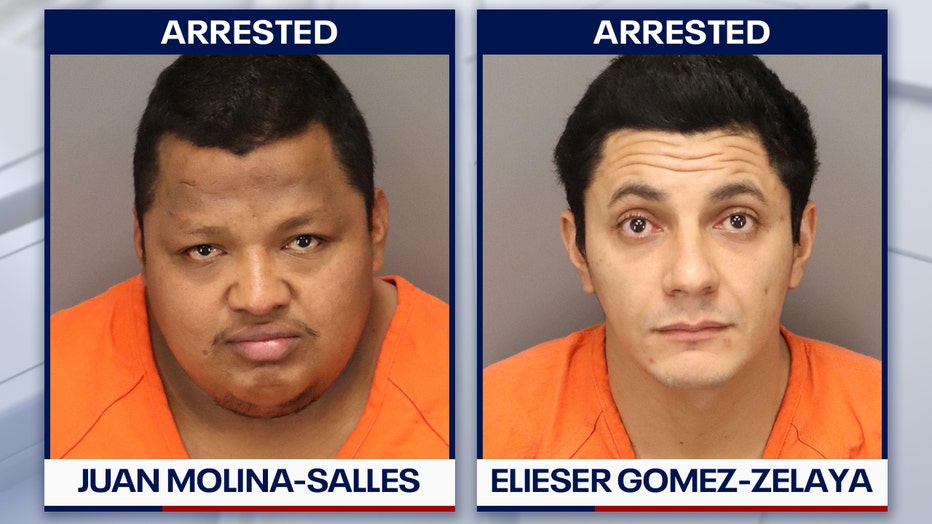 On Friday evening, Governor Ron DeSantis' Office told FOX 13 in an email statement: 
"We are currently investigating the matter and looking to determine if illegal immigrants have utilized fraudulent information to obtain employment with contractors working with the State of Florida. As we collect details and examine potential courses of action, we are reminded once again that illegal immigration is a serious and ongoing problem in the United States that has a multifaceted effect on Florida. If this individual's illegal status played into his decision to try to cover up this incident, it underscores just one of the harms that our state faces because of the federal government's open border policies. The State of Florida is not a sanctuary state and illegal immigrants are not authorized to work here. For reasons such as this, we will continue our lawful efforts to interdict and relocate illegal immigrants."
FOX 13 reached out to Archer Western for a statement, but have not heard back from the construction company. 
The Florida Department of Transportation told FOX 13 in a statement: "(FDOT) offers our heartfelt condolences to Deputy Hartwick's family and the entire law enforcement community. From all accounts, Deputy Hartwick was a model law enforcement officer, and we stand willing and able to assist the Pinellas County Sheriff's Office in any way possible. FDOT and its contractors follow strict hiring procedures. While it appears that these hiring procedures were followed, including a federal E-Verify clearance check, and the individuals in question passed this federal clearance, the Department is initiating an internal review on this project contract. FDOT will also continue to support law enforcement efforts as investigations continue." 
"It's just sad," the sheriff stated. "It really is…I look at this like, really, this is two times in 18 months now. We go 109 years without a line of duty death and now you go two in 19 months, but it's the nature of the business…we got the bad guys in custody where they belong and that's out of respect for Mike."
In February 2021, Pinellas County Deputy Michael Magli was killed by an accused drunk driver who plowed into him while he was trying to stop the suspect. Magli was the first deputy in Pinellas County to be killed in the line of duty. 
Deputy Hartwick served as a Pinellas County Sheriff's Office Deputy for 19 years, assigned to the Patrol Operations Bureau. He is survived by his mother and two adult children.