Seffner sinkhole: Crews begin filling in deadly sinkhole that reopened twice
SEFFNER, Fla. - Remediation work on a sinkhole with a deadly history that re-opened last week in Seffner is set to begin on Monday. 
It's the third time in the last decade the hole has opened. 
Work crews arrived Monday morning at the site on Faithway Drive where in 2013 the sinkhole first opened and swallowed a man who was sleeping in his bed. 
READ: Seffner sinkhole: Brother of man killed in 2013 relives 'nightmare' every day
Jeffrey Bush was buried alive after a sinkhole opened beneath his bedroom. His brother, Jeremy Bush, tried desperately to dig him out, to no avail. 
Jeffrey Bush's body was never recovered. 
Their home, along with two neighboring homes, was demolished. The sinkhole was filled in with hundreds of cubic yards of gravel and water. 
Two years later, in 2015, the sinkhole reopened in the same location.
Officials say the site will always be vulnerable to sinkhole activity, but their remediation process ensures that when one does appear, it opens in the same location. That area sits behind double fences designed to keep people out of the dangerous area. 
PREVIOUS COVERAGE: Sinkhole reopens at site of hole that swallowed Seffner man
"This is the most advantageous [method] to us right now because if something's going to happen again, we want to be able to control where it's going to happen. You don't want it to be a situation where it's a whack-a-mole game," said Hillsborough County Code Enforcement official Jon-Paul Lavandeira. "By and large if you look at and you go back to the tapes of 2015, you can compare this to 2015 out here and it's virtually identical in size location, etc. so if it's going to happen again do you want it to be like that you don't want any surprises"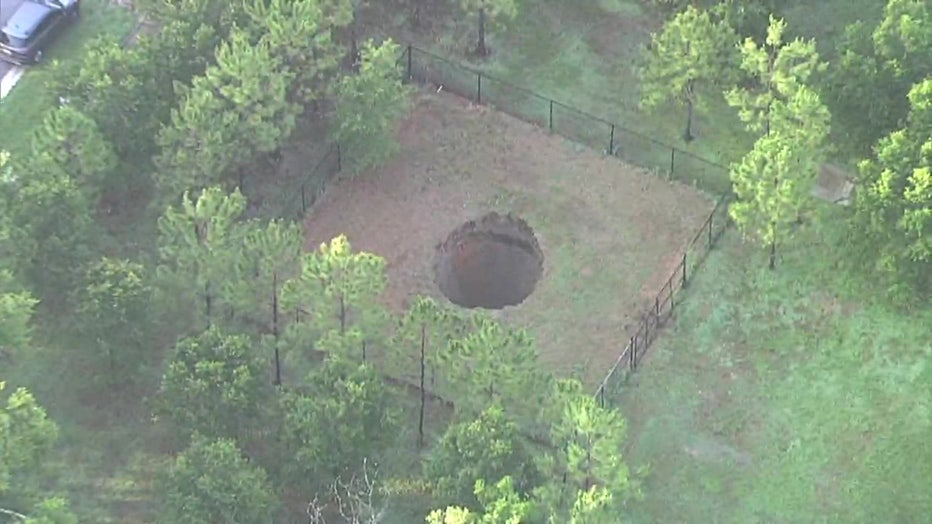 Aerial view of a sinkhole in Seffner that reopened on Monday. 
Officials say neighboring homes are not at risk. 
The sinkhole measures 19 feet around and 19 feet deep and has not grown, according to officials.
Remediation work is expected to take a few days.