Semi plows into Polk County deputy's cruiser, injuring deputy, FHP trooper on I-4
LAKELAND, Fla. - A semi-truck driver veered off the road on Interstate 4, hitting patrol cars with the Polk County Sheriff's Office and the Florida Highway Patrol Friday evening. 
The dramatic dashcam video shows how a split-second lapse of judgment can lead to a death-defying situation.
"We were fortunate the good Lord was looking over us," said Polk Sheriff Grady Judd. "We could have had four or five dead people there easily at that crash."
The video from Florida Highway Patrol shows what happened last Friday near the Kathleen Road exit on I-4.
Deputy Juan Sanchez stopped at an FHP traffic investigation to make sure everything was OK.
It was -- until it was time for the deputy to leave.
As he pulled out onto I-4, his cruiser was hit by a tractor-trailer truck.
The cruiser then hit an FHP vehicle and careened into a group of bystanders, knocking one man down and sending two other people running for cover.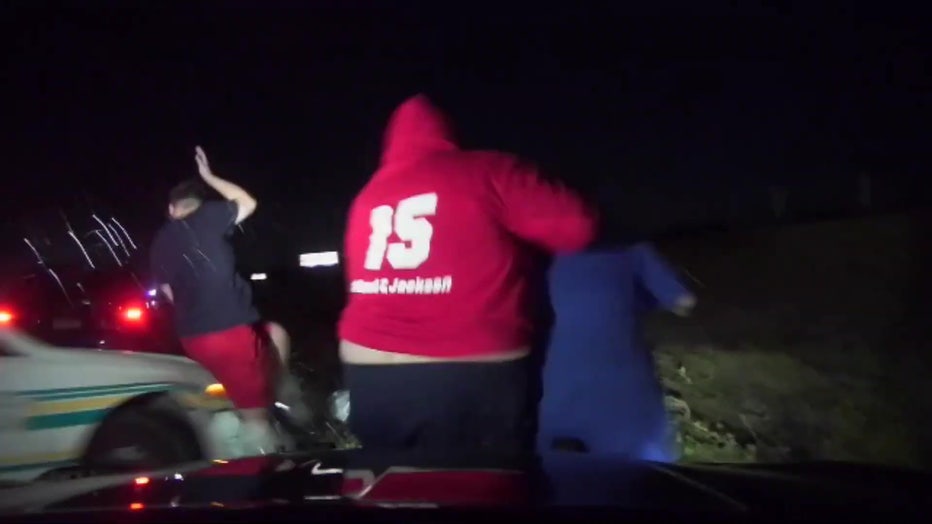 Amazingly, no one was killed.
The deputy was treated and released from the hospital. The man who was knocked down is OK.
Judd says it all could have been avoided if the semi driver followed the state's "Move Over" law.
It says if you see a law enforcement or emergency vehicle on the side of the road with its light on, you have to move over one lane, or slow down to 20 miles per hour slower than the speed limit.
If you don't, you could be fined $160 and three points on your license.