Six arrested on weapon and drug charges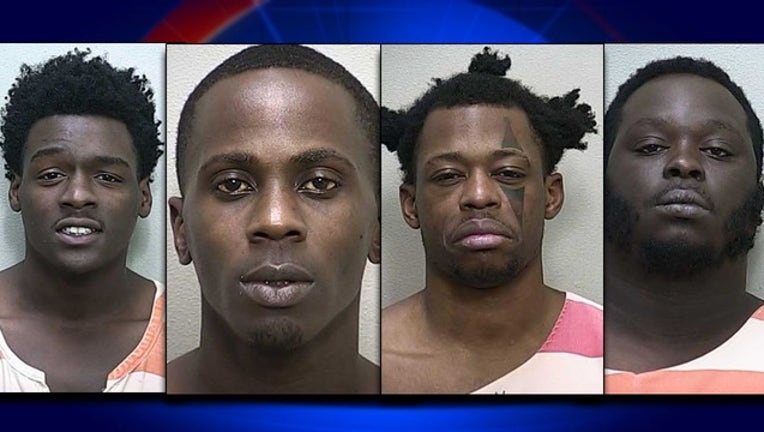 OCALA, Fla. (FOX 35 WOFL) - The Ocala Police Department reported that on Friday, January 26th, one day after a deadly shooting at the same location, Ocala Police arrested six males on weapons and drug charges at Parkside Garden Apartments. 
Detectives said that on January 25th, they were on scene and heard a female yell to alert someone of police presence. Two males were in the stairwell and upon sight of law enforcement, fled on foot up to the second story, ignoring the detectives verbal commands for them to stop. 
The first male, identified as 29-year-old Toney Franklin, was said to have dropped and picked up a handgun before running into an apartment. The second male, identified as 26-year-old Xavier Dallas, tossed his gun and attempted to enter an apartment, but was detained.
Detectives went on and said that a juvenile opened the door to apartment 7 and detectives observed the scent of marijuana as well as 20-year-old Stephone Christopher standing directly behind the juvenile and holding a semi-automatic firearm in his hand. 
Police said that the detectives entered the apartment,, announcing police presence. The juvenile and Christopher were detained, while 25-year-old Keo Mike was stopped as he attempted to jump out of the second story window. A second juvenile, who resides at the apartment, and 29-year-old Toney Franklin were also detained. 
All six males wre arrested and charged.
This proactive action by the Ocala Police Department is part of a continued effort to deter and prevent further criminal activity in the area. "Making this community safe for the families who live in Parkside Garden Apartments must be accomplished as part of a bigger picture team effort, with all relevant parties stepping up to do their part," said Chief of Police Greg Graham.