NASA SpaceX Crew-6 launch: Launch to ISS scrubbed due to last-minute technical issue
KENNEDY SPACE CENTER, Fla. - With less than three minutes to liftoff, NASA and SpaceX scrubbed its launch of the Crew-6 astronaut mission to the International Space Station on Monday morning.
The launch was originally scheduled for 1:45 a.m. Monday morning from Complex 39A at the Kennedy Space Center in Florida. A backup opportunity was scheduled for Tuesday, but due to unfavorable weather, NASA is going to skip that launch timeframe.
The launch is now scheduled for Thursday, March 2, at 12:34 a.m., according to NASA's blog.
"I'm proud of the NASA and SpaceX teams' focus and dedication to keeping Crew-6 safe," said NASA Administrator Bill Nelson. "Human spaceflight is an inherently risky endeavor and, as always, we will fly when we are ready."
NASA and SpaceX said the concern that scrubbed Monday's launch had to do with "an issue preventing data from confirming a full load of the ignition source for the Falcon 9 first stage Merlin engines, triethylaluminum triethylboron (or TEA-TEB)."
What is the Crew-6 mission? What will the astronauts do? How long will they be aboard the ISS?
The four astronauts will spend six months researching at the International Space Station. The goal is to help us here at home and expand what we can achieve in space.
According to SpaceX, the crew will conduct over 200 science experiments and technology demonstrations on the ISS.
Some of their investigations will include continuing combustion research, which will help scientists assess the flammability of materials used in future space missions and determine the best ways to detect and suppress fires in space, NASA said.
RELATED: SpaceX Crew-6 Launch: Tickets, where to watch, where to park, how to get there
Another part of their research will involve monitoring how spaceflight stressors affect cellular immune functions. By understanding this, scientists may better develop countermeasures to those stressors.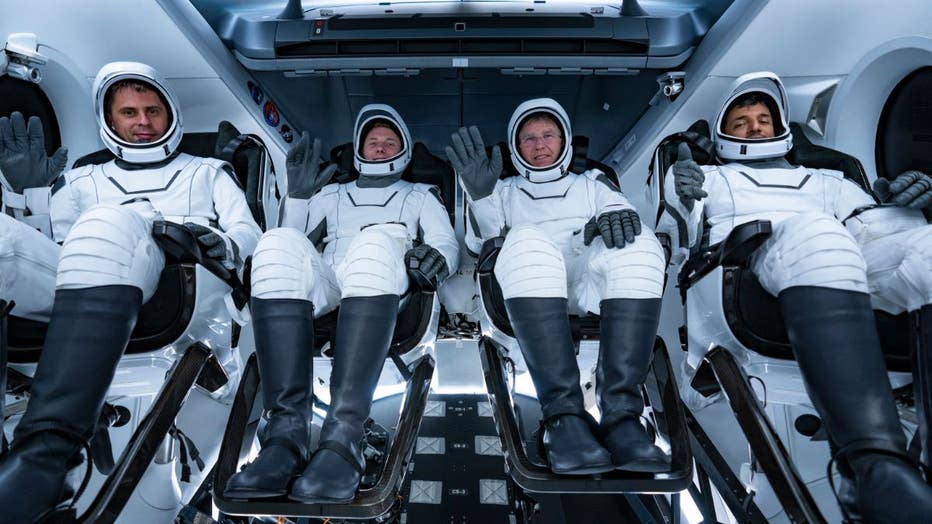 Crew-6 crew members will also work on testing tissue chips or small devices that imitate the functions of human organs. By studying them on the ISS, the crew will learn how to help ensure the heart health of future space explorers and also apply those learnings to people on Earth.
A SpaceX Falcon 9 rocket sits ready for launch at pad 39A at the Kennedy Space Center on February 26, 2023 in Cape Canaveral, Florida, United States. (Courtesy: NASA)
Members of the Crew-6 mission include NASA astronauts Mission Commander Stephen Brown and Pilot Warren "Woody" Hoburg, United Arab Emirates astronaut Sultan Alneyadi and Roscosmos cosmonaut Andrey Fedyaev.
RELATED: SpaceX Crew-6 launch forecast: Will Florida skies stay clear for liftoff?
According to NASA, Brown, Hoburg, Alneyadi and Fedyaev will also collect samples from outside of the space station to see whether the spacecraft releases microorganisms into space. This investigation will help scientists determine whether changes may need to be applied to future crewed missions to limit contamination from Earth.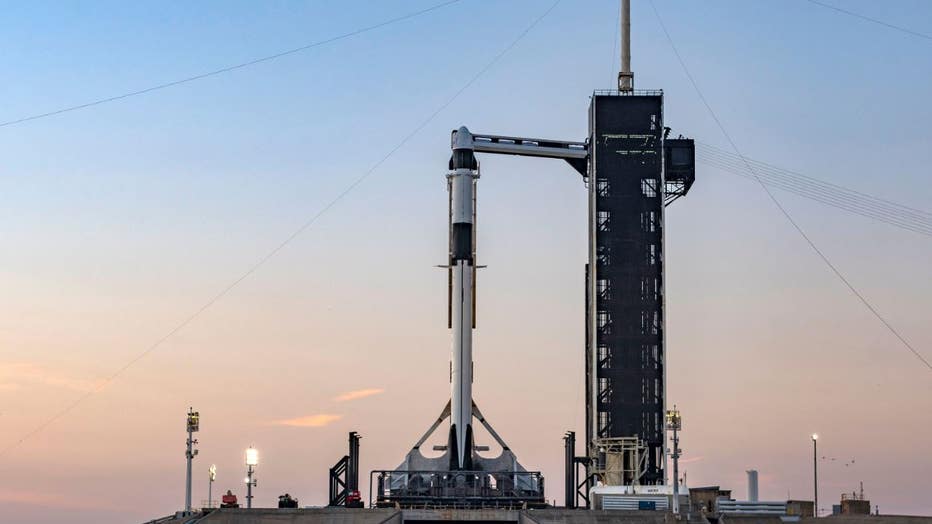 Engineers for the upcoming mission say this is the fastest turnaround time for a crewed mission. The NASA and SpaceX partnership is growing stronger and there's even more of a push to see what else is possible.
"Some of it relates back to benefits for humanity," said Kirt Costello who's the ISS Chief Scientist.
The crew will fly aboard the SpaceX Crew Dragon spacecraft called Endeavor. Endeavor will be carried by SpaceX's Falcon 9 rocket.
You can watch the launch live when it happens in the FOX 35 News App or in the live player above.
FOX Weather contributed to this report.