Tampa man accused of stealing nearly $450k from Pinellas County banks using 20 different IDs
PINELLAS COUNTY, Fla. - A Tampa man was arrested last week after authorities said he used 20 different identities to steal nearly $450,000 from 36 Florida banks over the course of multiple months.
James Joseph Scannapieco, 45, was charged with several counts of fraudulent use of personal ID info and scheming to defraud after he used others' IDs without their permission to defraud several Fifth Third Banks across Pinellas County.
READ: Young father seriously hurt in hit-and-run crash, investigators search for driver
According to arrest affidavits, Scannapieco specifically targeted Fifth Third Banks in Clearwater, St. Petersburg, and Palm Harbor, to steal amounts ranging from $35,000 to $215,000.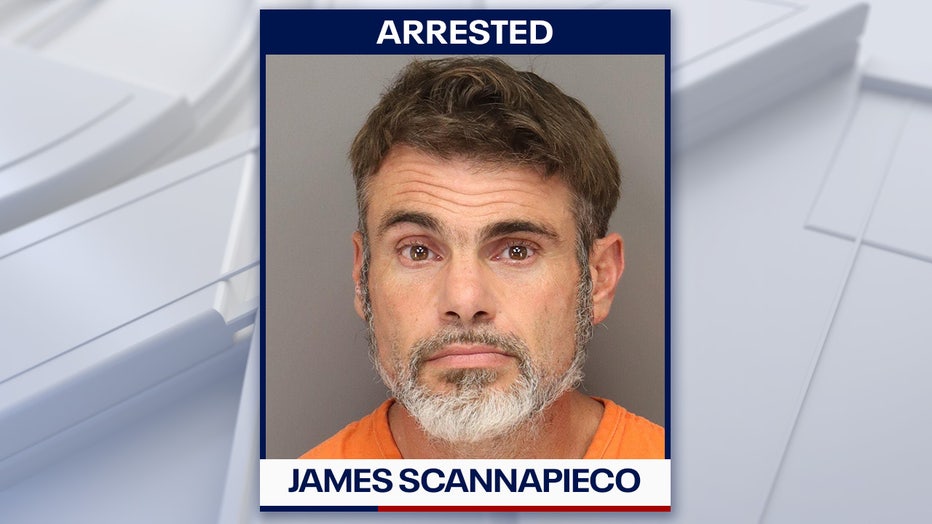 He is also wanted in other Florida counties, including Hillsborough, for charges ranging from possession of cocaine to grand theft motor vehicle. 
According to affidavits, Scannapieco was arrested on Thursday afternoon after he attempted to fraudulently use an ID for a second time at a Fifth Third Bank in Clearwater. The ID had been flagged by the victim and the bank for fraudulent use, and its owner had indicated he had not given anyone permission to use his identification.
Records show that he was arrested minutes later. He was booked into the Pinellas County Jail, where he remains on $149,200 bond.
MORE: Driver who nearly killed two Hillsborough deputies after intentionally hitting them wants out of jail
Randall Probst woke up in shock when he checked his savings account to find $39,000 gone. It was a similar story for 19 other victims. 
"My heart was racing. I called the bank. I thought they made a mistake or the teller made a mistake, because I visited the bank the day before," Probst said.
Probst of Edgewood, Kentucky is one of Scannapieco's 20 victim. 
"I don't have a lot of money. That has to do me the rest of my life what was in there. So it was quite a shock. It made me very nervous, very anxious," Probst said.
A retired FBI agent we spoke to said this was a sophisticated scheme, and because of the electronic nature of these crimes, it can be really difficult for authorities to solve them.
READ: Lakeland family hopes driver in deadly hit-and-run crash is arrested: 'He needs to pay'
"There are many ways to get somebody's personal information, particularly a driver's license. People can take a picture of it, make a copy of it and even get into government databases," Retired FBI Special Agent Jim Derrane said.
"It's hard to track down because it's very prevalent. Identity theft is one of the largest, if not the largest crime in the United States or possibly the world right now. Somebody that's Internet savvy can hide their steps to a great extent, so it does take a while and can be somewhat difficult to investigate these," Derrane said.
As for Probst, he said he's just thankful his bank was able to refund all $39,000 back to his account.
"It put me through a lot of stress with this incident. I'm an elderly man. I don't need to be going through this," Probst said.