This Florida beach has been dubbed the 'deadliest beach' in the U.S.
NEW SMYRNA BEACH, Fla. - A day at a Florida beach can be the perfect getaway. With miles of sand, sunshine and crashing ocean waves, people from all over the world flock to our beaches for a day out with friends and family. 
However, according to data from the online publication Travel Lens, some of Florida's beaches rank as the deadliest in the nation when it comes to surfing fatalities, number of hurricanes and shark attacks. In fact, out of ten beaches that made the list, seven of them are located in the Sunshine State.
Topping the list as the deadliest beach in the U.S. is New Smyrna Beach with a danger score of 8.14 out of 10. New Smyrna Beach has had 32 shark attacks since 2010, which is more than twice as many as any other U.S. beach. It has also reportedly had 10 surf zone fatalities and experienced 120 hurricanes between 1851 and 2020.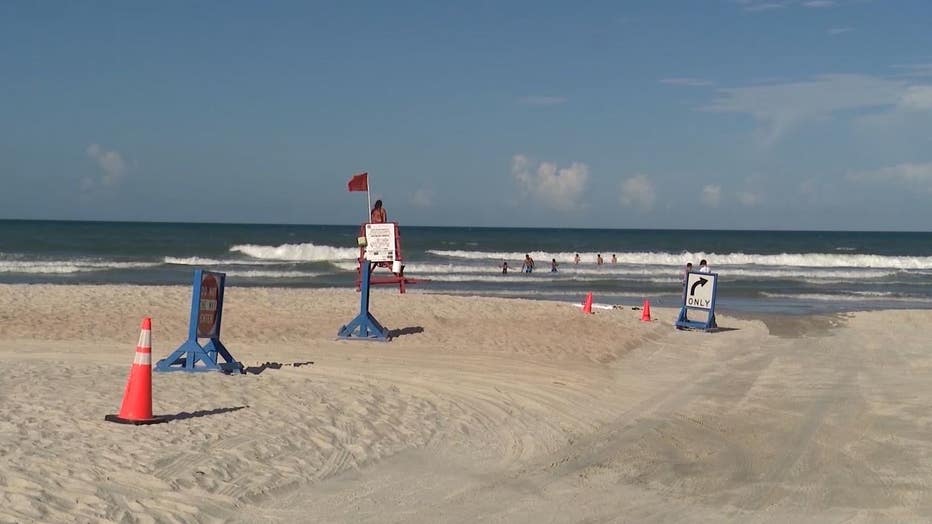 MORE NEWS: Storm system to bring big weather changes to Central Florida this weekend
Cocoa Beach, Ormond Beach, and Panama City Beach rounded out the top four. Panama City Beach was listed as the beach with the most surf zone fatalities with 24. 
Here's a look at the top 10 list: 
1. New Smyrna Beach, Florida: 8.14/10 danger score
2. Cocoa Beach, Florida: 7.57/10 danger score
3. Ormond Beach, Florida: 7.48/10 danger score
4. Panama City Beach, Florida: 7.16/10 danger score
5. Myrtle Beach, South Carolina: 6.61/10 danger score
6. Melbourne Beach, Florida: 6.35/10 danger score
7. Jacksonville Beach, Florida: 6.02/10 danger score
8. Oak Island, North Carolina: 5.54/10 danger score
9. Gulf Shores, Alabama: 5.38/10 danger score
10. Fort Lauderdale, Florida: 5.37/10 danger score
The National Weather Service says if you are headed to the beach, be sure to check the surf zone forecast, any beach advisories and know how to swim.