Hot and stormy throughout the week across Central Florida
ORLANDO, Fla. - Tonight's low: 76 degrees | Tomorrow's high: 94 degrees 
Main weather concerns: We have a hot and humid week ahead with an earlier onset of afternoon showers and thunderstorms each day that could linger into the evening. Afternoon highs reach the low-90s across the Orlando metro and along our east coast. Cities in our northwest viewing area will reach the upper-80s.
BEACHES: Partly cloudy skies are expected early on Tuesday, but stormy skies arrive by lunchtime. Rounds of heavy rain will be possible with lightning along the coast through dinner time. When thunder roars, make sure to head indoors. Highs will warm to the low 90s with overnight lows in the upper-70s. There is a moderate rip current risk this afternoon.
THEME PARKS: Stay hydrated at the theme parks today. Forecast highs reach the low-90s today before rain arrives around lunchtime. Heavy rain, lightning, and gusty winds are possible at times. It is a good idea to keep a poncho with you.
OUTLOOK: Hot and humid weather continues with daily showers and storm chances through this week.  Highs remain in the 90s with lows in the upper 70s. Heavy rain and lightning will be the main weather threats as the week goes on. Download the FOX 35 Storm Team weather app, so you can track storms in your neighborhood by using the interactive radar feature.
TRACKING THE TROPICS: Don is now a Post-Tropical Cyclone and poses no threat to land and will eventually dissipate within the next 24 hours. Meanwhile, The FOX 35 STORM TEAM is monitoring an area of low pressure in the Atlantic, Invest 95L, which is expected to continue on a westward path toward the Caribbean Sea. Another weak area of low pressure associated with a tropical wave continues to produce disorganized showers and thunderstorms east of the Bahamas. This could impact our weather later this week.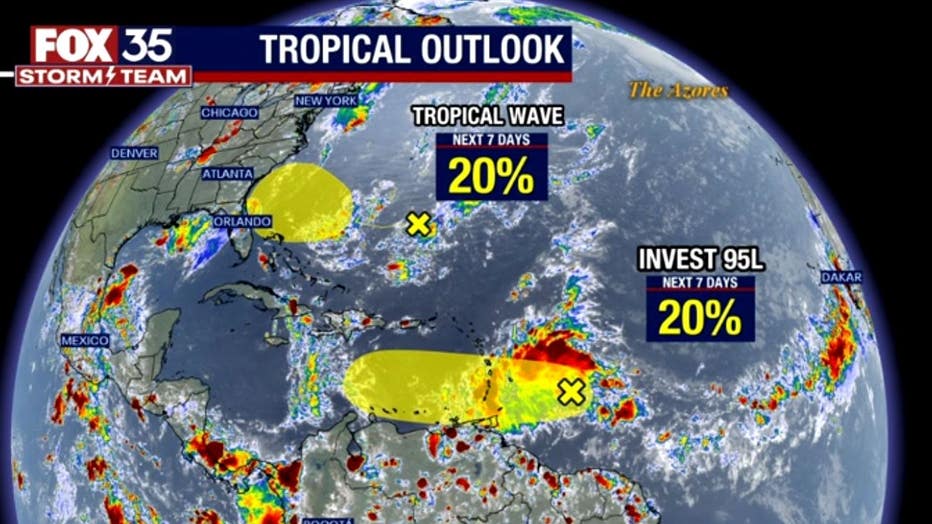 Both systems have a 20% chance of development over the next seven days. Depend on the FOX 35 Storm Team as we continue to watch this feature closely.