Florida power outages: Here's when power will be turned back on after Hurricane Ian
LAKE MARY, Fla. - Utility companies in Florida have been working around the clock after the storm knocked out power to 2 million people. Many of those outages were customers of FPL, Duke Energy, Tampa Electric and a few dozen other municipally owned electric companies and rural electric cooperatives.
WHEN WILL POWER BE TURNED BACK ON IN FLORIDA?
Florida Power and Light
FPL said in a news release Monday that it expects to complete restoration to 95% of customers who remain without power by Friday, Oct. 7 – two days earlier than it originally announced. 
FPL customers living in Seminole, Volusia and north Manatee counties can expect 95% of power to be restored by end of day Tuesday, Oct. 4. The utility plans to have the power turned back on to customers in Collier and south Manatee and Sarasota (north of Fruitville Road) counties by end of day, Wednesday, Oct. 5.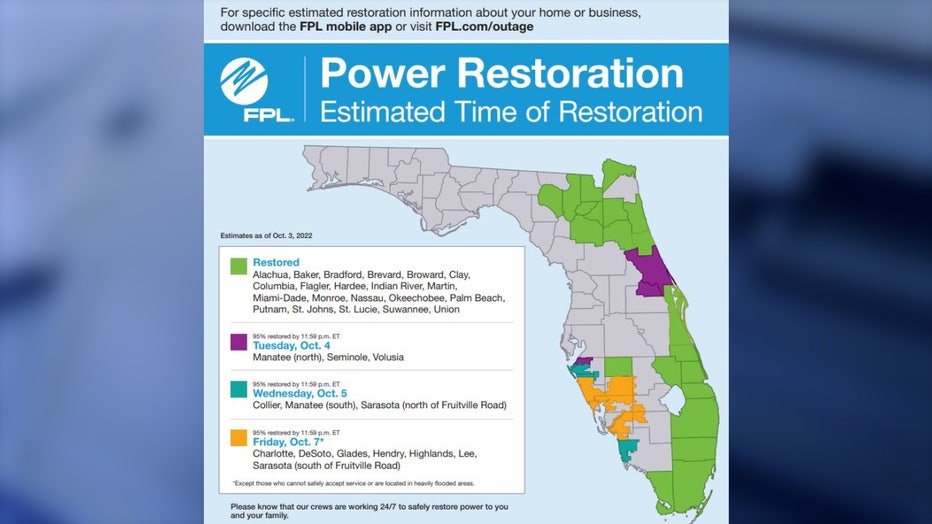 Southwest Florida counties can expect to have their power restored last – by end of day Friday, Oct. 7  – likely due to the catastrophic flooding, storm surge and winds Hurricane Ian brought after making landfall on the southwest coast at the island of Cayo Costa near Fort Myers as a category 4 storm, packing 150 mph sustained winds Wednesday afternoon. Those counties include: Charlotte, DeSoto, Glades, Hendry, Highlands, Lee and Sarasota (south of fruitville Road) counties. 
So far, FPL said it has restored power to customers in Alachua, Baker, Bradford, Brevard Broward, Clay, Columbia, Flagler, Hardee, Indian River, Martin, Miami-Dade, Monroe, Nassau, Okeechobee, Palm Beach, Putnam, St. Johns, St. Lucie, Suwannee and Union counties.
Duke Energy
Duke Energy said late Sunday that it has restored power to 90% of its customers. It expects to have all power restored to remaining customers by Monday night, Oct. 3, except for those who power cannot be restored to due to damage or flooding.
As of 2 p.m. Duke Energy said it had 15,000 customers without power out of its 1.9 million customers.
OUC - Orlando Utilities Commission
As of 7 p.m. Sunday, Orlando Utilities Commission (OUC) said it has restored power to 99% of its customers who lost power during Hurricane Ian. OUC said it expected to restore power to all of its customers by 11:59 p.m. Sunday night, Oct. 2.
OUC said those without power were impacted by "flood waters or damaged customer-owned equipment."
Tampa Electric
Tempe Electric said it has restored power to 97% of its customers. Seven thousand customers remained without power, as of noon on Monday, according to Tampa Electric's website. The utility said on its website that it expected to restore power to most of those customers by Monday night.
Kissimmee Utility
As of Friday, Sept. 30, Kissimmee Utility said it had restored power to 98% of its customers, expect for areas still dealing with flooding from Hurricane Ian.