UCF faculty, students hold vigil for Spectrum News 13 reporter Dylan Lyons
ORLANDO, Fla. - It was an emotional night at the University of Central Florida's Nicholson School of Communication as students, faculty, and alumni gathered to remember graduate Dylan Lyons, the Spectrum News 13 reporter shot and killed Wednesday while reporting on a homicide.
"When a tragic and senseless event, a shooting, occurs and takes the life of one of our students, I can tell you that it takes away a piece of our heart," the school's director, Dr. Robert Littlefield, said.
Lyons graduated from the university in 2019. During his time there, those who knew him best say he left a mark, describing him as a light.
"What happened this week was total darkness. What happened on that street, in Pine Hills, was just total darkness," senior instructor Rick Bruson said.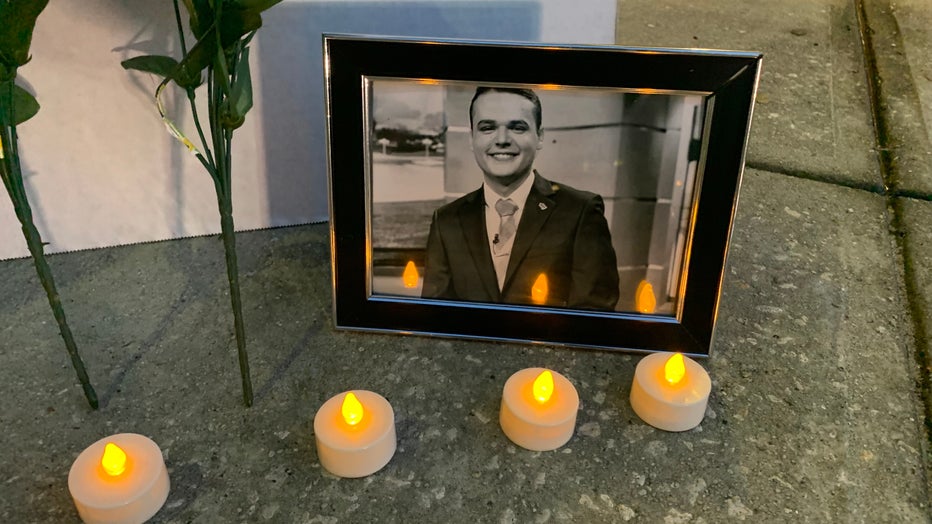 The shooting has forced some of the school's aspiring journalists to report on such a tragic story before they've even started their careers. 
"Telling his story is the greatest honor that I have had in my young life and probably that I will have," Caroline Brauchler, editor-in-Chief at NSM.today, said. "Please do the reporting that he is no longer able to do. Do not let this fear overcome you, and keep pursuing it however you can."
Lyons' loved ones made an appearance toward the end of the vigil and were inconsolable as they watched those around them pay their respects. 
The faculty says they hope to commemorate Lyons' legacy in the years to come.