Here's when Social Security payments with 2023 COLA increase will arrive
WASHINGTON - Millions of Social Security recipients will get a record-high 8.7% boost in their benefits starting this month.
The increase, known as a cost-of-living adjustment (COLA), is the largest in more than 40 years. It will increase the average monthly benefit by about $140.
The boost in Social Security benefits will be coupled with a 3% drop in Medicare Part B premiums, meaning retirees will get the full impact of the Social Security increase.
About 70 million people — including retirees, disabled people, and children — receive Social Security benefits. This will be the biggest increase in benefits that baby boomers, those born between the years 1946 and 1964, have ever seen. 
The last time a COLA was higher was in 1981, at 11.2%.
RELATED: Retiring too early could cost you $182,000 in benefits, study says
The higher payments came in response to the hottest inflation in four decades: Prices paid by U.S. consumers hovered around a four-decade high from August through October, the time period in which the COLA is calculated.
"A Social Security cost-of-living-adjustment of 8.7% is rare — enjoy it now," said Mary Johnson, a policy analyst at the Senior Citizens League. "This may be the first and possibly the last time that beneficiaries today receive a COLA this high."
When will COLA-adjusted payments arrive?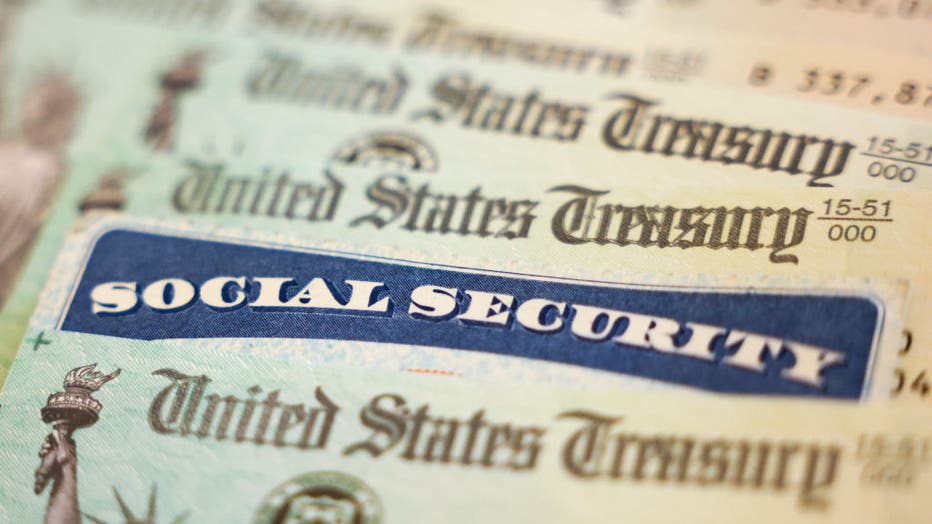 FILE - In this photo illustration, a Social Security card sits alongside checks from the U.S. Treasury on Oct. 14, 2021, in Washington, D.C. (Photo illustration by Kevin Dietsch/Getty Images)
If a Social Security recipient's birthday falls between the 1st and the 10th of the month, the benefits are paid on the second Wednesday of the month, according to the Social Security Administration. For January 2023, anyone with a birthdate in this range can expect to receive the first payment on Jan. 11. 
For those with a birthday between the 11th and the 20th, benefits are paid on the third Wednesday of the month. For January, that means the first 2023 payment will arrive on Jan. 18. 
Recipients with a birthday between the 12th and 31st of the month can expect their payment to come on the fourth Wednesday — meaning January's payment should arrive on Jan. 25. 
Social Security benefits increase and worry over depletion
Social Security pays benefits to more than 65 million Americans, mainly retirees as well as disabled people and survivors of deceased workers. It's financed by payroll taxes collected from workers and their employers, federal income taxes paid by some beneficiaries on a portion of their benefits, as well as interest earned from the Social Security trust fund investments.
The maximum amount of earnings subject to Social Security payroll taxes for 2023 is $160,200, up from $147,000 in 2022.
The financing setup dates to the 1930s, the brainchild of President Franklin D. Roosevelt, who believed a payroll tax would foster among average Americans a sense of ownership that would protect the program from political interference.
This year's higher payout, without an accompanying increase in Social Security contributions, could put additional pressure on a system that's facing a severe shortfall in coming years. The annual Social Security and Medicare trustees report released in June warned that the program's trust fund will be unable to pay full benefits beginning in 2035.
If Social Security's trust fund is depleted, the government will be able to pay only 80% of scheduled benefits, the report said. Medicare, a separate Social Security Administration program that covers health care costs, will be able to pay 90% of the total scheduled benefits if the fund is depleted.
A Pew Research Center poll in early 2022 showed 57% of U.S. adults saying that "taking steps to make the Social Security system financially sound" was a top priority for the president and Congress to address this year.
Securing Social Security got bipartisan support, with 56% of Democrats and 58% of Republicans calling it a top priority.
This story was reported from Cincinnati. The Associated Press and FOX Business contributed.