North Wilkesboro FOX Bet Super 6: NASCAR legend's insight, All-Star picks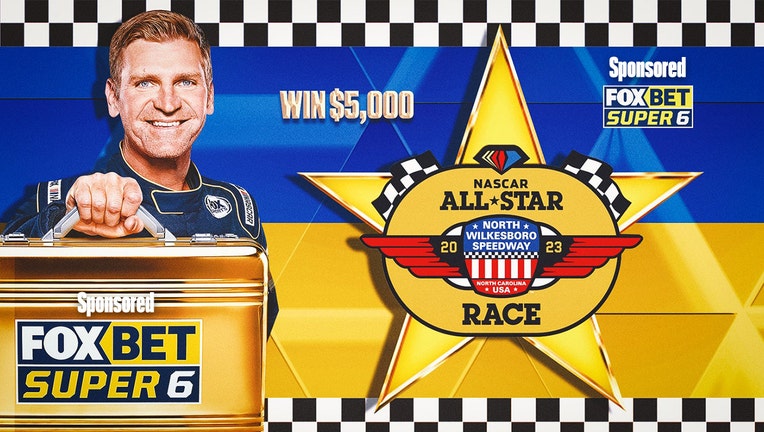 article
The legend of North Wilkesboro is folklore no more because, after 27 years, NASCAR Cup Series racing returns to the cherished track this weekend. However, before its decades-long hiatus, some of the sport's most elite drivers made their rounds at this 0.625-mile oval. NASCAR Hall of Famer and former Cup Series Champion Bobby Labonte was one of them.
"It's unique in that no one who's racing today has ever competed at North Wilkesboro. And I was always excited to be there, although it wasn't my best track," Labonte laughed. "It's also cool that this weekend at the speedway is a one-and-done for the year, so drivers won't be able to use this to practice for the next one."
And Bobby cautions that things will get interesting as NASCAR fans and spectators descend upon rural North Carolina to witness the likes of Chase Elliott and Kyle Busch clash for the All-Star Race on FS1.
"There's quite a bit of fall-off, so guys are going to really have to manage their tires. It's going to come down to who shows the most adaptability. Maybe you'll see a guy give up a little at the beginning [of the race] but then that same guy might be better at the end."
A dynamic part of the FOX Sports broadcast team as an analyst, Bobby Labonte is undoubtedly one of NASCAR's all-time greats. His 21 Cup Series wins — including the crown jewels Coca-Cola 600, Brickyard 400 and Southern 500 — make him one of the sport's most decorated athletes. He even took his talents across the pond and became the first American NASCAR champion to compete in the NASCAR Whelen Euro Series. 
Labonte describes his experiences traveling to and competing in different countries as he raced internationally as an "absolute blast" and admits he wishes he could do it again.
Always an enthusiastic competitor, it was that same fervor Bobby exuded in his professional life that helped him conquer health challenges he faced post-career in his personal life.
"Anytime that something [like a diagnosis] scares you and gets you out of your comfort zone, it changes your perspective," he reflected. "I'm now more appreciative of my honors like being named to NASCAR's Top 75, and I find myself reaching out to people more — though some of that could just be that I'm getting old!" 
When looking back over his accomplishments, the 2020 Hall of Fame inductee did note one thing he would change.
"Winning the championship in 2000 was the most amazing thing. But I wish I would've enjoyed the season more," Labonte acknowledged. "Coach Gibbs told me that it was not about winning but that it was about the journey to get there. I should have taken notes or kept a diary or something. So I wouldn't change winning, but I wish I could change my mindset."
So which current drivers make Bobby's list of favorites? Well, Kyle Larson and Erik Jones make the cut, but there's also a wild card that Labonte likes.
"I'm a fan of Ross Chastain, although I know a lot people aren't."
And according to Labonte, Chastain's future is bright.
"He can win multiple races every year and championships if he can just clean up a little bit of his aggressiveness and clean up his act. He is going to be a star."
Will the All-Star Race this weekend be the moment you win? It certainly could be if you try your luck at FOX Bet Super 6.
FOX Bet Super 6 is a free-to-play contest where you can pick six different outcomes in the NASCAR All-Star Race Contest featuring North Wilkesboro Speedway to win Clint Bowyer's $5,000. Just download the FOX Bet Super 6 app on your phone or mobile device, make your picks and submit your selections before the race gets underway this Sunday.
Remember, playing FOX Bet Super 6 is always free, it's easy and it's fun. And by the way, people really do win!
Before you speed off to make your picks for the All-Star Race on FS1, check out Bobby's picks below.
North Wilkesboro: Bobby Labonte's picks for FOX Bet Super 6
Which of these previous All-Star Race Winners will finish in the best position?
Kevin Harvick, Joey Logano, Kyle Busch, Denny Hamlin, Kyle Larson, Chase Elliott
"You know, I'm gonna throw this out here. I think it's Kyle Busch. I think a lot of those guys can adapt, and I have reason to believe that Harvick could do it or even Chase Elliott because of late-model experience. 
"But I think Kyle Busch is that guy who could star this weekend on a track that nobody's raced on in years."
Prediction: Kyle Busch 
At 100 laps, which manufacturer — Chevrolet or Ford — will have the most cars in the top 20, and how many?
1-3, 4, 5, 6, 7, 8, 9, 10, 11, 12+
"I'm gonna say Chevrolet. They are just on top of it right now, and that's the case until they prove me otherwise. I also think Chevrolet will have the upper hand on this type of track."
Prediction: Chevrolet, 5
Which of these drivers — Erik Jones or Bubba Wallace — will have the fastest lap at the end of 100 laps and how many caution laps will there be?
0-5, 6-8, 9-10, 11-13, 14-15, 16, 17, 18, 19, 20+
"I think Bubba Wallace will have the fastest lap between him and Erik Jones. As far as yellows go, I don't think there will be a lot."
Prediction: Bubba Wallace, 18 
Which team — Joe Gibbs Racing or Stewart-Haas Racing — will have the most laps led at the end of the race and how many laps will they lead?
1-13, 14-20, 21-26, 27-33, 34-40, 41-47, 48-54, 55-61, 62-66, 67+
"I think Kevin Harvick will lead here."
Prediction: Stewart-Haas Racing, 21-26
Which driver — Tyler Reddick or Brad Keselowski — will have the better finish at the end of the race and by how many positions?
1, 2, 3, 4, 5, 6, 7, 8-10, 11-14, 15+
"Tyler Reddick. He's got adaptability. Experience pays off, but I think Tyler will have an open mind to adapting on this track, and that will help him be quicker than Brad."
Prediction: Tyler Reddick, 7
Which driver — Chase Briscoe or William Byron — will have the better finish at the end of the race and by how many positions?
1, 2, 3, 4, 5, 6, 7, 8-10, 11-14, 15+
"William Byron. He's on a roll. He's got the late-model ride, and he seems like he's got all the confidence right now. And coming off a win last weekend will give him even more confidence heading into this weekend."
Prediction: William Byron, 11-14
Final thoughts… and how to play
When it comes to advice for drivers nearing the end of their careers, Labonte insisted that Kevin Harvick is one to emulate.
"You can look at him as an example of someone who's done it better than anyone else," Bobby said as he praised the veteran driver for successfully managing a lengthy career. "He's taken care of himself and has continued to be competitive. However, everyone for the most part either wishes they would've waited a little longer or done it a little bit sooner.
"But you really have to listen to what's in your mind, don't let anything on the outside sway your decision to step away and really figure out what you want your legacy to be."
Could your legacy include winning $5K this weekend? It could if you get in on the FOX Bet Super 6 action right now and try your hand at Clint's cash for the All-Star Race contest featuring North Wilkesboro Speedway.
Download the FOX Bet Super 6 app and submit your All-Star picks. Then be sure to share your picks with us by tagging @FOXSuper6 and @EricaReneeD and using the #EricaSuper6 hashtag across all social media platforms.
Good luck!
Download the FOX Bet Super 6 app for your chance to win thousands of dollars on the biggest sporting events each and every week! Just make your picks and you could win the grand prize. Download and play today!
No purchase necessary. Open to legal residents of the US, excluding WA. 18 and older. See terms and conditions at foxsuper6.com. Sponsored by TSG Interactive US Services Limited.