FOX 35 Storm Alert Day Thursday: Severe storms, strong wind leave behind damage
LAKE MARY, Fla. - Strong wind caused some damage in Alachua County on Thursday.  A tree fell over onto a family's home and it ripped off part of the roof that hangs off the garage.
The car's inside were damaged, and now the family can't get into the house because it's blocked by that tree. Billy Josie said his grandkids had just returned home from school when a tornado warning was issued for his neighborhood.
"Was watching the news about what was said about the tornado warning, and a few minutes after, I hear a 'boom!'  I'm glad it didn't get me my wife and my grands," he said.
Thursday was expected to bring potentially severe storms to Central Florida, which is why we declared it a FOX 35 Storm Alert Day.
There was a risk for severe storms in North Central Florida and a marginal risk in East Central Florida.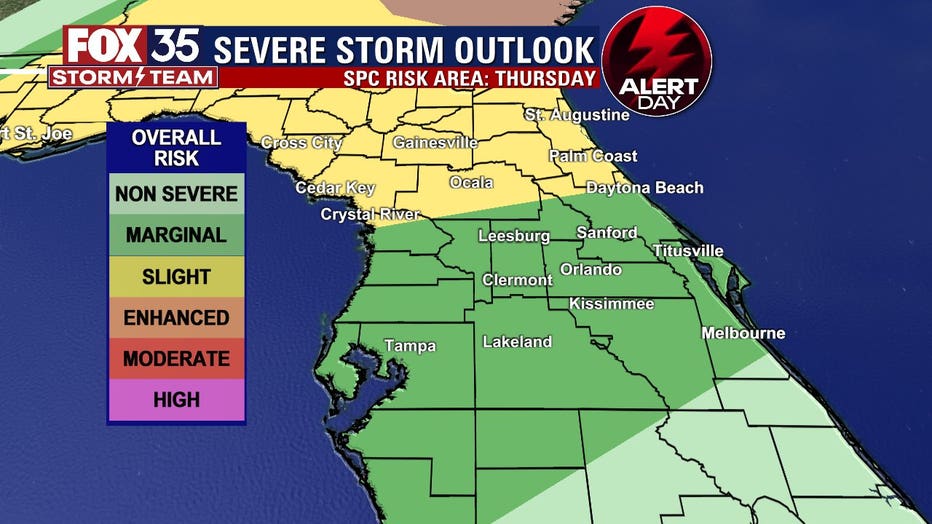 A cold front and its associated storms will remain to the north. A significant tornado outbreak in the South is expected with numerous strong, potentially violent tornadoes likely to impact the region into Thursday. 
RELATED: Severe storm threat moves into Southeast US, bringing possible tornadoes, damaging winds
The biggest threats on Thursday into Friday morning will be damaging winds gusts (in excess of 40 mph), heavy rain, and the chance for hail. The risk for tornadoes is very low.
WEATHER ALERTS: Download the FOX 35 Storm Team Weather App for live radar, severe weather alerts, and daily forecast reports on your phone
Ahead of this front, Central Florida had a very warm Thursday. Highs across the viewing area reached the upper-80s in most areas.
As the storms move through, the air will be drier and the temperatures will drop. With the very dry conditions and the heat, there is a Red Flag Warning between 2 to 7 p.m.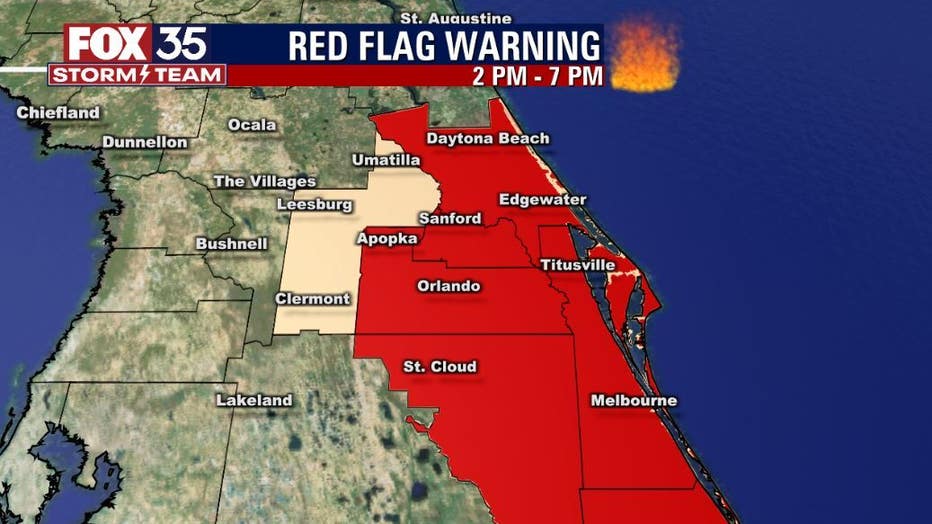 Stay with the FOX 35 Storm Team for the latest details.