Hurricane Tammy forms ahead of schedule in the Atlantic, NHC says
ORLANDO, Fla. - Hurricane Tammy formed in the Atlantic on Friday morning, according to an update from the National Hurricane Center. 
The system, located about 90 miles northeast of Barbados, has maximum sustained winds of 75 mph – a Category 1 storm – as it brings tropical storm conditions to parts of the Caribbean on Friday. Hurricane conditions are possible in parts of the Leeward Islands over the weekend. 
NHC forecasters said Tammy was originally expected to form over the weekend. 
Tammy, the 19th named storm of the 2023 Atlantic hurricane season, is moving toward the west-northwest at about 7 mph, a motion that's expected to continue through Friday afternoon, the NHC said. The storm is expected to move near or over parts of the Leeward Islands on Friday and Saturday before moving north of the northern Leeward Islands on Sunday.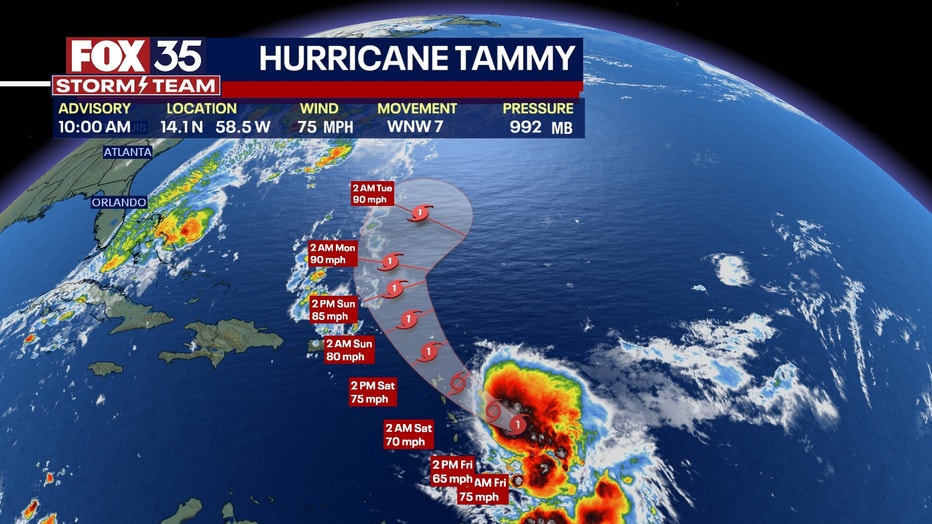 Hurricane Tammy is not forecast to impact Central Florida or the United States. 
DOWNLOAD THE FOX 35 WEATHER APP