Cooler temperatures follow overnight storms in Central Florida
ORLANDO, Fla. - Severe weather moved across North Central Florida and East Central Florida on Monday evening.
This is the third day in a row that storms have impacted the region.
There is a marginal risk of severe weather into the overnight hours in the FOX 35 viewing area.  North Central Florida was in the clear just after 11 p.m.
Behind the storms comes a dip in temperatures, with highs on Tuesday struggling to get into the 70s for much of the region. Some of the coldest air in decades has now plunged south to the Gulf of Mexico.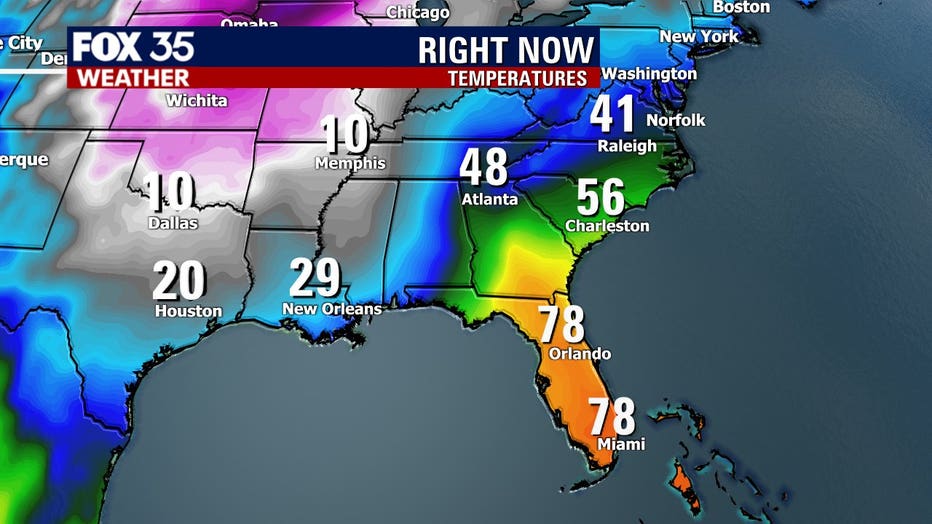 WEATHER ALERTS: Download the FOX 35 Weather App for live radar, severe weather alerts, and daily forecast reports on your phone
Of course, with any severe weather threat, the possible chance of a tornado or two is of greatest concern. The Storm Prediction Center has odds for an isolated tornado at five percent for the northern part of the state and two percent closer to Orlando.
MORE NEWS: McDowell wins Daytona 500, 1st career victory
Regardless of the chances, the FOX 35 Weather Team will monitor all counties in the viewing area until the threat passes.
Tune in to FOX 35 Orlando for the latest weather updates.