New tropical system in Atlantic could threaten Florida, NHC says
The National Hurricane Center is tracking a new disturbance in the Atlantic that could affect Florida. 
The trough of low pressure is located a few hundred miles south of Bermuda as of Monday afternoon, the NHC said. Gradual development is expected as it moves toward the southeastern coast of the U.S. later this week and into the weekend. The system has a 20% chance of forming in the next week, the NHC said. 
FOX 35 Storm Team Meteorologist Ian Cassette said this system is expected to move to the northwest this week and come close to Florida before turning north and out to sea. No major impacts are anticipated at this time. 
The NHC is also tracking another system in the Atlantic, but this one isn't expected to impact Florida or the U.S., for that matter.  The tropical wave is located east of the Windward Islands and slow development is possible over the next couple of days. 
It's moving to the west at nearly 20 mph across the Atlantic and into the Caribbean Sea.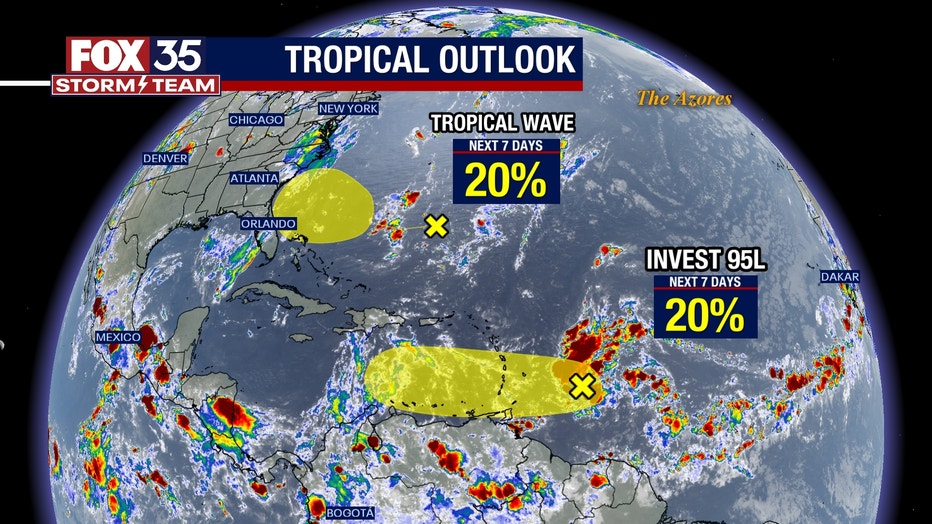 Strong and gusty winds are possible across parts of the Lesser Antilles over the next day or so, but environmental conditions are expected to become "unfavorable" for development by mid-week. 
The NHC continues to track Don, the first named hurricane of the 2023 season, but it's now been downgraded to a post-tropical cyclone. Don is located about 600 miles east of Cape Race in Newfoundland. The storm, which has maximum sustained winds of 45 mph, is expected to continue to gradually weaken before dissipating Tuesday.