Brevard Zoo working to save endangered turtles infected with form of herpes
BREVARD COUNTY - The Brevard County Zoo's Sea Turtle Program is hard at work.
Scientists are trying to learn more about a type of herpes virus that's been infecting the endangered animals. Shannon Gan, the Sea Turtle Program Manager for the Brevard Zoo, says scientists are still trying to figure out what causes it and how it spreads, but they do have some theories. 
"Most of the green turtles probably do have it; it's just a matter of whether they're expressing it or not, just like in mammalian herpes. You can have it and not show it," said Gan. 
Researchers think polluted waters can stress the turtles, lowering their immune system and triggering the virus.
Gan says it causes welts and tumors to grow and spread on the green turtles.
"It can get so bad, that they're not able to avoid predation or to be able to forage, so that can cause problems for the sea turtles."
But the Brevard Zoo has a new device to help.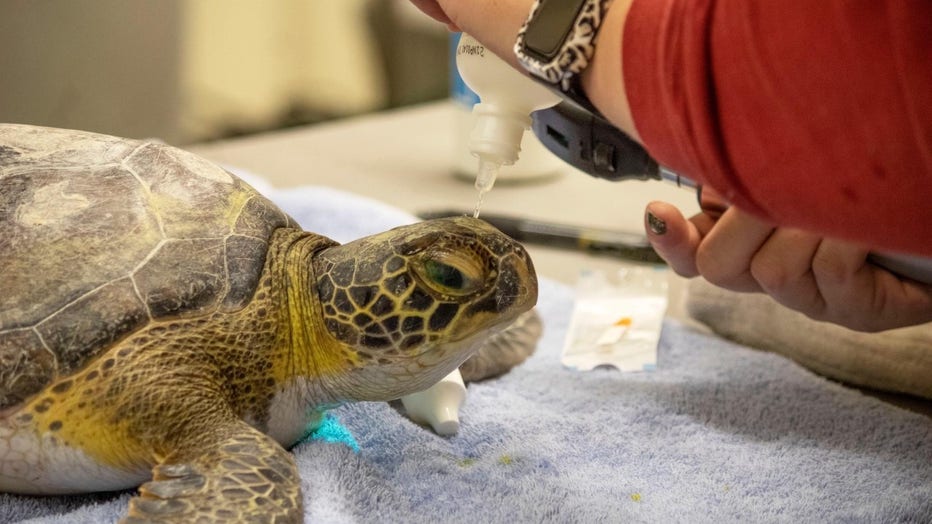 Brevard Zoo working to save turtles (Courtesy: Brevard Zoo) 
"Send a little electric current that disrupts the cell membrane and allow the chemotherapy drugs to penetrate into the tumor, and the tumors literally shrivel up and fall off over a month's time," said Gan. 
They're hard at work saving other sea turtles too.
The Zoo rehabilitated a turtle named "Spicy Hawaiian" after it was found showing signs of exhaustion, and one called "Benjamin" who'd been hooked in a fishing line. Benjamin is the Zoo's 100th rescue, so he was named for the president on the $100 bill. 
See the latest trending videos on the FOX 35 YouTube page
A surfing competition doubled as those two turtles' day to be released back into the wild. The Brevard Zoo partnered up with Ron Jon's Surf Shop for the Beach 'N Boards Festival for the second time, which meant everyone in town for that festival got to see the turtle release too. 
That included a family visiting all the way from Canada. Christine Wallace was thrilled to share that with her family. 
"My oldest daughter really loves dolphins, and my youngest loves sea turtles, so when we heard about this event, we thought it would be perfect for us."