Controversy over relocating Confederate statue to Lake County museum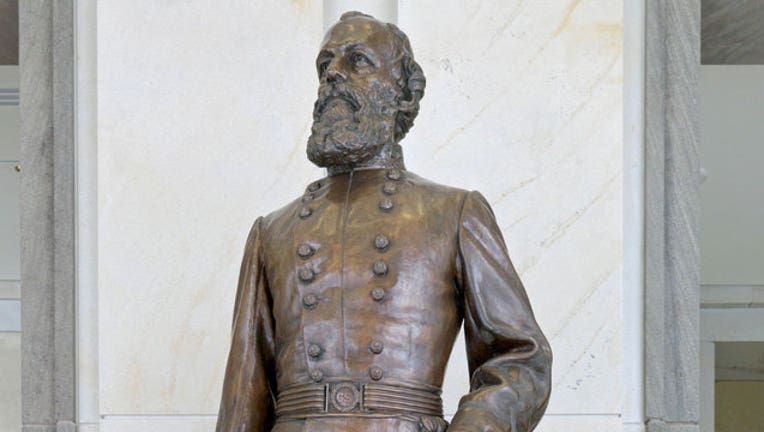 LAKE COUNTY, Fla. (WOFL FOX 35) - It's stood in the United States Capitol since 1922 but its new home may be a small museum in the first floor of the Lake County Courthouse, and not everyone's happy about that.
This week dozens of residents showed up to the Lake County Commission meeting to speak out against relocating a statue of Confederate General Edmund Kirby Smith to the County Historical Museum.
Among complaints filed with the county some said the statue didn't really have ties to Lake County, and others simply pointed out that it was a symbol of a racist past.
"As far as I can see and no one's been able to show any of us where General Edmund Kirby Smith has any relationship to anyone in Lake County," said Mae Hazelton of Eustis. "We don't want that statue to become property of our county."
Hazelton said Lake County's own past contains far too much racial oppression, even as recently as the past 40-60 years. She said adding another symbol of that part of history wouldn't help anything.
The statue was placed by the State of Florida in Statuary Hall at the Capitol in Washington D.C. nearly a century ago. However, as debates came up across the country about displaying confederate symbols and statues on public grounds, it was decided by the state legislature to replace the statue with one of civil rights leader Mary McLeod Bethune.
Owned by the people of Florida though, Lake County Museum Curator Bob Grenier said it was decided by the legislature that the statue be relocated in the state and displayed somewhere.
So Grenier said he put in a proposal to move it to the county's museum to help attract visitors and tell another story of the past. He said he didn't expect the outcry that's come in the past week though.
"For the whole process I didn't because I'm thinking, museum!" he said standing among the museum's displays Friday. "I really did think that everybody said put 'em in a museum. We're a museum."
Grenier refers to calls across the country as statues like this one have come down and many have said the symbols belong in museums rather than in public parks or in front of government buildings.
Grenier said he wants to display the statue to tell its story: why it was made, why it was removed, and the emotions surrounding it as well as who it actually depicts.
Following the outcry at the commission meeting this week, commissioners actually pulled their support for the statue, and on Thursday Commissioner Leslie Campione sent a letter to the museum board asking them to reconsider their approach.
"If you intend to go forward with your decision I would ask that before you take any further action that you reach out to those in opposition to see if you can find middle ground and reach an understanding that is fair and sensitive, and that demonstrates the true nature of what I believe is the majority of Lake residents views which is based on love and compassion for each other," said Campione in the letter.
Grenier said the museum intends to do just that: forming a committee in hopes of meeting with concerned citizens to share visions for the statue and find the best way to approach the subject.
Some feel though, that the best way is to simply not bring the statue in the first place.
Commissioners said that ultimately the decision is up to the museum board. Hazelton and others in opposition feel that if the statue is brought, the county should revoke the museum's lease in the courthouse.
Grenier said the plan for now is still to relocate the statue to the Tavares museum, and he hopes to change some minds about having it in there. After all, he said if these stories aren't told in a museum, then where should they be told?
"Things can change, I hope they don't," said Grenier. "This is a place where our future generations will come to know their heritage, and their story, good or bad, triumph or tragedy, museums are the place for that."