Joe Exotic threatens lawsuit against Florida State QB Jordan Travis: 'Leave the Tiger King business to me'
TALLAHASSEE, Fla. - The Tiger King himself Joe Exotic is looking to take legal action against one of college football's top quarterbacks, Florida State's Jordan Travis. 
Joe Exotic took to X, formerly known as Twitter, over the weekend, to air out some grievances he has with Travis, whose management company recently dropped new merch depicting him as the "College King" sitting in a throne alongside two tigers. The shirt is apparently a nod to FSU's wins over LSU and Clemson this season, both of which have tigers as mascots. 
The shirt is being sold on jordantravis13.com for $31.24, the score of the FSU-Clemson game, 31 to 24.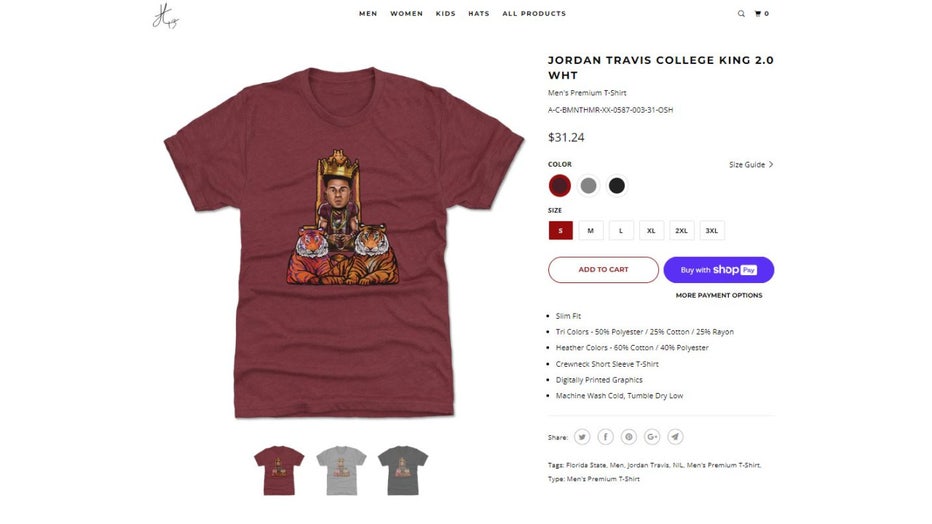 Photo: Screenshot of jordantravis13.com
The controversial Netflix star, whose real name is Joseph Allen Maldonado-Passage, said he wants to take legal action against the 23-year-old standout QB.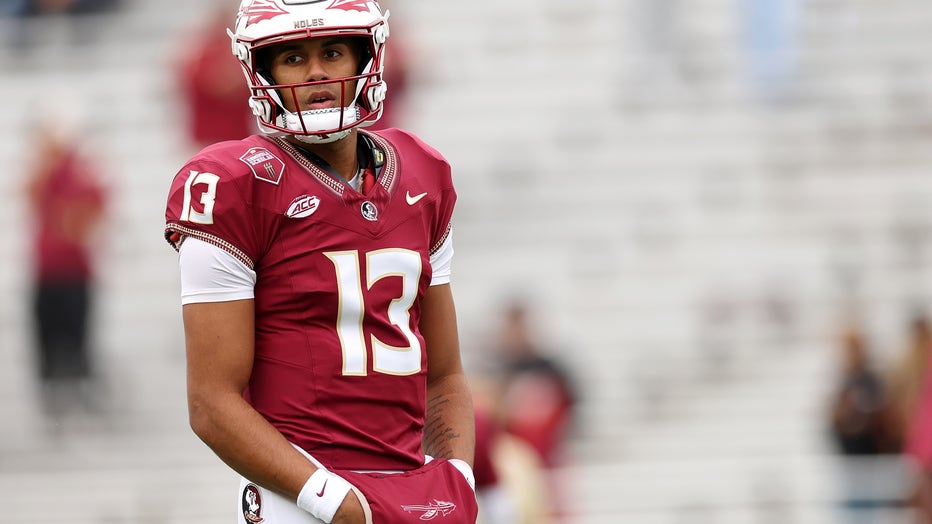 CHESTNUT HILL, MASSACHUSETTS - SEPTEMBER 16: Jordan Travis #13 of the Florida State Seminoles looks on before the game between the Florida State Seminoles and the Boston College Eagles at Alumni Stadium on September 16, 2023 in Chestnut Hill, Massach
"Jordan Travis was 6 years old when I became The Tiger King, it is my trademark, my intellectual property and I'm sick of others cashing in on my Trademark just because President Biden cares nothing about me being wrongfully in prison in America," Joe Exotic said on X. "I will give ANY ATTORNEY 80% of a settlement to sue Jordan Travis and ALL companies selling stuff using Tiger King. Time quarterbacks and anyone else in this country stops stealing from others, which attorney would like to take this multimillion dollar case? DM me!"
He continued, "Until Jordan Travis walks in a cage with 20 full grown tigers and kisses them on the head, leave the Tiger King business to me."
Content warning: The embedded post below has explicit language
The former zookeeper is currently in federal prison for allegedly trying to hire two different men to kill Carole Baskin, a competing conservationist. He was also convicted of killing five tigers, selling tiger cubs and falsifying wildlife records. 
He's serving a 21-year sentence.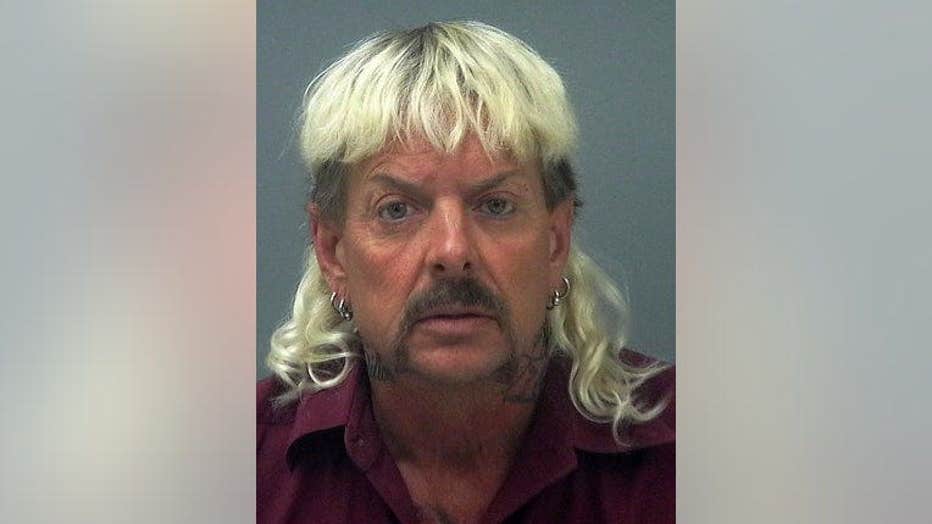 Joseph Maldonado-Passage, known as "Joe Exotic," is pictured in an undated booking photo. (Credit: SRCSO)
Joe Exotic has also recently announced his candidacy for president in 2024 as a Democrat. 
"Yes, I know I am in Federal Prison and you might think this is a joke but it's not," his campaign website reads. "It is my Constitutional right to do this even from here."