NASA discovers asteroid that has slight chance of hitting Earth on Valentine's Day 2046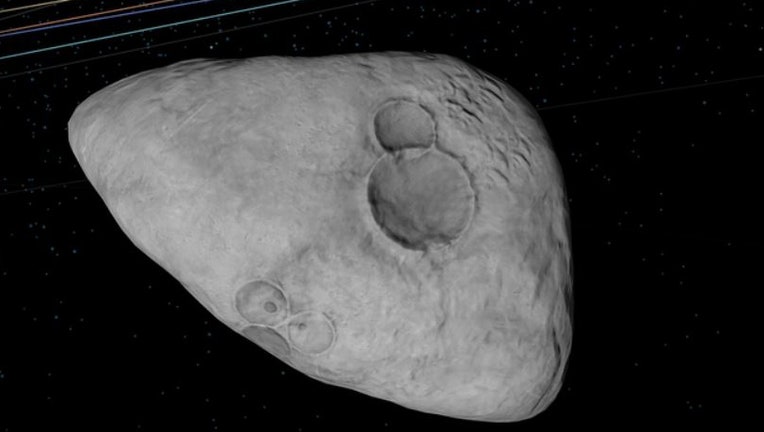 article
Love won't be the only thing in the air on Valentine's Day in 2046.
NASA's Planetary Defense Coordination Office said they have been tracking a new asteroid named 2023 DW that has a very small chance of impacting Earth on Feb. 14, 2046, when it passes the planet at a distance of about 1.1 million miles.
According to NASA, asteroid 2023 DW is roughly 162 feet wide (roughly as wide as an NFL football field) and will take 271 days to complete one solar orbit.
WATCH: SIMULATION SHOWS TSUNAMI FROM DINOSAUR-KILLING ASTEROID THAT BROUGHT 2.5-MILE-HIGH WAVES TO GULF COAST
"Often when new objects are first discovered, it takes several weeks of data to reduce the uncertainties and adequately predict their orbits years into the future," the agency said Tuesday.
Asteroid 2023 DW is currently at the top of NASA's Earth impact monitoring list with a 1 out of 10 on the Torino scale, which means there is no cause for the public to worry. NASA officials give it a 1 in 560 chance of impacting Earth.
NASA orbit analysts said they will continue to monitor the asteroid and update predictions as more data comes in.
You can click here to see thousands of asteroids and comets in real time. You can also see the next five close approaches to Earth and explore past, present and future missions to asteroids and comets.
WATCH: METEOR BURNS BRIGHT AS IT STREAKS, EXPLODES OVER EUROPE
NASA's DART mission
A near-Earth object is classified as any space object that can come within 30 million miles of Earth.
NASA's NEO Observation Program aims to find, track, and learn about 90% of NEOs that are larger than 140 meters. So far, more than 40% of these asteroids have been found, according to NASA.
If one of these asteroids were to come close, the PDCO would alert the government and the public. According to the PDCO, there is a greater than 1% chance of this happening over the next 50 years.
When the time comes, there is an international plan being studied about how to deflect a massive space rock.
In 2021, NASA launched the Double Asteroid Redirect mission, known as DART. Unlike most NASA spacecraft missions, DART was designed to have a short lifespan and was designed to test out a planetary-defense method that could one day save Earth.
On Sept. 26, 2022, DART used autonomous navigation to hone in on a binary asteroid system – the larger Didymos and its smaller moonlet Dimorphos, about 7 million miles from Earth. Then, it charged at the smaller space rock head first at about 15,000 mph, acting as a battering ram when it crashed into it. 
NASA described the mission as a success, saying the DART's collision altered the orbit of the moonlet asteroid. Previously, Dimorphos took almost 12 hours to orbit Didymos. Now, based on ground-based telescope observations, Dimorphos orbits the larger asteroid in 11 hours and 32 minutes.