90% of daily Johnson & Johnson supply at Orlando FEMA site went unused after pause, officials say
ORLANDO, Fla. - Federally-supported COVID-19 vaccination sites in Florida have resumed administering the single-dose Johnson & Johnson vaccine on Sunday.
The sites operate between 7 a.m. and 7 p.m.
They once again offer the Johnson & Johnson vaccine after a ruling from the Centers for Disease Control and Prevention (CDC) to resume use on Friday. The public health agency said that the benefits outweigh the risks, despite more than a dozen women developing rare blood clots after receiving the vaccine.
Officials said that each Florida site -- Orlando, Tampa, Jacksonville and Miami -- will have the capacity to administer up to 3,000 doses per day. That includes the site at Valencia College's West Campus. No appointments are needed for the Orlando location.
RELATED: Johnson & Johnson vaccine: CDC lifts suspension amid blood clot concerns
People were lined up at the vaccination site on Sunday to receive the vaccine.
Professor Mukesh George, who teaches at Valencia College, told FOX 35 that he showed up on Sunday for the Johnson & Johnson vaccine specifically.
"I wanted J&J, that's the reason I drove from Oviedo to here," he said, adding that benefits of immunity to COVID-19 outweighed any risks. "I researched a lot. Especially with my age and medical background, I thought J&J would be the right choice. That's why I decided that."
However, despite this, health officials confirmed that 90 percent of the daily supply at the Orlando FEMA site went unused following an 11-day pause. Then on Sunday, site spokesman Ian Ohlin told the Orlando Sentinel that they only administered 268 doses of the 3,000 Johnson & Johnson vaccines that were available that day.
TRENDING: UFC fans return to the stands in Florida: Winners and more
Organizers at each site said that staff has received additional training based on guidance from the CDC and the FDA. In addition, the COVID-19 consent and screening form every person must sign has been updated.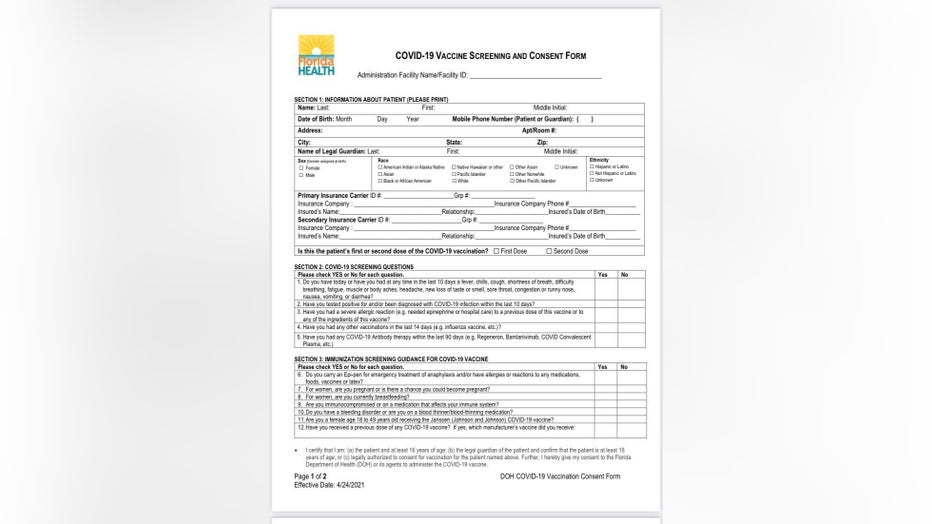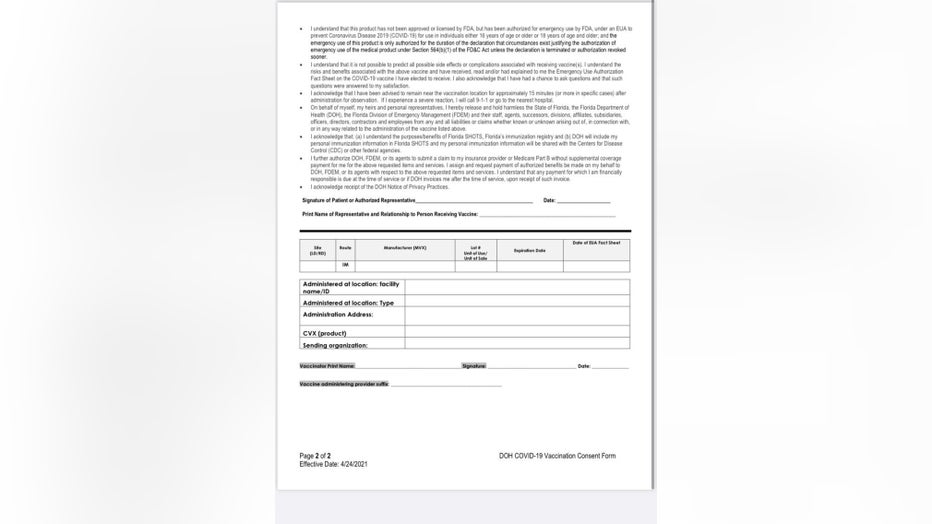 In Section 3 of the form, titled "Immunization Screening Guidance for COVID-19 Vaccine," it asks:
"Do you have a bleeding disorder or are you on a blood thinner/blood-thinning medication?" It also asks, "Are you a female age 18 to 49 years old receiving the Janssen (Johnson and Johnson) COVID-19 vaccine?"
MORE NEWS: CDC study: Unvaccinated worker started COVID-19 outbreak in nursing home among mostly vaccinated residents
Out of the nearly eight million people vaccinated before the U.S. suspended Johnson & Johnson's shot, health officials uncovered 15 cases of a highly unusual kind of blood clot. Three of them fatal. All were women and most were younger than 50.
Officials said that individuals who received a first dose of the Pfizer vaccine at a federally-supported vaccination site will still be able to receive their second dose at the same site.
The state has yet to determine which day the mobile vaccination units will resume giving out the Johnson & Johnson vaccine.
MORE NEWS: CDC director says agency recommends COVID-19 vaccines for pregnant people after 'no safety concerns' observed
In addition, Seminole County officials confirmed that they are getting ready to distribute Johnson & Johnson shots once again. They have 540 doses in the freezer to distribute.
Officials in Seminole County are said to mostly use the single-dose vaccine for homebound patients and those living in nursing homes.
"It's been very, very helpful for individuals who are homebound including assisted living facilities and nursing homes," Seminole County Emergency Manager Alan Harris said.
Tune in to FOX 35 Orlando for the latest Central Florida news.